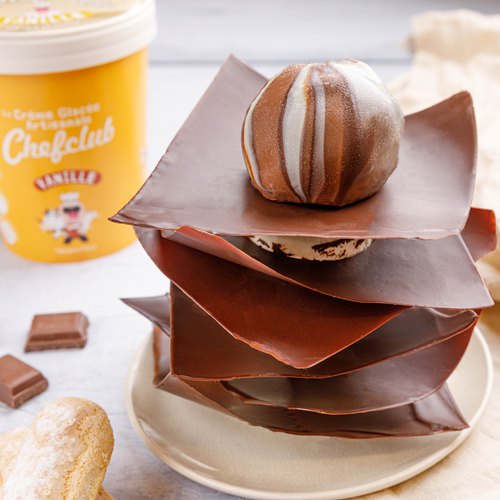 Towering Tiramisu Dessert
Towering Tiramisu Dessert! An architectural wonder with chocolate 🍫🤩🗼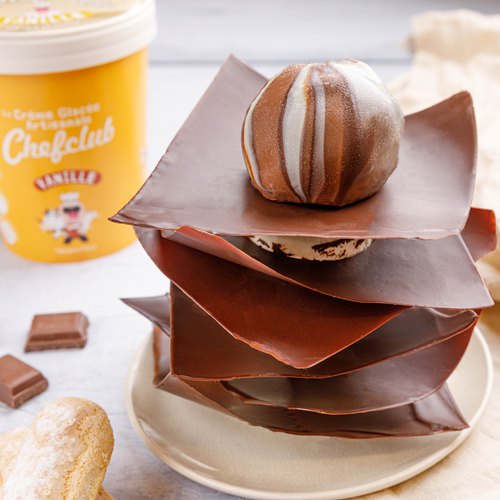 ---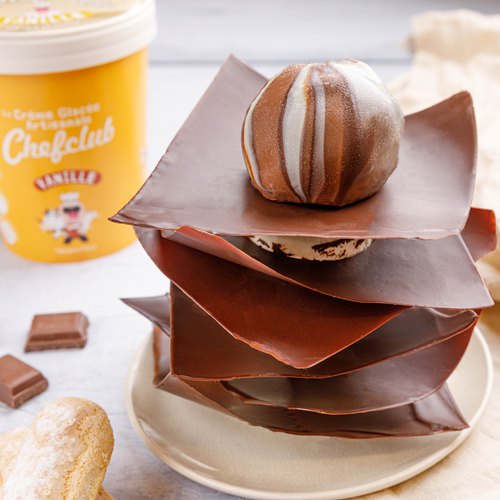 ---
Total time: 3 hours 20 minutes
Prep time: 50 minutes, Rest time: 2 hours 30 minutes
Ingredients for 3 people
6 ladyfingers
5.3 oz of dark chocolate
3 1/2 oz of mascarpone
0.4 cup of heavy cream
1 1/4 tbsp of sugar
3 1/2 oz of milk chocolate
3 1/2 oz of white chocolate
1 pint of chefclub vanilla ice cream
Coffee
---
Tools
parchment paper
Skewers
Pizza cutter
Popsicle sticks
sauce bottles
---
Step 1/4
Melt 3.5 oz of dark and milk chocolate and place on a sheet of parchment paper. Spread the chocolate with a spatula into a chocolate rectangle. Cut 18 squares of chocolate with the help of a pizza cutter and refrigerate for 30 minutes.
Step 2/4
Make a whipped cream by whisking the mascarpone, heavy cream and sugar. Unmold the chocolate squares, place them on a plate and refrigerate for 30 minutes. Pour the coffee into a cup, line 3 cups with parchment paper and fill them with whipped cream. Skewer two ladyfingers and dip them in the coffee cup, followed by the whipped cream cup and remove the skewer, leaving the ladyfingers inside the cup. Cover them with whipped cream. Repeat the process two more times. Place a teaspoon of whipped cream in each cup and place in the freezer for an hour.
Step 3/4
Melt the rest of the dark chocolate, white chocolate and milk chocolate. Place each in a sauce bottle. Draw lines with the white, milk and dark chocolates in the bowl. Make 3 scoops of Chefclub vanilla ice cream. Insert 1 popsicle stick into each ball and dip them into the bowl of 3 chocolates, swirling gently, to create a pattern on the surface. Place the scoops of ice cream on a plate and place in the freezer for 30 minutes.
Step 4/4
Unmold the whipped cream from the cups, place it on a plate (standing up) and remove the spoon. Heat the rim of a glass and use it to create a whole in the center of the chocolate squares. Stack the squares with the whipped cream in the center. Repeat the process for each tiramisu, placing the last square (the one that was not cut out) on top. Add a scoop of ice cream on top and enjoy!