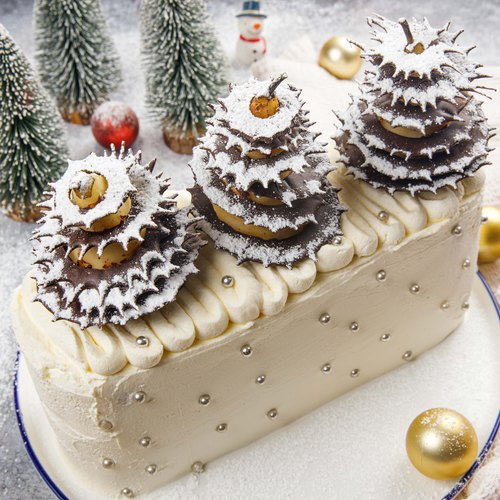 Pine For Me Christmas Cake
Pine For Me Christmas Cake! Cut it out already and try this great recipe 😋🎄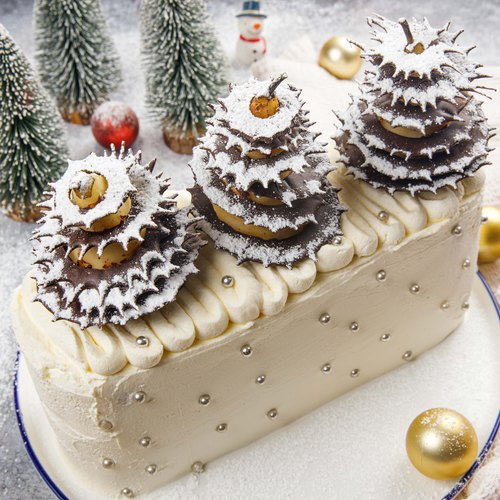 ---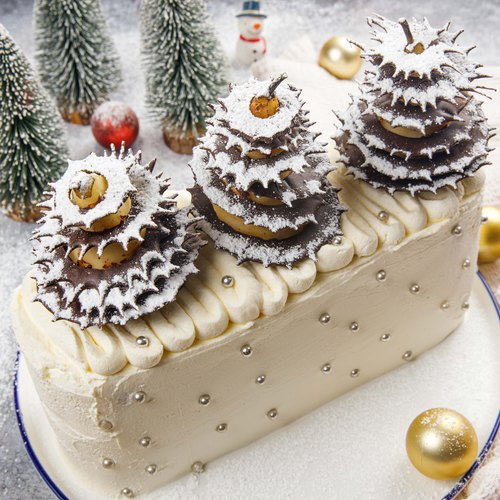 ---
Total time: 2 hours 15 minutes
Prep time: 45 minutes, Cook time: 1 hour 30 minutes
Ingredients for 6 people
4 pears
1 vanilla bean
2 tbsp of butter
2 tbsp of brown sugar
30 ladyfingers
0.2 cup of coffee
9 oz of mascarpone
4 tbsp of sugar
1/2 cup of powdered sugar
7 oz of dark chocolate
2.1 cups of heavy cream
Silver sugar pearls
---
Tools
Skewers
parchment paper
Ziplock bag
---
Step 1/4
For the spiced pear mixture: Cut 1 pear into pieces. Add the scraped vanilla bean, the butter, the brown sugar then mix to obtain spiced pears.
Step 2/4
Skewer 12 ladyfingers, soak with coffee then place them inside in the buttered cake mold lined with parchment paper. Repeat the process with the rest of the ladyfingers for the sides and the base of the mold. Whip the heavy cream, the mascarpone, 4 tbsp of powdered sugar then garnish the center of the cake with the whipped cream. Pour the preparation of pears and spices, the chocolate chips then cover with whipped cream. Reserve for 1 hour in the freezer.
Step 3/4
Melt the dark chocolate, form chocolate discs on a baking tray lined with parchment paper then lightly spread the chocolate discs using a skewer to form spikes around the edges of the discs. Set the discs aside. Wrap the pears in aluminum foil, heat the aluminum slightly then pass the chocolate discs through the top to form a space in the center. Repeat the process with each disc. Poach the pears in 1 liter of water with the sugar then place the chocolate discs on the pears. Reserve 30 minutes in the fridge.
Step 4/4
Spread and smooth the whipped cream over the entire surface of the cake, place the rest of the whipped cream in a ziplock bag, cut the bottom corner then spread the whipped cream on top of the cake. Place the pears with the discs on the cake, sprinkle the rest of the powdered sugar, arrange the sugar pears. Serve and enjoy!