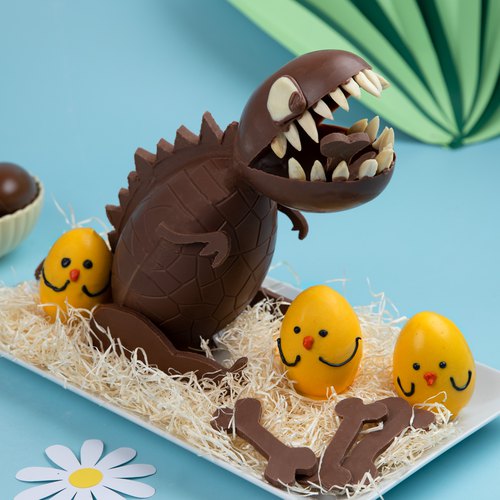 T Rex Easter
T Rex Easter! A festive recipe to make with the kids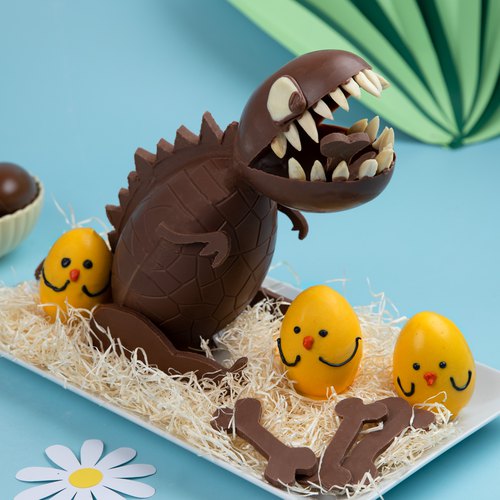 ---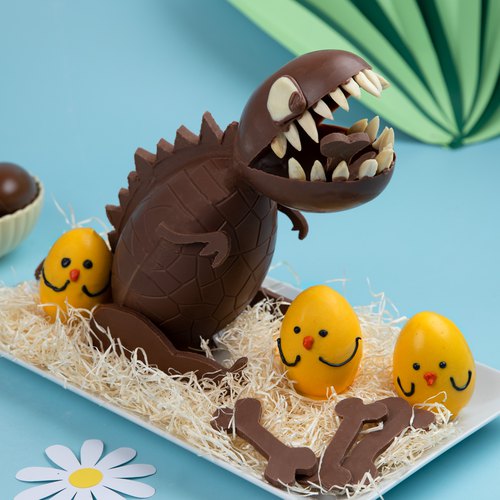 ---
Total time: 20 minutes
Prep time: 20 minutes
Ingredients for 3 people
18 oz of milk chocolate
0.9 cup of heavy cream
3 1/2 oz of mascarpone
4 tbsp of powdered sugar
6 ladyfingers
Coffee
Sliced almonds
Yellow candy melts
4 chocolate eggs
1 large chocolate egg
Orange candy melts
White chocolate
---
Tools
parchment paper
Skewer
Piping bag
---
Step 1/4
Melt the milk chocolate and pour into a piping bag. Cut the large chocolate egg in half lengthwise and place face down on a sheet of parchment paper. Pipe the tail and spikes, touching the large chocolate egg half. Pipe the arms, legs, spikes and bones on the parchment sheet next to the egg. Allow to set.
Step 2/4
Dip the ladyfingers in the chocolate. Mix the heavy cream, powdered sugar and mascarpone until smooth. Create layers of ladyfingers and mascarpone cream in the large chocolate shell. Heat the other large chocolate egg half and seal them together. Heat and stick the remaining chocolate decorations to create the dinosaur's body.
Step 3/4
Cut a chocolate egg in half, heat and stick them together to form the dinosaur's mouth. Use melted chocolate to stick the sliced almonds for the dinosaur's teeth.
Step 4/4
Dip the remaining 3 chocolate eggs in yellow candy melts. Allow to set, decorate with milk chocolate and orange candy melts. Place the dinosaur's head on the body, create the eyes with white and milk chocolate. Serve and enjoy!