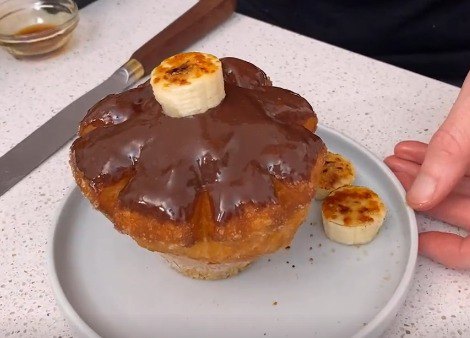 Boozy Boston Cream Donuts
Boozy Boston Cream Donuts! Donut worry & get happy with this sweet recipe 🤗🍩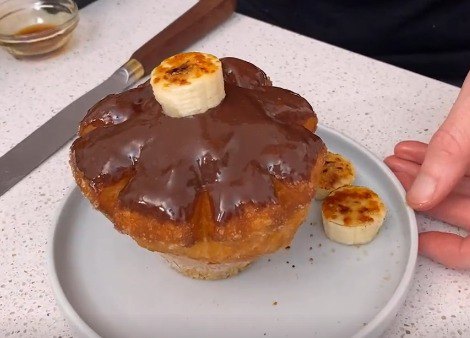 ---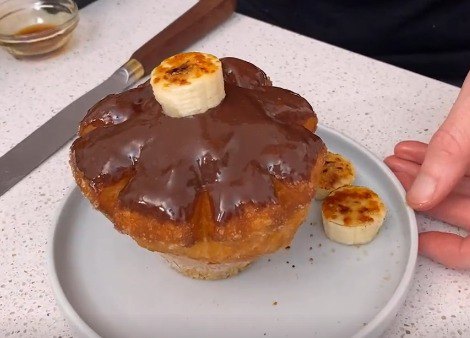 ---
Total time: 3 hours
Cook time: 20 minutes, Rest time: 2 hours 40 minutes
Ingredients for 6 people
2 1/2 cups of flour
1 tsp of yeast
0.3 cup of sugar
2 tbsp of butter
1 cup of warm milk
2 pinches of salt
1 l of vegetable oil
1 tbsp of cornstarch
1 egg
1 1/4 cups of dark chocolate
1 3/4 cups of heavy cream
4 Frozen & cut bananas
1/4 cup of whisky
1/2 cup of nutella
1 box of graham crackers
1/4 cup of white chocolate
1 banana
Brown sugar
---
Tools
Blowtorch
Muffin tin
Cooling rack
Chopstick
---
Step 1/6
Mix the warm milk, 2 tbsp of sugar and yeast in a bowl. Let sit for 5 minutes until foamy. Add in the flour and salt. Mix the dough together with a wooden spoon until elastic and smooth. The dough will be somewhat sticky. Place in a lightly greased bowl, cover with a kitchen cloth and allow to rise until doubled in size.
Step 2/6
Divide the dough into 6 balls. Flatten the balls slightly then allow them to rise for 15 min. Press down on the dough balls slightly. Using a wooden skewer or a chopstick, press down into the dough creating a pattern to see where to cut and shap the dough. Cut halfway along each line traced onto the dough. With a pair of scissors cut into the dough to create a flower/star pattern. Place into frying oil at 350°F. Cook until golden on both sides.
Step 3/6
In a small bowl, stir together 1/3 cup of sugar, flour, cornstarch and egg. In a small saucepan heat 1 cup of cream until it begins to boil. Slowly stir the cream into the egg mixture. Once all the cream is stirred into the egg mixture, pour it back into the saucepan and cook over medium heat until it thickens. Remove from heat and stir in the butter. Pour into a bowl and cover with plastic wrap in contact with the cream to prevent a film from forming. Refrigerate to chill completely.
Step 4/6
Heat 3/4 cup of cream and pour it little by little onto the chocolate. Add the butter and whisk until smooth. Using a piping bag with a thin tip, fill the doughnuts with the pastry cream. Dip the top of each doughnut in the chocolate ganache. Crush the graham crackers and stir together with the melted white chocolate (or use your favorite chocolate). Scoop into the muffin pan. Use a glass to press the crumbs into the pan.
Step 5/6
Slice the bananas and lay the pieces flat on a parchment lined baking sheet. Freeze until solid. In the blender add the frozen banana slices, jack daniels and nutella. Blend until smooth and creamy. Using an ice cream scoop, cover the graham cracker crust and place into the freezer.
Step 6/6
When ready to serve, place one banana ice cream and graham cracker disk on the plate, top with the boston cream doughnut flower. Decorate the doughnut flower with a slice of caramelized banana. Enjoy!