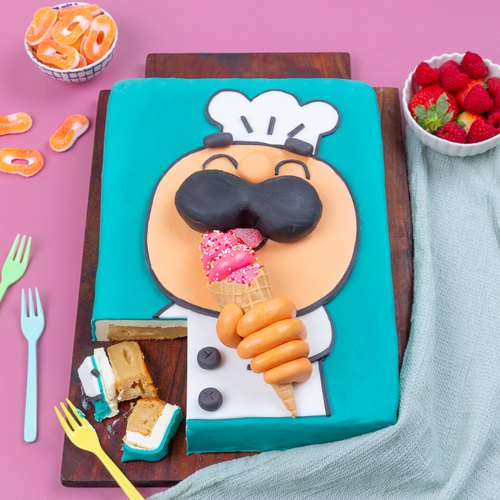 Chef Maurice Cake
Chef Maurice Cake! A fun recipe to make with kids 👨‍🍳🍦🍰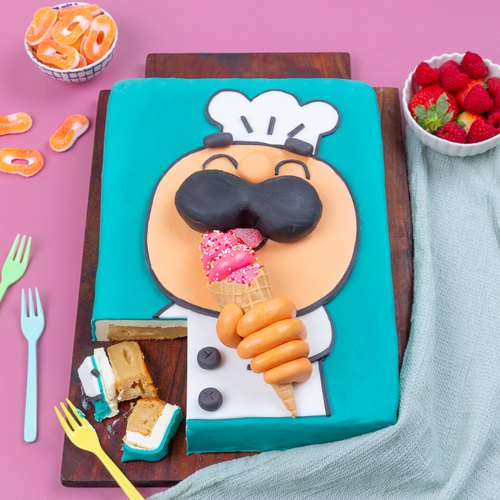 ---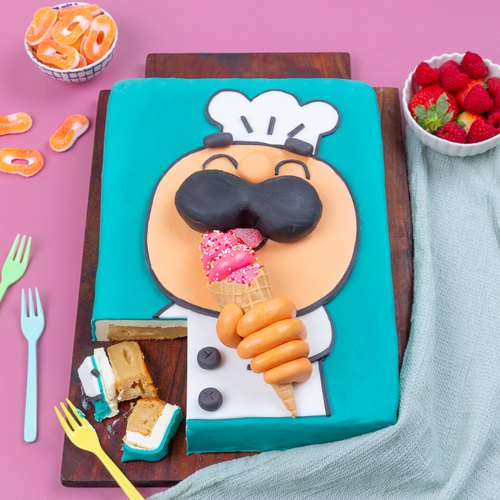 ---
Total time: 50 minutes
Prep time: 20 minutes, Rest time: 30 minutes
Ingredients for 8 people
18 oz of white fondant
9 oz of skin colored fondant
44 oz of turquoise colored fondant
1 vanilla cake
35 oz of buttercream frosting
7 oz of black fondant
26 oz of candy melts
Black food coloring
26 oz of peach gummies
3 strawberries
0.4 cup of raspberries
1 ice cream cone
Sprinkles
Red sour candy belt
---
Tools
Electric mixer
---
Step 1/3
Heat the peach gummies in a skillet over medium heat until completely melted. melted. Whisk with the electric mixer for 10 minutes to create peach marshmallow. Set aside. Fill an ice cream cone with fresh raspberries and strawberries. Pipe pink buttercream in a swirl on top and add the sprinkles. Shape the peach marshmallow into fingers and place on the cone.
Step 2/3
Coat the cake in buttercream and place the turquoise fondant on top. Make sure the sides are covered. Roll out the white fondant and cut out Maurice's outline. Place on the cake, create the details with the black fondant and skin colored fondant.
Step 3/3
Mix the cake scraps with buttercream and shape into a mustache. Freeze to set, then dip in black candy melts. Place the mustache on Maurice's face. Add the red candy belt for the tongue. Serve and enjoy!