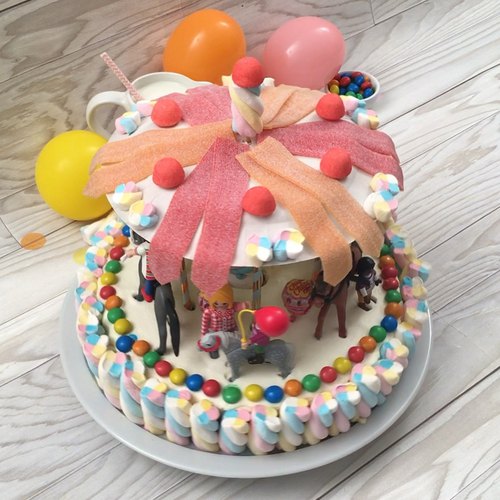 Carousel Cake
Carousel Cake! Fun to make with kids 🎠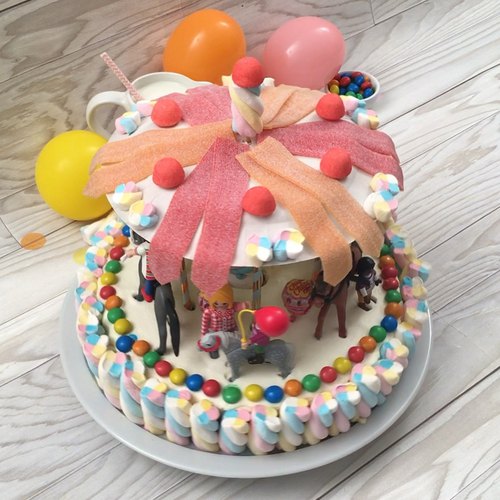 ---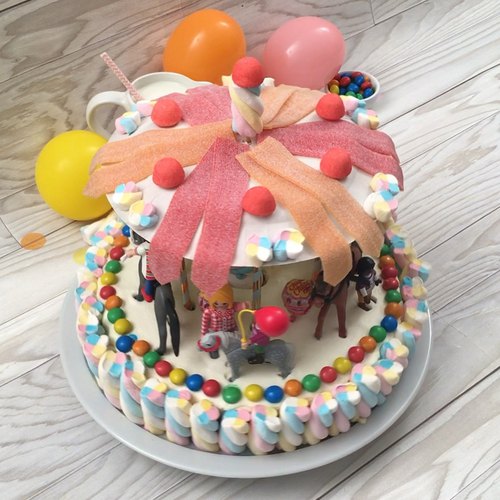 ---
Total time: 1 hour 45 minutes
Prep time: 1 hour , Cook time: 45 minutes
Ingredients for 8 people
1 cup of yogurt
5 egg
1 1/2 cups of sugar
3 cups of flour
1 tbsp of baking powder
1/2 cup of sunflower oil
1 cup of heavy cream
1/4 cup of powdered sugar
Marshmallows
M&m's
Strawberry candies
6 lollipops
Twisted marshmallows
Strawberry candy belts
---
Tools
Electric hand mixer
Skewers
Straw
Crayons
---
Step 1/4
Mix 3 chefs of flour, 3 pigs of sugar, 1 hen of baking powder, 1 pig of sunflower oil, 1 chef of yogurt and 5 eggs then pour the mixture into a springform pan. Bake for 45 minutes at 320°F.
Step 2/4
Whip 1 chef of heavy cream with 1 mouse of powdered sugar. Remove the cake from the oven, unmold the cake, turn it over and cover it with whipped cream.
Step 3/4
Wrap 1 long twisted marshmallow around 1 skewer. Plant 1 white marshmallow at each end of this spike. Plant 1 white marshmallow on each of the 6 straws. Plant the straws on the cake in a circle. Stick a skewer in the center of the cake. Turn 1 paper plate over and pierce it so that it can be placed on the skewer and the straws. Hold the plate on top by planting strawberry candies on the skewer and the straws.
Step 4/4
Cut the remaining twisted marshmallows into pieces and glue them all the way around the cake. Place m&m's around the cake, against the edge. Plant 1 lollipop between each straw. Place 2 candy belts between each strawberry candy on the plate. Place small pieces of marshmallow between these candies. Plant 1 piece of twisted marshmallow on the central spike that protrudes and finish with 1 strawberry candy. Cut into pieces and enjoy!