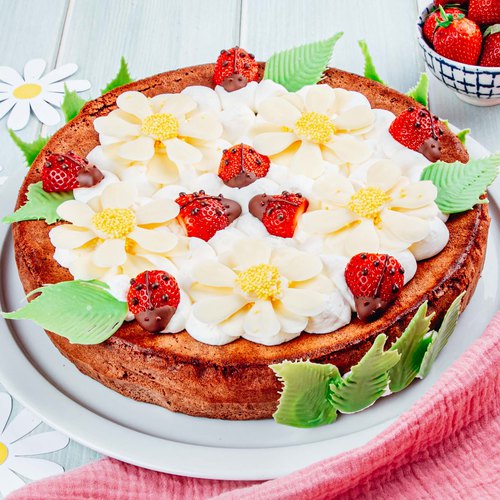 Ladybug Flower Garden
Ladybug Flower Garden! A special treat for your lovebugs 🥰🐞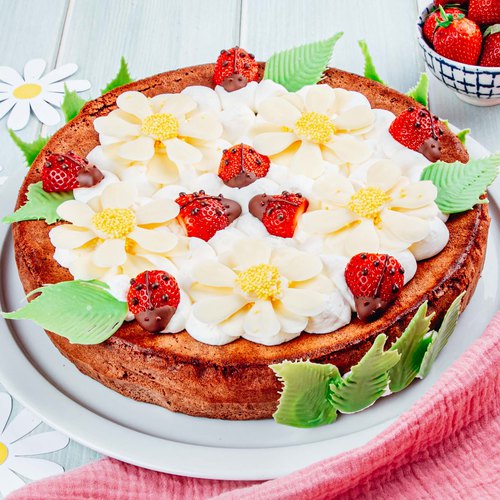 ---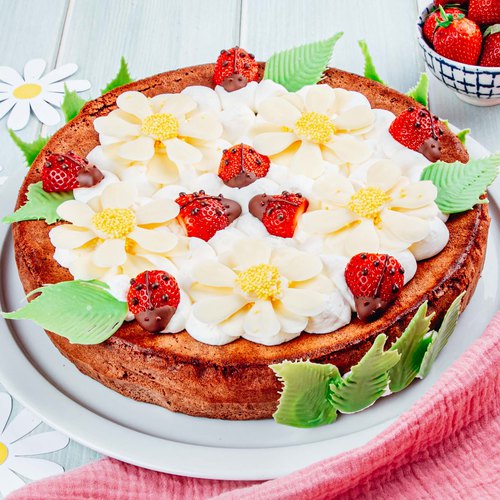 ---
Total time: 1 hour 40 minutes
Prep time: 40 minutes, Cook time: 40 minutes, Rest time: 20 minutes
Ingredients for 6 people
6 egg
0.3 cup of cocoa powder
1 1/4 cups of flour
1 cup of sugar
2 1/4 tsp of baking powder
4 tbsp of butter
8 1/4 oz of white chocolate
1 tsp of yellow sugar pearls
10 strawberries
1 3/5 oz of dark chocolate
1 cup of heavy cream
1/2 cup of powdered sugar
Blue food coloring
Yellow food coloring
---
Tools
Plastic sheet protector
Non-stick baking mat
Toothpicks
parchment paper
Electric hand mixer
Comb
Piping bag
---
Step 1/4
Separate the yolks from the egg whites and whisk the egg whites. Mix 2 hens of cocoa powder, the egg yolks, 1 chef and 1 cat of flour, 1 chef of sugar, 1 hen of baking powder and 1 mouse of melted butter. Gently fold in the whipped egg whites. Bake for 40 minutes at 350°F.
Step 2/4
Melt 1 chef of white chocolate. Cut the end of the plastic sheet protector and open it in 2. Add 6 chocolate dots forming a circle and connect the melted white chocolate dots using a toothpick to form a flower. Place the yellow sugar pearls in the center of the flower. Repeat the process to have 6 flowers and refrigerate.
Step 3/4
Melt 1 cat of white chocolate, add half a knife tip of blue food coloring, half a knife tip of yellow food coloring and mix to obtain a green chocolate. Pour 6 dots of melted green chocolate onto a baking mat and spread the chocolate in one direction using a toothpick. Make grooves on each side of the dots of melted green chocolate using a comb to form leaves. Cut the strawberries in 2. Melt 1 mouse of dark chocolate and coat the end of the strawberries. Place them on the baking mat. Form a cone with the parchment paper. Pour the rest of the melted dark chocolate inside the cone and draw the bodies of the ladybugs on the strawberries and refrigerate them for 20 minutes.
Step 4/4
Whip 1 chef of heavy cream, 1 cat of powdered sugar using an electric mixer. Place the whipped cream in a piping bag and pipe dots of whipped cream on the chocolate cake. Place the chocolate flowers, the ladybug strawberries, the chocolate leaves and enjoy!