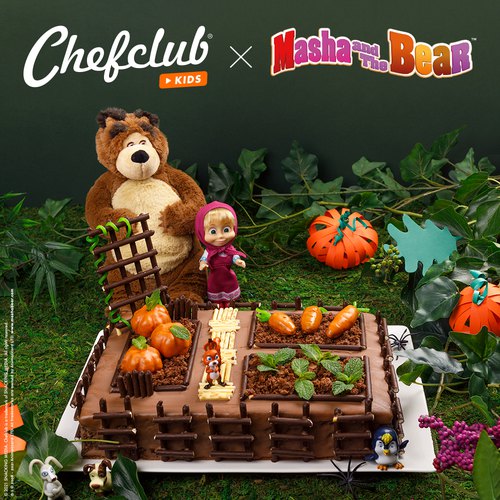 Masha and the Bear's Garden
A delicious dessert to make with the kids 🐻🌱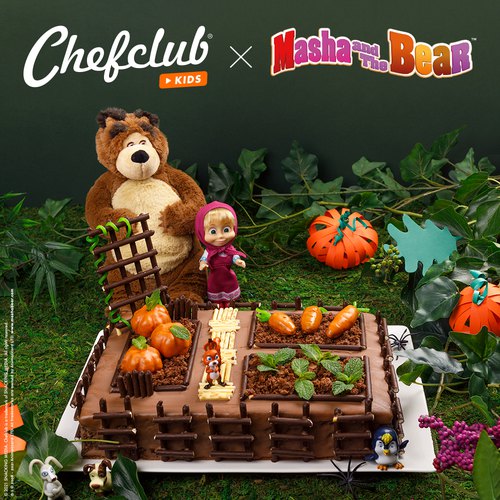 ---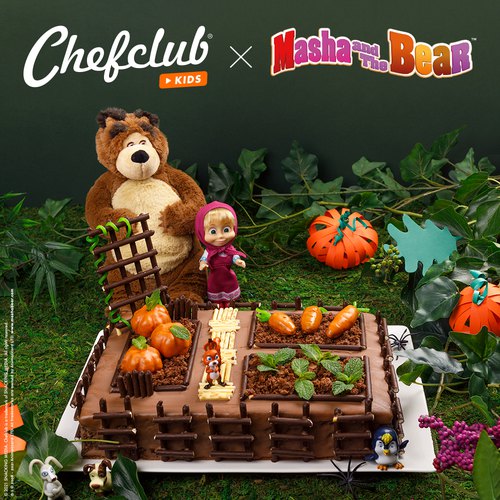 ---
Total time: 2 hours 40 minutes
Prep time: 40 minutes, Cook time: 40 minutes, Rest time: 1 hour 20 minutes
Ingredients for 8 people
1/4 cup of cocoa powder
8 egg
1 1/3 cups of flour
1 cup of sugar
1/2 cup of butter
1 tbsp of baking powder
2 packets chocolate sticks
2 1/4 cups of milk chocolate
1 tbsp of chefclub chocolate spread
2 green string candies
1 tsp of orange food coloring
1 cup of white chocolate
mint leaves
---
Tools
Rectangular cake pan
Toothpicks
---
Step 1/6
For the chocolate cake: Separate the egg yolks from the egg whites and beat the whites until stiff. After, mix 1 mouse cocoa powder, the egg yolks, 1 chef plus 1 cat flour, 1 chef sugar, 1 hen baking powder, and 1 mouse melted butter, then, gently fold in the stiffly beaten egg whites. Bake for 40 minutes at 350 °F. Once baked and cooled, cut 2 centimeters off all of the edges of the cake, then coat with 1 chef melted milk chocolate.
Step 2/6
Cut off the ends of 4 cookie sticks, then cut off ⅓ of the remaining sticks (see video). Next, place 4 new chocolate sticks on a plate, melt 1 chef milk chocolate, then make 4 dots of melted chocolate on each stick. Place the 4 previously cut chocolate sticks on top of the melted chocolate to form the plant stake. After, create 17 small ladders by attaching 2 medium sticks together with 3 small ends using the melted chocolate. Set aside in the refrigerator for 30 minutes.
Step 3/6
Place 2 chefs leftover cake in a bowl, then add 1 cat melted butter and 1 hen Chefclub Chocolate Spread and mix. Form 5 cake balls, draw regular lines on the balls with a toothpick to make pumpkins, and stick the toothpick in the center. Form 6 carrots with the remaining cake, stick the toothpicks in the ends, and set aside in the refrigerator for 20 minutes.
Step 4/6
Place the small ladders of chocolate sticks around the edge of the cake. Next, cut the non-chocolate part of 12 sticks and place the chocolate parts on the cake, forming 3 rectangles. Place the non-chocolate parts between the rectangles to form steps. After, plant small ends of chocolate sticks at either end of one rectangle. Wrap one green string candy around the large chocolate stick grid and plant it on the edge of a rectangle.
Step 5/6
Place crumbled leftover chocolate cake in each rectangle. Melt 1 chef white chocolate, mix with orange food coloring, and dip the chocolate pumpkins and carrots into the mixture. Set aside in the refrigerator for 30 minutes. Form lines on the carrots, place them in one of the rectangles, and replace the toothpicks with green string candies. Place the pumpkins in another rectangle and replace the toothpicks with mint leaves. Lastly, place mint leaves in the last rectangle and enjoy!
Step 6/6
Tip: To separate the egg yolks from the egg whites, you can use a slotted spoon. Simply pour the cracked eggs over the slotted spoon and let the egg whites drip into the bowl!