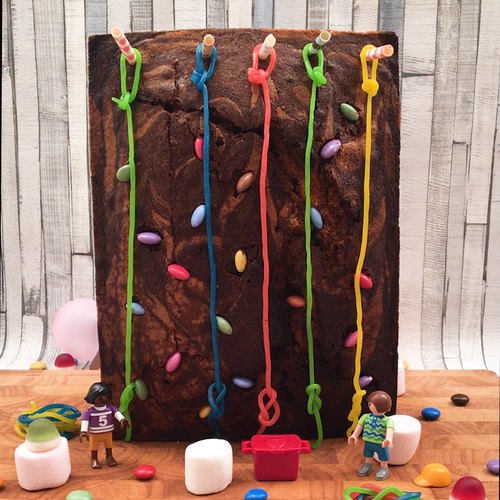 Climbing Wall
Who will reach the top first?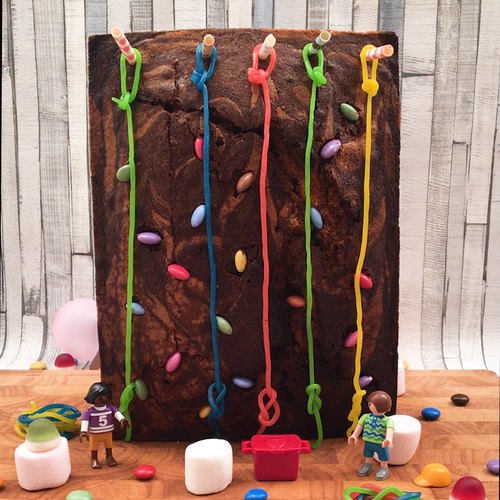 ---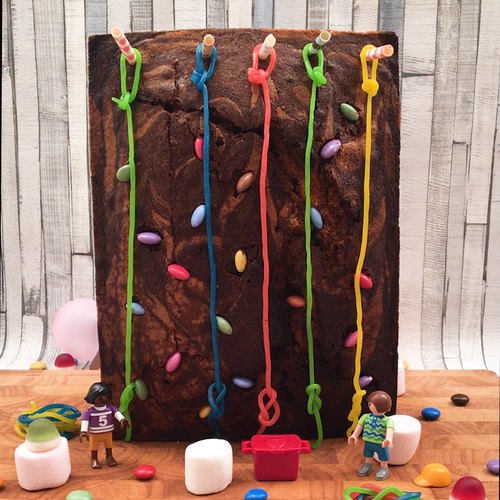 ---
Ingredients for 10 people
1 cup of flour
1 cup of sugar
4 eggs
1 tbsp of baking powder
1 cup of butter (melted)
1/3 cup of cocoa powder
20 m&ms®
5 sour string candy
---
Tools
9x13 baking dish
Skewer
Straws
---
Step 1/3
Combine 4 eggs, 1 chef of flour, 1 chef of sugar, 1 hen of baking powder, and 1 chef of melted butter. Separate the dough into 2 halves and add 1 cat of cocoa powder to one of the halves.
Step 2/3
Alternate pouring the 2 mixtures into the baking dish to form a grid. Swirl the grid with the skewer and bake for 35 minutes at 325 °F. *NOTE: If you want an extra-sturdy cake, just double the cake recipe and bake 5-10 minutes longer, when a toothpick inserted in the center comes out clean it's cooked through*
Step 3/3
Cut each straw into 3 pieces. Insert 5 pieces of straw on one of the short sides of the cake, and insert the M&Ms all over the cake. Tie the 5 candy strings to the straws, lay them on the cake, and tie a knot at the end. Straighten the cake with the straws at the top and hang Playmobil® characters on the candy strings so they can climb! Then slice and enjoy the cake!