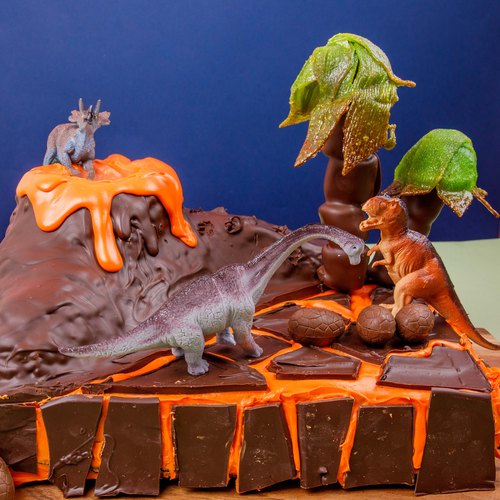 Flowin' Lava Cake
Flowin' Lava Cake! Let the good times flow 😄🌋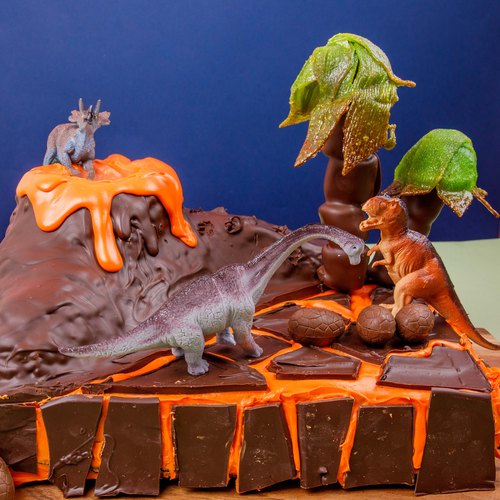 ---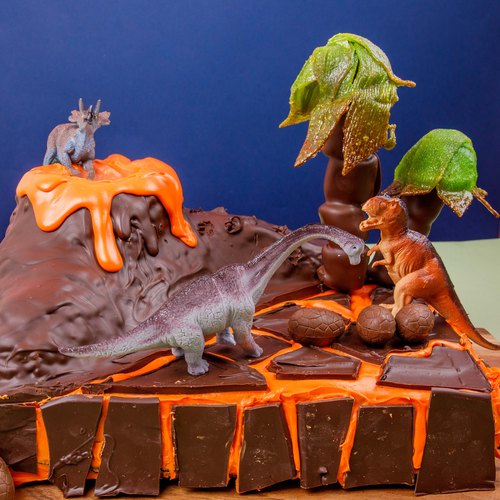 ---
Total time: 1 hour 30 minutes
Prep time: 25 minutes, Cook time: 45 minutes, Rest time: 20 minutes
Ingredients for 15 people
3 cups of flour
3 cups of sugar
1 1/2 cups of cocoa powder
1 tbsp of baking soda
1 tsp of baking powder
1 tsp of salt
4 eggs
1 1/2 cups of buttermilk
1 1/2 cups of coffee
1/2 cup of vegetable oil
1 tbsp of vanilla extract
4 cups of mini marshmallows
1/4 cup of butter
6 cups of rice krispies
2 boxes of vanilla frosting
Orange food coloring
3 cups of melted dark chocolate
10 green ribbon candies
9 marshmallows
1 orange
1 clementine
---
Step 1/4
Preheat the oven to 350°F. Grease a 9x13" baking pan and set aside. In a large mixing bowl, stir together the dry ingredients: flour, sugar, cocoa powder, baking soda, baking powder, and salt. Next add in the wet ingredients: buttermilk, water (or coffee), oil, vanilla and eggs. Stir until combined. Pour into the prepared pan. Bake for 45 minutes. Turn the cake out onto a cooling rack to cool completely.
Step 2/4
In a large mixing bowl, pour in the marshmallows and add the butter. Microwave in 30 second intervals until the butter is melted and the marshmallows are soft. Stir to combine. Next, fold in the rice krispies cereal until well combined. Lay an 8 1/2 x 11 piece of paper underneath the silicone baking mat and place it on a baking sheet. This will serve as a guide to know how big to make the volcano so it will fit on top of the cake. Place the glass in the left corner and begin building the rice krispy volcano around it. Use the rice krispies to create a contoured area that covers 1/3 of the cake. Put into the refrigerator to chill for 20 minutes. Pour melted chocolate around the volcano, completely covering the rice krispy treat as well as the rest of the baking mat. As the chocolate hardens trace out pieces of the chocolate to use for decoration when the chocolate has set. Put in the refrigerator to set.
Step 3/4
Make skewers of marshmallows, 4 on one and 5 on the other. Pour melted chocolate on one and then roll the other one in the leftover chocolate until both are well coated. Let those set in the refrigerator. Cut the orange and the clementine in half. Spray lightly with non-stick spray. Cut the candy ribbons on the ends and layer them on the citrus halves to create 2 palm trees leaves. Place these onto a baking sheet lined with parchment paper. Bake them in a warm oven, around 300°F for 15 minutes.
Step 4/4
Stir together the orange food coloring in the cans of frosting to obtain a bright orange color. Spread the frosting over the entire cake, including the sides. Place the chocolate volcano onto one of the corners of the cake and decorate the lava with the "broken" pieces traced earlier in the chocolate. Use any extra pieces of chocolate to decorate the surface of the cake. Place the two palm trees and the leaves onto the cake. Add the dinosaurs and chocolate dinosaur eggs. (Optional: fill the volcano with dry ice and warm water for fun special effects). Enjoy!