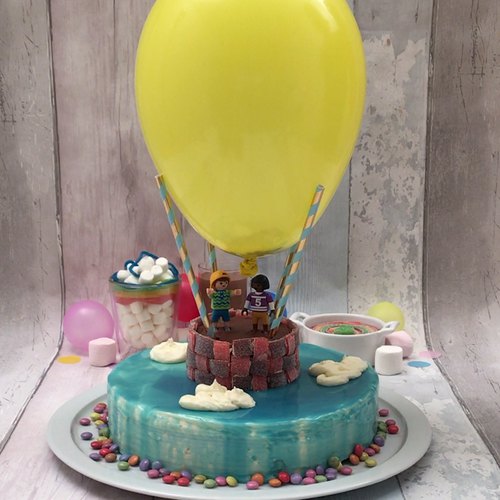 Hot Air Balloon Cake
A chocolate explosion! 💥🎈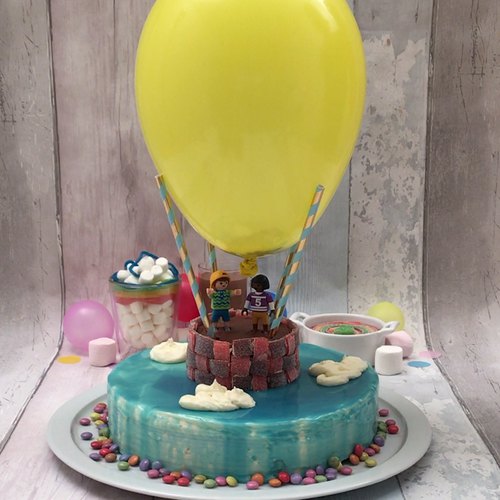 ---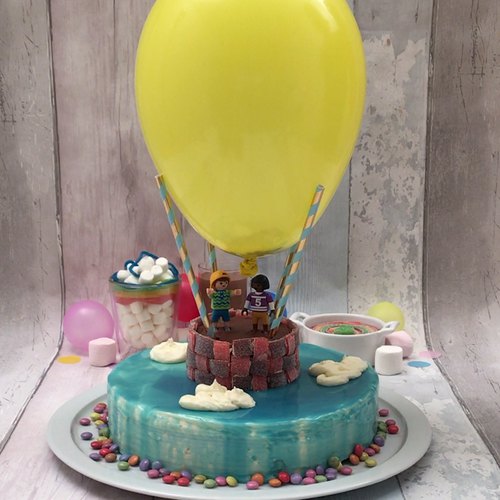 ---
Ingredients for 10 people
2 cups of flour
1/2 cup of cocoa powder
1 cup of yogurt
6 eggs
4 cups of sugar
1/2 cup of vegetable oil
1 tbsp of baking powder
8 sheets of gelatin
1/2 cup of condensed milk
2 cups of white chocolate
4 red candy belts
4 brown candy belts
vanilla frosting
chocolate frosting
m&m's ®
blue food coloring
---
Tools
Springform pan
Ramekin
Hand blender
Mesh strainer
Straws
Balloon
---
Step 1/4
Combine 2 chefs of flour, 1 pig of cocoa powder, 2 pigs of yogurt, 6 eggs, 2 chefs of sugar, 1 pig of oil, and 1 hen of yeast. Pour this mixture into the springform pan and the ramekin and bake for 35 minutes at 350 °F.
Step 2/4
When the cake comes out of the oven, ice the large cake with vanilla frosting and the small one with chocolate. Soak the gelatin sheets in a bowl of cold water, drain them, and add them to 1 pig of boiling water with 2 chefs of sugar, 1 pig of condensed milk, and 2 chefs of white chocolate. Mix with a hand blender and then strain through a mesh strainer. Divide the mixture in half and add blue coloring to one of the halves. Pour lines of white into the blue. Pour this icing over the large cake to cover it.
Step 3/4
Cut the candy belts in half lengthwise. Place 1 red strip horizontally. With frosting, stick the ends of all the brown strips vertically, alternating 1 on top and 1 underneath. Lift the brown strips stuck under the red and place another red strip parallel to the first red on top of the other brown strips. Fold the brown strips back down and lift the other ones up. Place a new red strip, like the previous one. Repeat this process until you have a candy weave. Cut the resulting square in half and wrap the small cake with the 2 halves.
Step 4/4
Place the small cake in the middle of the large one and draw clouds all around it with vanilla frosting. Stick the straws in the small cake. Place M&M's ® in the balloon and inflate it. Put the balloon on the straws and add figurines underneath the balloon. Pop the balloon and eat the cake!