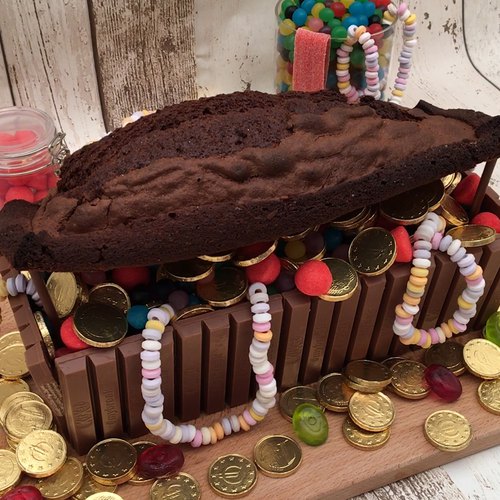 Treasure Trunk Cake
One for those little pirates at home ;)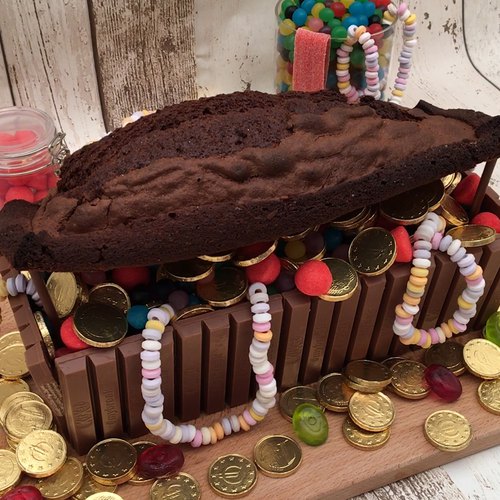 ---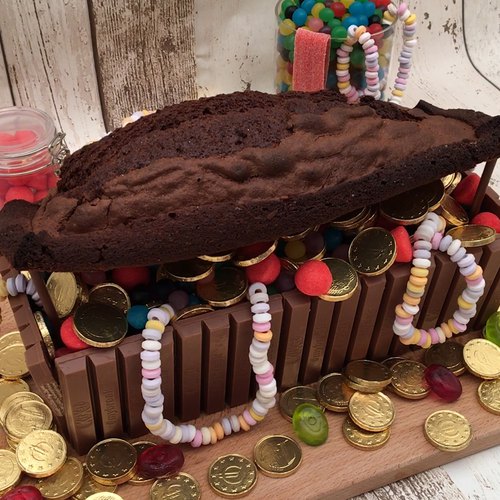 ---
Ingredients for 8 people
1 cup of yogurt
6 eggs
3/4 cup of sugar
2 tbsp of vegetable oil
2 cups of flour
3/4 cup of cocoa powder
2 1/2 tsp of baking powder
1 1/4 cups of milk chocolate
20 kit kat ®
chocolate coins
gumdrops
marshmallow strawberries
candy necklaces
2 pocky ®
---
Tools
Rectangular cake pan
---
Step 1/4
Mix the yogurt, eggs, sugar, oil, flour, cocoa, and baking powder and pour the batter into the cake pan. Bake for 25 minutes at 325 °F.
Step 2/4
Cut off the top of the cake. Cut and then remove the center of the cake to form a chest. Line the outside walls of the cake with melted milk chocolate and use it to glue the KitKat ® vertically all around.
Step 3/4
Pour half of the candies into the trunk, hang the necklaces over the side of the chest and cover with the rest of the candies.
Step 4/4
Push the Pocky ® into 2 corners on the same side of the chest and place the top of the cake so it remains ajar. Enjoy the cake and your candy treasure!