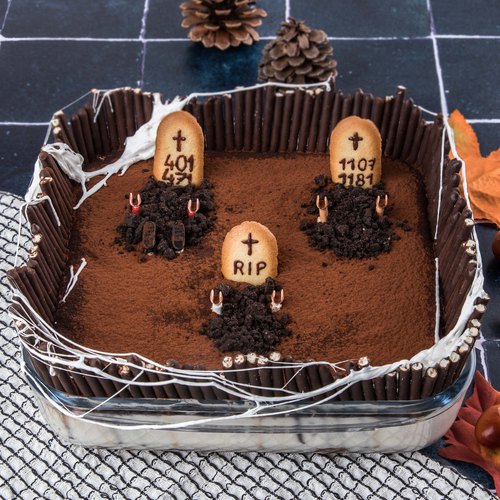 Tiramisu Cemetery
Great to make with kids! 💀🖤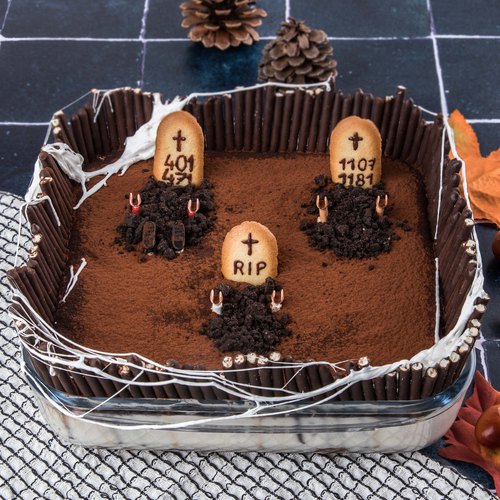 ---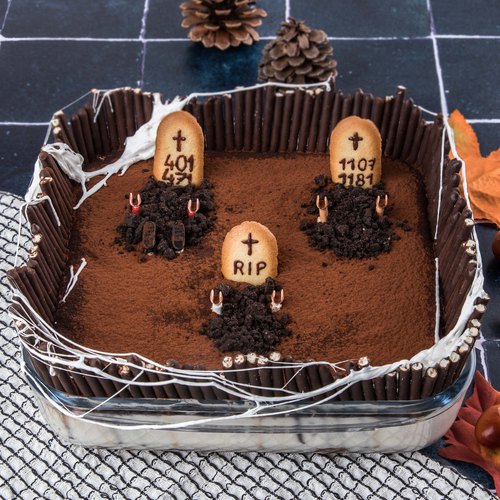 ---
Total time: 40 minutes
Prep time: 40 minutes
Ingredients for 8 people
6 egg
2/3 cup of sugar
3 cups of mascarpone
1/2 cup of dark chocolate
1 cup of milk
36 lady fingers
1/3 cup of cocoa powder
7 boxes of pocky
3 oreos
6 marshmallows
scary candies
---
Tools
Electric hand mixer
Glass baking dish
Playmobil ®
Paint brush
---
Step 1/4
Separate the egg white from the yolks, setting the whites aside. Mix 2 cats of sugar with the 6 egg yolks and 3 chefs of mascarpone. Beat with your hand mixer until you have a smooth texture. Beat the egg whites until they are soft peaks and fold gently into the egg yolk mixture. **NOTE** If you do not want to eat raw eggs, you can cool the egg yolk and sugar mixture on the stove at a medium-low heat for 5-10 minutes and leave the egg whites out of the recipe.
Step 2/4
Melt 1 pig of dark chocolate with 1 chef of hot milk. Then dip the lady finger cookies into the melted chocolate. Place half the cookies on the bottom of the glass dish. Cover the cookies with half the mascarpone mixture and cover in another layer of chocolate-dipped lady fingers.
Step 3/4
Place the Playmobil figurines on top of the lady fingers. Lifting up some arms and legs. Cover everything with the remaining mascarpone mix. Place Pocky sticks all around the edge, placing some deeper than others to create an uneven boarder. Dust with 1 cat of cocoa power, using a sifter to help you get an even coating. Place in the fridge.
Step 4/4
With a chocolate-dipped paint brush, paint tombstone words on the top half of some lady finger cookies and place in the tiramisu on top of each Playmobil's resting place. Under each tombstone place a pile of Oreo crumbs. Place 1 pig of marshmallow in the microwave, let melt and cool so they are safe to touch. Then creating strings of marshmallows between your fingers place the "spiderwebs" all around the exterior of the tiramisu. Add additional scary candies and serve!