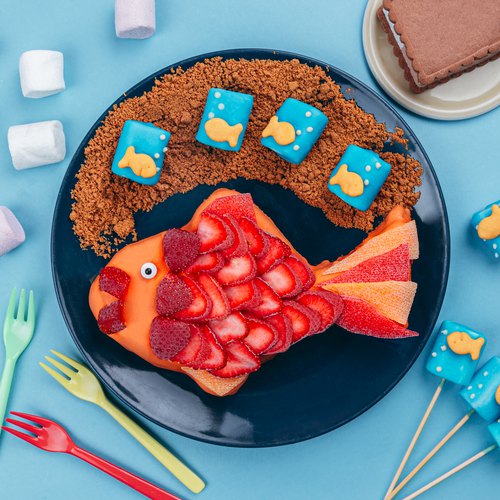 O-Fishial Ice Cream Sandwich
O-Fishial Ice Cream Sandwich! Plunge into this refreshing treat 🤩🐟🍦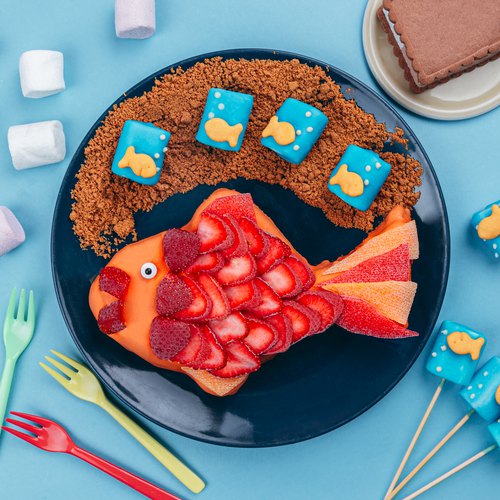 ---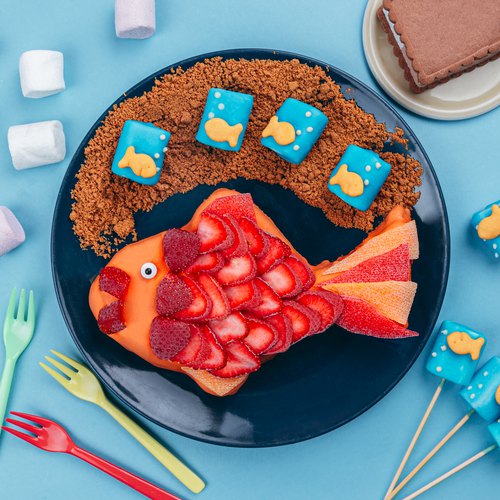 ---
Total time: 1 hour 30 minutes
Prep time: 30 minutes, Rest time: 1 hour
Ingredients for 4 people
6 ice cream sandwiches
8 marshmallows
3 cups of white chocolate
8 goldfish crackers
2 cups of graham crackers
Orange food coloring
1 blue icing
1 candy eyeballs
4 sour string candy
10 strawberries
---
Tools
chefclub kid's knife
Skewers
Metal rack
Spatula
Pitcher
---
Step 1/3
Place ice cream sandwiches in 2 rows of 3 very tightly. Place a fish stencil on top and cut out the fish shape from the ice cream sandwiches. Place in freezer. Add orane food coloring to the melted white chocolate (reserve a little of the undyed white chocolate).
Step 2/3
Take out the ice cream sandwiches and coat with the orange colored white chocolate. Thinly slice strawberries for the scales of the fish and cut sour belts candies for the fins and tail of the fish. Add the candy eye to the fish. Place the ice cream sandwich fish on a plate along with crushed graham crackers.
Step 3/3
Stick a skewer in each of the marshmallows and coat with the blue frosting. Add a goldfish cracker to each marshmallow. Make bubbles with the white chocolate to decorate. Serve with the ice cream sandwiches and enjoy!