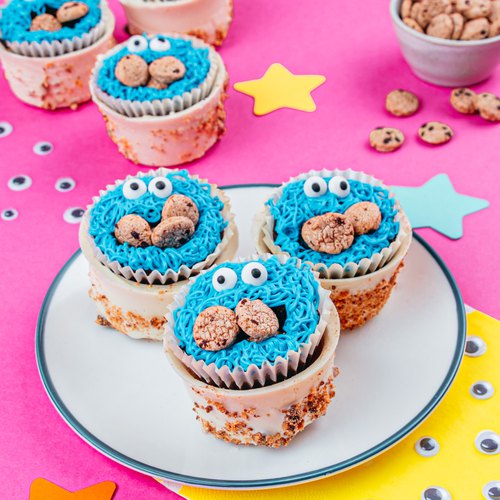 C Is For Cookie Cupcake
C Is For Cookie Cupcake! Your favorite monster is so sweet 😁🍪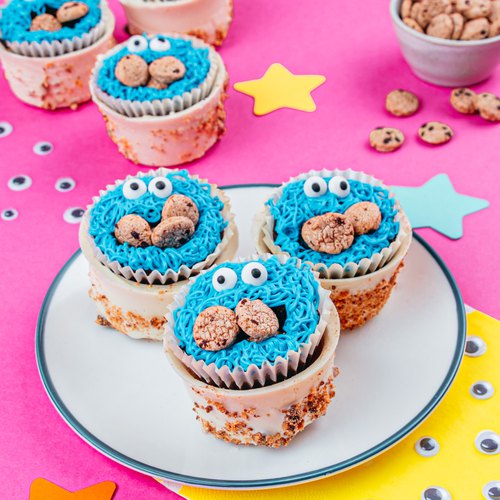 ---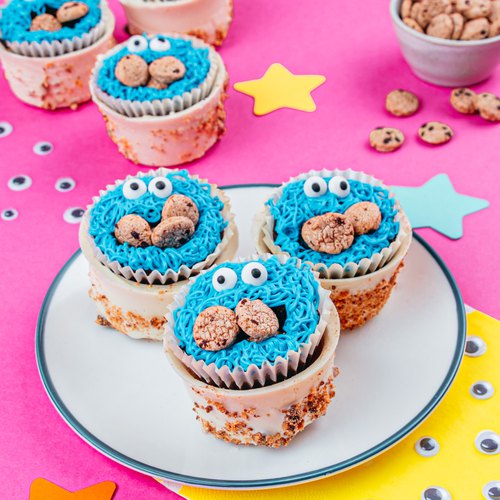 ---
Total time: 40 minutes
Prep time: 5 minutes, Cook time: 25 minutes, Rest time: 10 minutes
Ingredients for 4 people
1 box of chocolate cake
3 egg
0.3 cup of olive oil
1 container of blue vanilla frosting
Candy eyeballs
8 oz of white chocolate
1 container of crushed cookies
1 box of cookie crips cereal
---
Tools
Cupcake liners
Sillicone cupcake molds
chefclub kid's knife
Piping bag
Offset spatula
---
Step 1/4
Add three eggs and 1 cat of oil into mixing bowl, mix together. Add cake mix and fully incorporate all ingredients. Scoop batter into greased and lined cupcake molds. Fill liner 3/4 of the way. Bake in a preheated oven at 350°F for 20-25 minutes. Allow to cool and set aside. Using the Chefclub kid's knife carefully cut a mouth shape into half of the top of the cupcake. Remove the mouth scraps and set aside in a bowl.
Step 2/4
Add the blue vanilla frosting to a piping bag. Create a shaggy patter on the cupcakes. Place 2 candy eyes on each cupcake. Place some cookie crisp cereal into each monster mouth.
Step 3/4
Melt white chocolate and pour tempered chocolate into a silicon cupcake mold, completely filling each cavity. Once they are completely full, flip upside down over a pan to let excess chocolate drip out. Wipe off the excess chocolate on top with an offset spatula. Take crushed cookies and sprinkle inside, place in fridge to let chocolate completely set.
Step 4/4
Unmold the white chocolate cups. Dip each cup in remaining melted chocolate and roll in crushed cookie crumbs. Allow to set in fridge for a couple of minutes. Place the cupcakes in the white chocolate cups. Serve and enjoy!