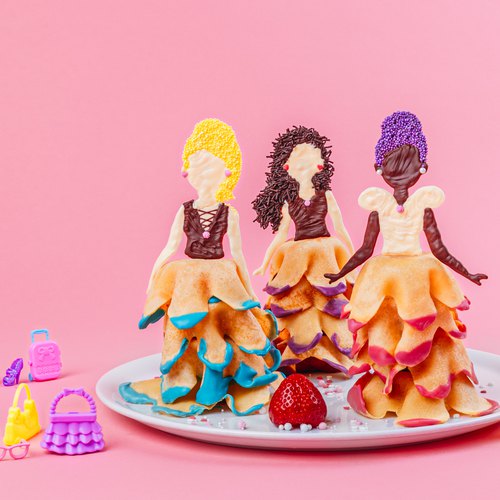 Prom Princess Crepes
Prom Princess Crepes! A fun recipe to do with the kids 😁👑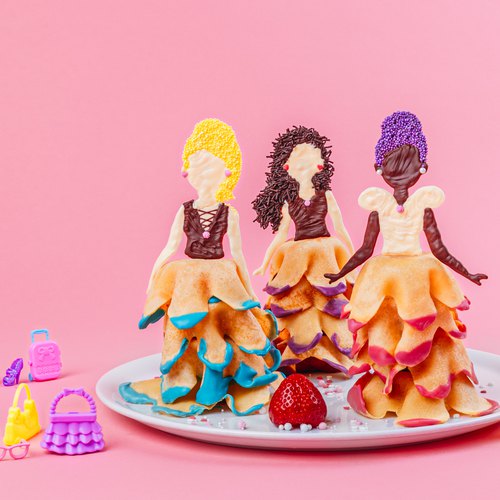 ---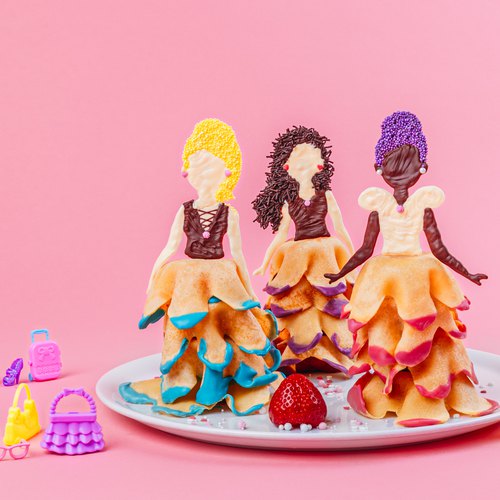 ---
Total time: 1 hour 30 minutes
Prep time: 1 hour , Rest time: 30 minutes
Ingredients for 3 people
12 crepes
6.2 oz of white chocolate
Blue food coloring
Pink food coloring
Purple food coloring
12 strawberries
2 oz of dark chocolate
Chocolate sprinkles
Yellow sugar pearls
Purple sugar pearls
6 chocolate pocky sticks
---
Tools
Plastic sheet protector
princess drawings
parchment paper
---
Step 1/5
Make a crepe batter. Form a small circle of batter in a pan to make small crepes. Repeat the process until you have 12 crepes, then place the crepes in containers to form flowers before baking for 15 minutes at 320°F to dry the crepes.
Step 2/5
Melt 1 chef of white chocolate, set aside a cat of white chocolate and pour the rest into 3 bowls. Add each different food coloring to a bowl, then mix to get a pink chocolate, a purple chocolate and a blue chocolate. Dip the tips of 4 crepe flowers in pink chocolate, 4 crepe flowers in blue chocolate and 4 crepe flowers in purple chocolate.
Step 3/5
Dip the end of a strawberry in the pink chocolate, place it on a plate and cover it with a pink crepe flower. Repeat the process until 4 crepes are superimposed to create a pink dress. Make a purple dress and a blue dress.
Step 4/5
Put each princess drawing in a plastic sheet protector, then form two cones with parchment paper. Melt the dark chocolate and the remaining white chocolate and pour them into the cones. Draw the contours of the princesses' hairstyles and fill them with dark and white chocolates. Cover a chocolate hairstyle with the sprinkles, another hairstyle with the yellow sugar pearls and the last hairstyle with the purple sugar pearls. Remove the excess. Cover the faces, busts and arms with chocolate and refrigerate.
Step 5/5
Cut the chocolate pocky and plant 2 small sticks on top of each pancake dress. Unmold and place a chocolate princess on each dress using the sticks. Serve and enjoy!