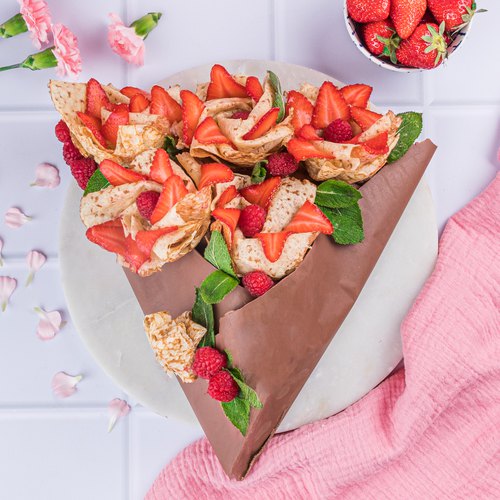 A Bouquet For Mom
A Bouquet For Mom! Made with lots of love 😘💐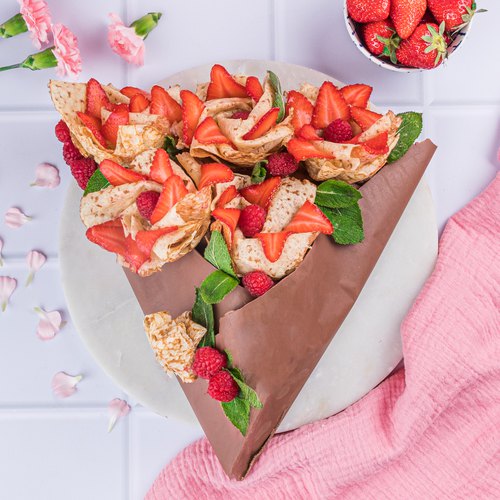 ---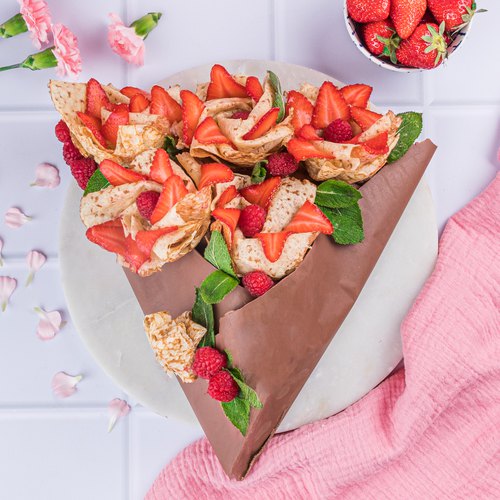 ---
Total time: 2 hours 40 minutes
Prep time: 40 minutes, Cook time: 30 minutes, Rest time: 1 hour 30 minutes
Ingredients for 6 people
12.4 oz of milk chocolate
15 raspberries
10 strawberries
1 1/4 cups of heavy cream
10 leaves of mint
Bouquet of flowers
---
Tools
parchment paper
Cling wrap
Piping bag
Tongs
Electric hand mixer
---
Step 1/4
Find the recipe for the crepe batter on the Chefclub.tv website. Make 7 crepes. Melt 1.75 oz of milk chocolate and spread the melted milk chocolate on a sheet of parchment paper. Wrap the stems of a bouquet of flowers in cling wrap. Place the base of the wrapped bouquet on the sheet of parchment paper with the melted chocolate, fold the ends towards the center then refrigerate for 30 minutes.
Step 2/4
Cut a crepe into a square and fold it in two. Incise the ends of the crepe and roll it up on itself then set it aside. Pinch the center of 6 crepes with tongs. Roll the crepes into a spiral using the tongs and place them in cups. Arrange the crepe cups on a baking sheet and bake for 20 minutes at 210°F.
Step 3/4
Cut the strawberries into slices. Place a raspberry in the center of each spiral. Arrange the slices in the interstices of the crepe spirals. Bring the heavy cream to the boil and add the rest of the milk chocolate in a bowl. Pour the heated cream over the chocolate and mix until you have a smooth mixture. Reserve for 1 hour in the freezer. Beat the chocolate preparation with an electric mixer to obtain a chocolate mousse and place it in a piping bag.
Step 4/4
Unmold the bouquet of flowers from the chocolate shell. Garnish the chocolate shell with the chocolate mousse and the raspberries (alternating layers). Arrange the crepe flowers on the chocolate mousse and add the mint leaves.Enjoy!