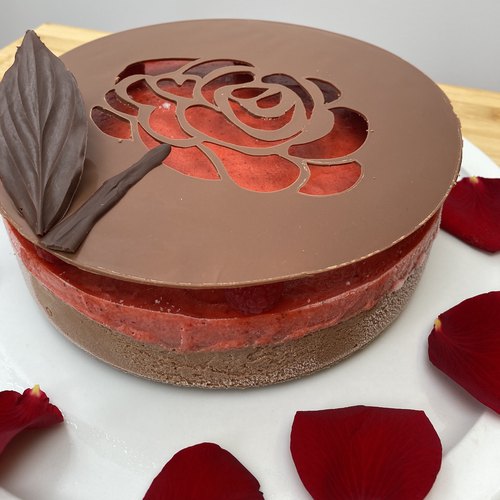 Raspberry Rose Chocolate Mousse
Raspberry Rose Chocolate Mousse! A classic dessert decorated with fruit and chocolate rose 🌹🍫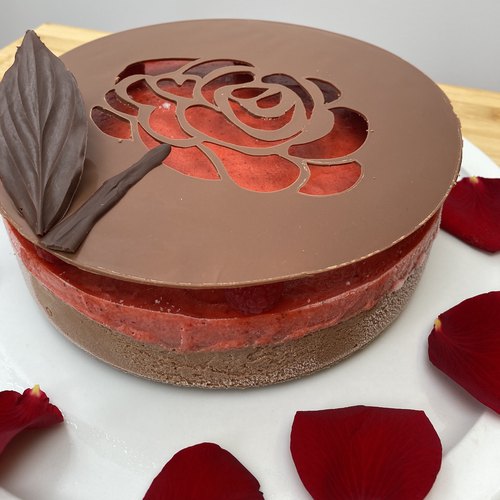 ---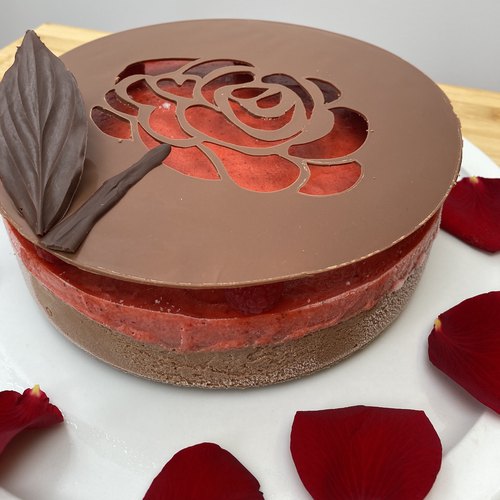 ---
Total time: 1 hour 50 minutes
Prep time: 20 minutes, Rest time: 1 hour 30 minutes
Ingredients for 3 people
4.3 oz of milk chocolate
11 oz of dark chocolate
4/5 cup of milk
1 3/5 cups of heavy cream
1 pint of strawberry sorbet
8 raspberries
---
Tools
Toothpicks
Pastry brush
Plastic sheet protector
parchment paper
Rose
---
Step 1/3
Melt the milk chocolate and pour it into a plastic sheet protector. Allow cool. When it has hardened, trace the outline of a rose using a toothpick. Cover the chocolate with a plate and remove the excess to create a disc. Remove the plate and cover the chocolate with a second plastic sheet protector. Flatten the disc with a cutting board and refrigerate for 30 minutes. Wash the leaf and set aside on sheet of parchment paper then melt 3 oz of dark chocolate. Brush a first layer on the leaf. Cover with a second layer. Trace a stem on the parchment paper with a teaspoon and refrigerate for 30 minutes.
Step 2/3
Bring the milk to a boil, pour it into the remaining dark chocolate, beat with a whisk and set aside. Pour the heavy cream separately. Whisk until you get a mousse and incorporate it into the chocolate preparation with a spatula until you get a smooth texture. Place parchment paper in the springform pan, pour the mousse and place it in the freezer for 1 hour.
Step 3/3
Spread three generous scoops of sorbet over the mousse. Reserve in the freezer for 30 minutes. Remove the leaf from the parchment paper. Remove the inside of the rose petals (drawn with a toothpick on the disc) and set aside. Place the cake on a plate. Arrange the raspberries on top. Cover with the chocolate disc balanced on the raspberries and place the leaf leaning over a raspberry, then the stem next to it. Decorate the edge of the plate with rose petals and enjoy!