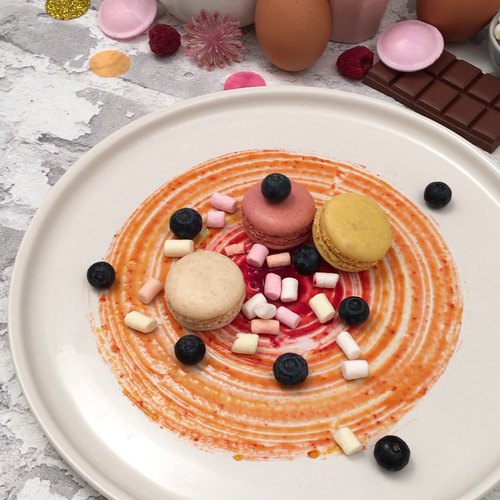 Home Cooked 3-Star Meals
Making everyday extraordinary! 👨‍🍳❤️👩‍🍳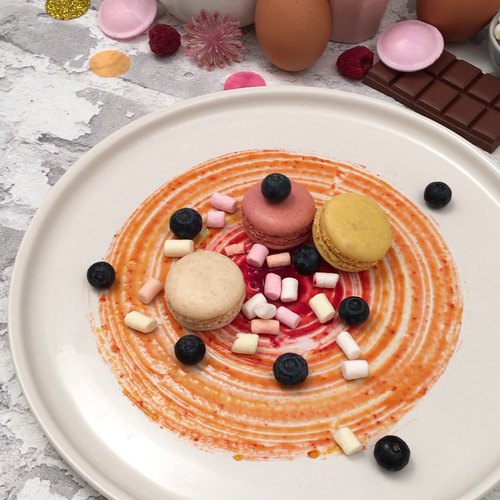 ---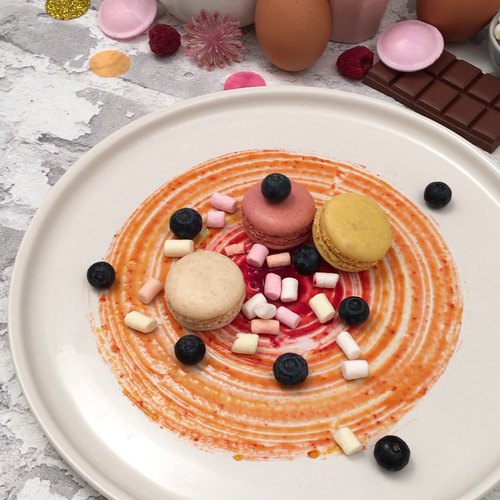 ---
Ingredients for 2 people
raspberry sauce
brownie
mint
cocoa powder
raspberries
vanilla ice cream
pearl sugar
white chocolate
macaroons
tart
mini-marshmallows
skittles ®
dark chocolate
chocolate mousse
strawberries
hazelnuts
caramel
coton candy
toblerone ®
candy laces
paprika
turkey breast
coppa (italian ham)
cherry tomatoes
parsley
spaghetti
eggplant
tomato sauce
basil
passion fruit sauce
---
Tools
Slotted spoon
Lighter
---
Step 1/13
Dip your hand in raspberry sauce and place it on a plate to make a bloody hand print. Place a brownie on top and add raspberries and mint.
Step 2/13
Place a slotted spoon on a plate and dust cocoa powder overtop. Clean the edges with paper towel and arrange raspberries all around the cocoa circle. Place a scoop of vanilla ice cream in the center and decorate with sugar pearls.
Step 3/13
Heat the edge of a bar of white chocolate and place it on a dark plate to draw a white grid. Place macaroons and raspberries on the grid.
Step 4/13
Cover a tart with cotton candy and melt it with a lighter. Add some mini-marshmallows on top and enjoy.
Step 5/13
Form 2 circles of Skittles ® on a plate and then pour hot water into the plate. Place a brownie in the center and decorate with more Skittles ®.
Step 6/13
Drizzles lines of dark chocolate in some chocolate mousse, then scoop some into the center of a plate. Decorate with strawberries and hazelnuts.
Step 7/13
Melt the ends of the triangles of a Toblerone ® and draw lines with them on a white plate. Put a tart on top and decorate with a square of chocolate and mint.
Step 8/13
Decorate a tart with hazelnuts dipped in caramel to obtain caramel spikes. Stick cotton candy on the spikes and add sprinkles.
Step 9/13
Draw serpentine shapes on a plate with 2 candy laces and dust them with paprika. Remove the candies, leaving outlines, and place a turkey breast on the paprika. Add coppa, cherry tomatoes, and sprinkle with chopped parsley.
Step 10/13
Fry cooked spaghetti in a pan of hot oil. Place the fried pasta on slices of cooked eggplant. Add tomato sauce and a basil leaf.
Step 11/13
Heat a square of chocolate to melt the edges slightly and stamp it several times on a plate to form squares. Add macaroons, raspberries and mint on top.
Step 12/13
Place a plate on a turntable. Place the corner of a chocolate square in the center of the plate and spin it to draw a chocolate spiral on the plate. Place a tart in the center and decorate with blackberries and pistachios.
Step 13/13
On a plate on a turntable, draw a dot of raspberry sauce then 5 dots of passion fruit sauce around it. Place a brush on the dots and then spin the plate. Add macaroons, blueberries and mini-marshmallows.