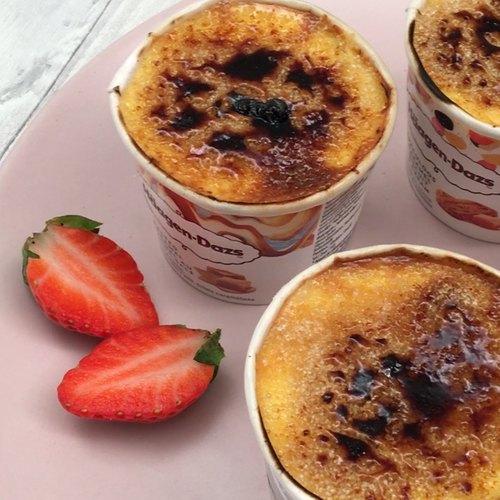 Zero-waste recipes
Reduce food waste with these quick and easy recipes! 😍♻️🌎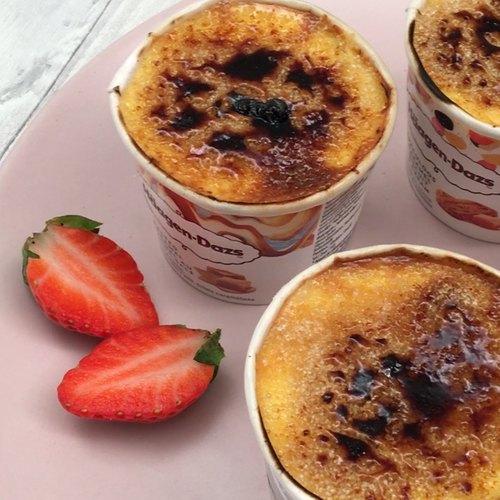 ---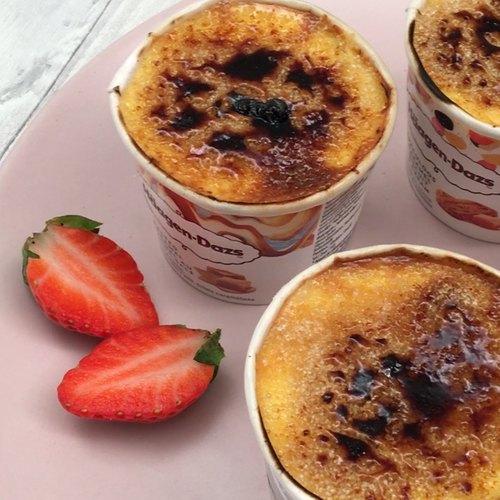 ---
Ingredients for 4 people
nearly empty jar of jam
4 egg yolks
6 tbsp of flour
strawberries
chocolate beads
mint
nearly empty container of philadelphia ® cream cheese
2 cups of heavy cream
6 tbsp of sugar
1 vanilla pod
5 spiced cookies
2 tsp of butter, melted
raspberries
raspberry sauce
nearly empty jar of chocolate hazelnut spread ®
ice cream cones
multicolor sprinkles
nearly empty 4 compartment snack box
11 eggs
cherry tomatoes
ham, diced
mozzarella cheese, grated
black olives
parsley
nearly empty jar of guacamole
1 tbsp of sour cream
3 slices of bacon, diced
tortilla chips
2 tbsp of vegetable oil
4 tbsp of milk
nearly empty tin of nesquik ®
whipped cream
4 pudding cups
12 gummy bears
4 oz of rum
6 oz of mint liquor
3 oz of lemon juice
1 qt club soda
lemons
nearly empty pt häagen dazs ® ice cream
4 mini häagen dazs ® containers, empty
brown sugar
---
Step 1/8
Add 2 egg yolks to the bottom of a nearly empty jar of jam with 2 tbsp of flour and 1 cup heavy cream, close the jar, and shake to combine. Place the jar in a pot of boiling water, add strawberries to the jar and close it. Let cook for 10 minutes and remove from the pot. Garnish with chocolate beads, mint, and strawberries and enjoy!
Step 2/8
Mix the rest of a container of Philadelphia ® cream cheese with 1 cup heavy cream, 2 tablespoons of sugar, and the seeds from a vanilla bean. Pour this mixture into the empty container. Crush 5 spiced cookies into 2 tsp of melted butter and cover the container with the mixture. Freeze for 45 minutes. Turn over to demold, pour raspberry sauce overtop, add raspberries and mint and enjoy!
Step 3/8
Pour 1 cup of heavy cream into a nearly empty jar of chocolate hazelnut spread ®, close the jar, and shake to stir. Freeze for 1 hour. Scoop onto ice cream cones, add multicolored sprinkles, and enjoy!
Step 4/8
Place 2 eggs in each compartment of a nearly empty 4-compartment snack box. Stir well and add cherry tomatoes, grated mozzarella cheese, diced ham, and slices of black olives to the different compartments. Sprinkle with chopped parsley. Place the snack box in a high sided skillet full of simmering water and cook for 10 minutes. Demold the omelets and enjoy.
Step 5/8
Place 1 tablespoon of sour cream in a nearly empty jar of guacamole. Add 3 slices of diced and fried bacon, 1 egg, and chopped parsley. Place the jar in a pot of simmering water for 10 minutes and then enjoy with tortilla chips.
Step 6/8
Place 4 tablespoons of flour, 4 tablespoons of sugar, 2 tablespoons of sunflower oil, 4 tablespoons of milk, and 2 eggs in a nearly empty container of Nesquik ®. Close the container and shake to stir. Place the open container in the microwave for 4 minutes. Add whipped cream and multicolored sprinkles and enjoy!
Step 7/8
Place 3 gummy bears in each of 4 empty pudding cups, followed by 1 oz rum, 1 1/2 oz mint liquor, and 3/4 oz lemon juice, and freeze for 45 minutes. Demould the boozy ice cubes, place them in a salad bowl, and add club soda, lemon slices, and mint leaves. Serve with a straw.
Step 8/8
Microwave a nearly empty pint container of Häagen Dazs ® ice cream for 30 seconds to melt. Add 2 egg yolks, close the container, and shake to stir. Divide this mixture between 4 empty mini Häagen Dazs containers and place them in a bowl with water halfway up the sides of the containers. Bake for 1 hour at 350 °F. Sprinkle with brown sugar, caramelize with a blowtorch, and enjoy!