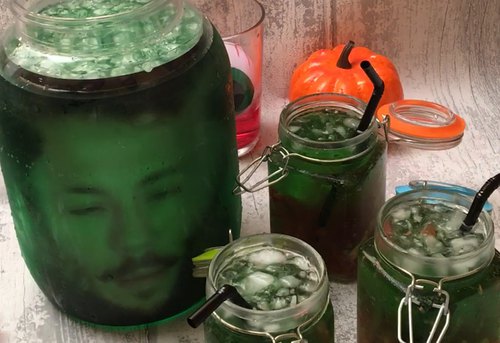 Halloween Punch
It will make you lose your head!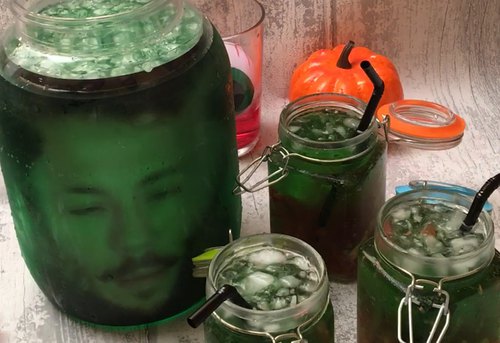 ---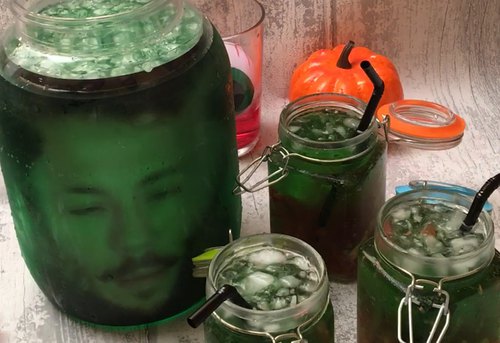 ---
Ingredients for 60 people
2/3 cup of grenadine syrup
2 tsp of agar agar
1/2 cup of cream
ice cubes
1 cup of mint liqueur
5 cups of sprite lemonade
---
Step 1/4
Heat the grenadine in a saucepan with the agar agar. When the powder has dissolved remove from the heat and divide the mix into 2 bowls. Add the cream into one half of the mix.
Step 2/4
Stretch out and tie together the straws, then place them in a tall glass. Pour first the clear grenadine mixture into them, then the mix with the cream. Leave to set in the fridge for 1 hour.
Step 3/4
Place the photo inside the plastic wallet, then glue the edges to seal it and make it waterproof. Add the picture inside a large jar or container, then add ice and the mint liqueur and the lemonade.
Step 4/4
Remove the straws and squeeze the jelly worms out of them into glasses. Add the green cocktail mixture over them and serve.