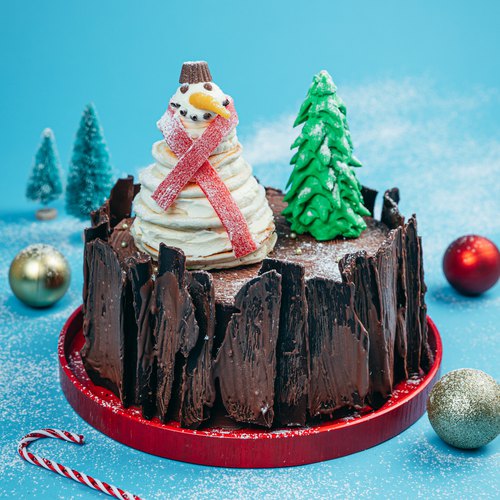 Frosty The Snowman Cake
Frosty The Snowman Cake! A whimsical new dessert ⛄🎂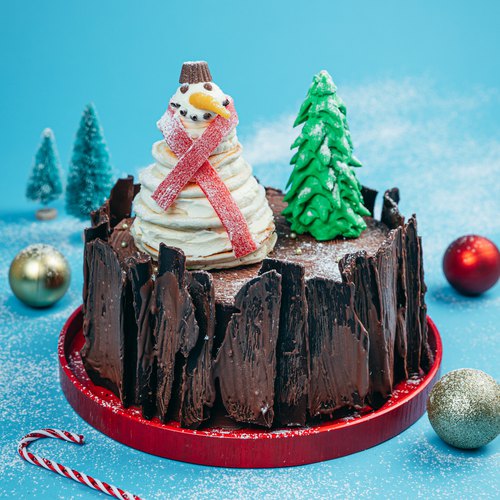 ---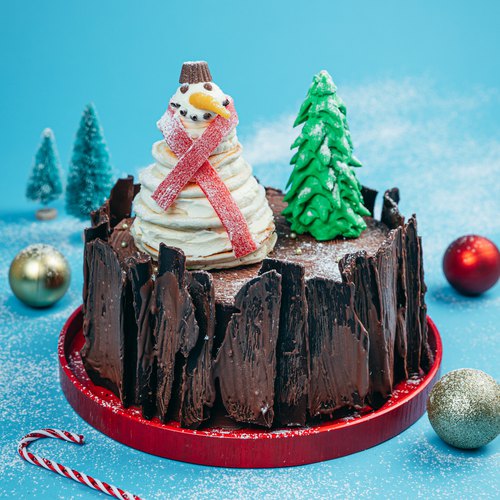 ---
Total time: 30 minutes
Prep time: 30 minutes
Ingredients for 6 people
1 cup of pancake batter
1/2 cup of chocolate pancake batter
1 tbsp of oil
2 cups of buttercream frosting
2 cups of chocolate ganache
1.4 cups of green fondant
2 cups of dark chocolate
1 cup of milk chocolate
1 string candy
6 chocolate curls
1 reese's mini
1 box of graham crackers
1 container of marshmallow fluff
1 slice of leftover chocolate cake
8 m&m's
1 orange marzipan
3 oz of milk
2 oz of powdered sugar
---
Tools
Squeeze bottle
Plastic sheet protector
---
Step 1/5
First start by filling your squeeze bottle with your pancake batter, after squeeze out 5 pancakes, one smaller than the other. Pipe chocolate pancake batter in the center of the plain pancakes. Cook on both sides and set aside. Pipe buttercream in the center of pancake and pipe some frosting on the last pancake. Add a marzipan carrot nose, chocolate curls for the mouth, sprinkles for the eyes, a sour candy belt for the scarf and a mini reese's' peanut butter cup for the hat.
Step 2/5
Cover an ice cream cone in rolled out green fondant. Cut leaves in the tree. Fill the bottom of the tree with peanut m&m's. Dust snowman with powdered sugar.
Step 3/5
Crush graham crackers into a fine crumb and pour melted butter. Mix well. Take a leftover cake slice and put it in a blender, add milk and mix.
Step 4/5
Place the cake pop dough on top of the crushed graham crackers. Then add dollops of marshmallow fluff on top of the cake pop and smoothe out. Place 3, 3 inch pieces of cut banana on one end of your cake roll. Cut into 3 even strips of cake. Roll each strip onto itself and continue until you finish the whole cake. Chill until set. And then frost the roll with chocolate ganache.
Step 5/5
Pour melted dark chocolate on a plastic sheet protector and cover with another sheet. Use two toothpicks to create wood grain before the chocolate hardens. Roll up both sheets into a log and freeze. Unroll ad use some melted chocolate to stick pieces of the bark around the sides of the cake. Paint the bark with melted milk chocolate. Once everything is set, add the christmas tree and snowman. Sprinkle with powdered sugar, serve and enjoy!