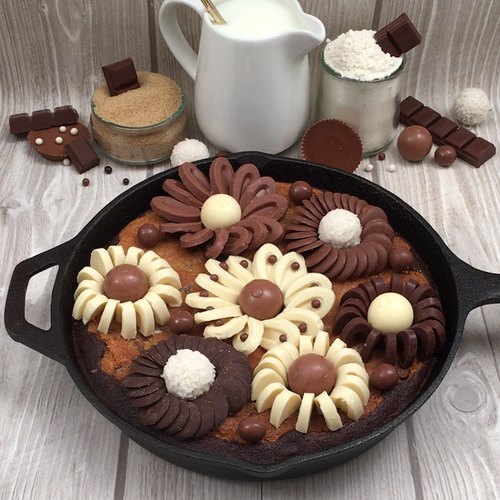 Triple-Decker Brookie
Chocolate lovers, we designed this one just for you! 😍🍪❤️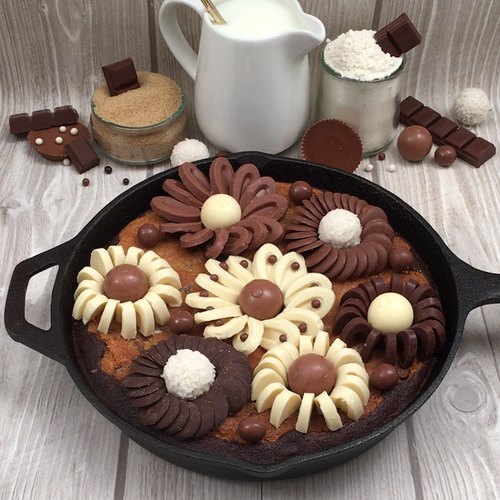 ---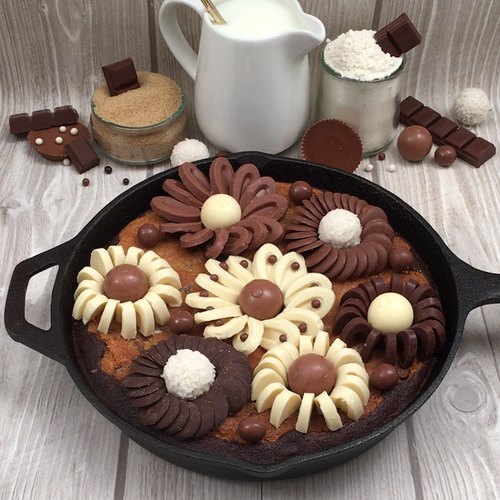 ---
Ingredients for 6 people
brownie batter:
3 egg
1 cup of powdered sugar
1/3 cup of cocoa powder
1/2 cup of melted butter
cookie batter:
1 cup of butter
3/4 cup of sugar
3/4 cup of brown sugar
1 tsp of vanilla extract
2 1/4 cups of flour
1 tsp of baking soda
1 tsp of baking powder
salt
1 cup of chocolate chips
20 reese's peanut butter cups
chocolates and candies, for decoration
---
Tools
Cast-iron skillet
---
Step 1/3
Make brownie batter: In a bowl, mix eggs, flour, powdered sugar, cocoa powder, salt, vanilla extract, and melted butter. Place Reese's peanut butter cups on the bottom of a cast iron skillet, so there totally cover the bottom, pour brownie batter over Reese's covering them completely.
Step 2/3
Make cookie batter: Mix room-temp butter, sugar, brown sugar, egg and vanilla extract together until well combined. Add flour, baking soda, baking powder and salt. Mix the dry ingredients together a bit before folding them into the butter mix. Add the chocolate chips, and fold until combined. Chill for 5-10 minutes. Then form into balls and place all over the brownie batter, leaving a boarder. Bake for 30 minutes at 350 °F.
Step 3/3
Carefully remove the cast-iron skillet from the oven, being careful not to touch the hot handle. Unwrap various chocolate truffles and chocolate candies. Use a mix of milk, white, and dark chocolate for the best results. Decorate the top of the warm cookie with chocolates to form flowers. Enjoy with a spoon!