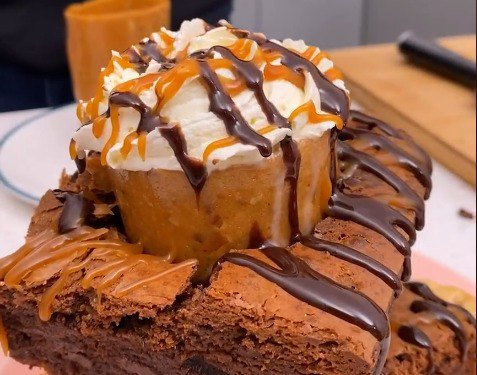 Boozy Turtle Brownie
Boozy Turtle Brownie! This dessert is turtley delicious 😚🍫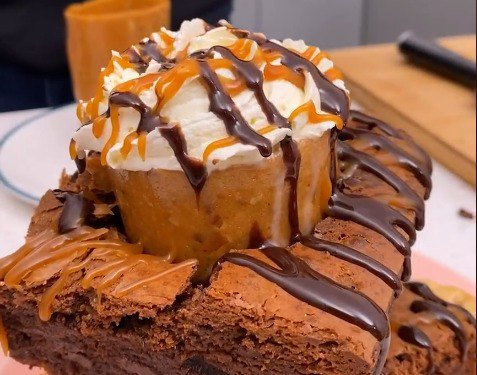 ---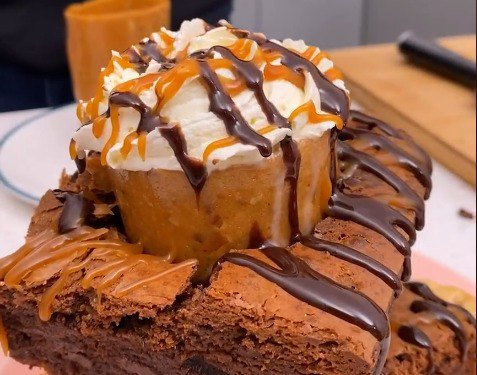 ---
Total time: 1 hour
Cook time: 1 hour
Ingredients for 4 people
1 brownie box mix
1 1/4 cups of pecans
4 1/2 soft caramel
2 puff pastry
1/2 cup of toffees
1 egg yolk
1 bag of werther's original hard caramels
8 werther's original ® chewy caramels
1 tbsp of water
1 tbsp of butter
1 scoop of chefclub vanilla ice cream
1/2 cup of baileys
1/2 cup of whipped cream
---
Tools
Glasses
Wooden spoons
Cooking spray
parchment paper
---
Step 1/4
Prepare the brownie mix according to the box. Line an 8x8 baking dish with parchment paper. Spray the 4 drinking glasses with non-stick cooking spray and place the glasses right side up (equal distance in the baking pan). Sprinkle 1/2 cup of whole pecans around the bottom of the pan and then add the soft caramels. Pour the brownie batter in between the glasses. Bake at 350°F for 40 minutes or until the center is cooked through. Allow to cool completely before removing the glasses.
Step 2/4
Brush egg yolk on both sheets of puff pastry dough. Place one sheet, egg side down onto 1/2 cup of chopped pecans. Turn the dough over with the pecan side up and sprinkle with toffee bits. Place the second sheet egg side down on the pecans and toffee side of the first dough. Press dough to stick together. Using a pizza cutter, slice the dough into strips. Wrap the handles of wooden spoons (covered in parchment paper). Twist the dough around the spoon handles. Bake for 10-15 minutes at 350°F. Once they have cooled, stretch a soft caramel with your hands and slide it into the center of the dunkers.
Step 3/4
In a small saucepan, melt together the werther's hard and soft caramels, butter, and water over low heat, stirring to have a smooth mixture. Stir in the remaining chopped pecans and the baking soda. Pour 1/3 of the caramel onto a piece of parchment paper. Place a second parchment paper on top. Using a rolling pin, roll out to a thin layer. Take off the top parchment paper. Line up a juice glass sprayed lightly with non-stick spray. Cut the brittle in order to cover the juice glass. Roll the brittle around the glass, pressing at the end to seal the side. Pour a small amount of caramel onto the parchment and press the bottom of the glass into the caramel. Repeat with the rest of the caramel to make 2 cups. Work quickly as the brittle will harden as soon as it cools. Once cooled, remove the glass from inside of the brittle cup.
Step 4/4
Cut the brownie into 4 equal parts. Remove the glasses from the brownie. Stack the brownie into two piles of 2. Place the brittle mug in the middle. Add a scoop of vanilla ice cream, pour the baileys over the ice cream. Top with whipped cream, caramel sauce, and chocolate sauce. Add some pecans and enjoy!