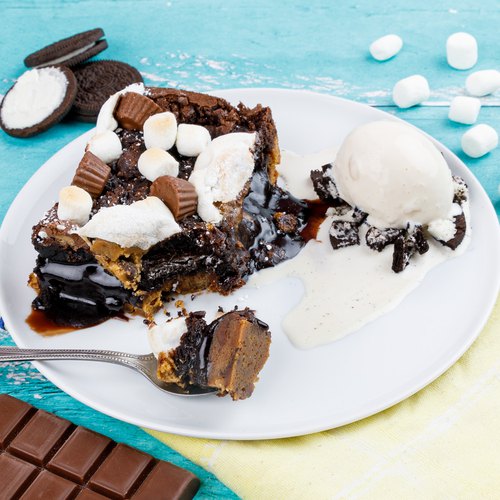 Marshmallow & Cookie Dough Brownies
Marshmallow & Cookie Dough Brownie! This dessert is out of this world 🤩🍪🤎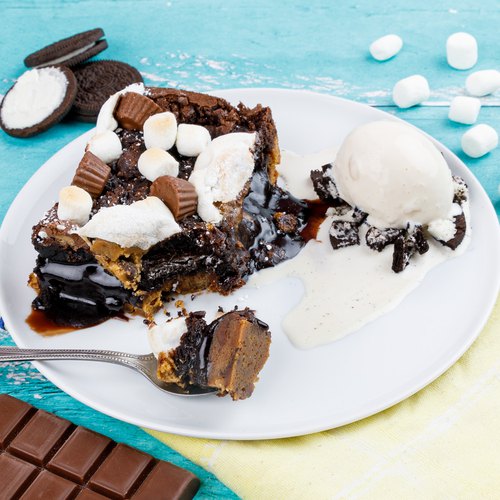 ---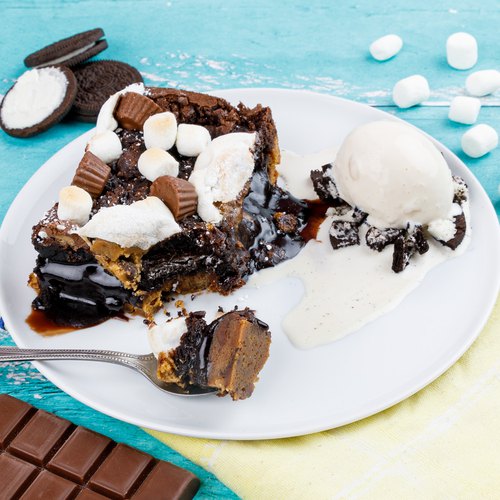 ---
Total time: 45 minutes
Cook time: 45 minutes
Ingredients for 10 people
2 packages of cookie dough
15 oreos
1 box of brownie mix
3/5 cup of vegetable oil
1/4 cup of water
1 cup of chocolate chips
1 container of vanilla ice cream
Marshmallows
2 egg whites
1 tbsp of corn syrup
3 tbsp of sugar
2 sheets of gelatin
1 tsp of vanilla extract
1 cup of mini marshmallows
1 cup of cornstarch
1 cup of reese's mini
---
Tools
Hand mixer
Thermometer
Ice cream scoop
Mini muffin tray
---
Step 1/4
Preheat oven to 350°F. Mix the brownies according to the instructions on the box. Spray the pyrex dish with non-stick spray. Take the cookie dough and make 12 small balls. Place these into the refrigerator. Roll the rest of the cookie dough into the chocolate chips. Press the cookie dough into the pyrex pan, evenly covering the bottom of the dish. Place the oreos over the cookie dough. Pour the prepared brownie batter over the oreo. Bake for 25-30 minutes. You want the brownie to be a little bit gooey.
Step 2/4
While the brownies are baking, make the marshmallows. In a bowl with tall sides, whip the egg whites with 1 tablespoon of sugar to stuff peaks. In a small saucepan, heat the remaining 2 teaspoons of sugar with the corn syrup and 2 teaspoons of water. Use the candy thermometer, remove the syrup from the heat when it reaches 240°F. Slowly pour the hot syrup into the whipped egg whites while mixing simultaneaously. Do not stop mixing while the syrup is being added and continue to whip together. Melt the gelatin using the residual heat in the saucepan. Then pour the melted gelatin into the egg whites and continue beating until cooled down and the mixture is glossy and fluffy. Fill a piping bag with the marshmallow mixture. Spray the mini muffin tin with non-stick spray. Pipe the marshmallow into each mini muffin. Press a little cookie dough ball into each marshmallow and then cover with more marshmallow. Sprinkle with cornstarch and allow the marshmallows to set completely. Turn the marshmallows out onto a surface covered in cornstarch. Roll the marshmallow around in the cornstarch so they will not be sticky. Shake off the excess cornstarch.
Step 3/4
Remove the brownie from the oven and chop it with a wide spatula. Top with the cookie dough filled marshmallows, mini marshmallows and mini reese's. Place into the oven for 5-10 minutes until the marshmallows are nice and toasty. Allow to cool enough to slice into squares.
Step 4/4
Take the ice cream and cut a circle into the plastic covering the ice cream. Turn the container upside down. Using the serrated knife cut down to cut the container in half down the middle, but do not cut all the way through the bottom (which is the top of the container). Serve the brownies with a big scoop of ice cream. Enjoy!