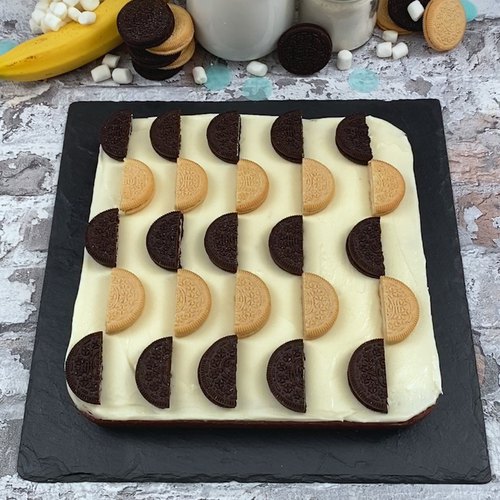 Oreo Brownies
With an oozy banana center! 🍌💦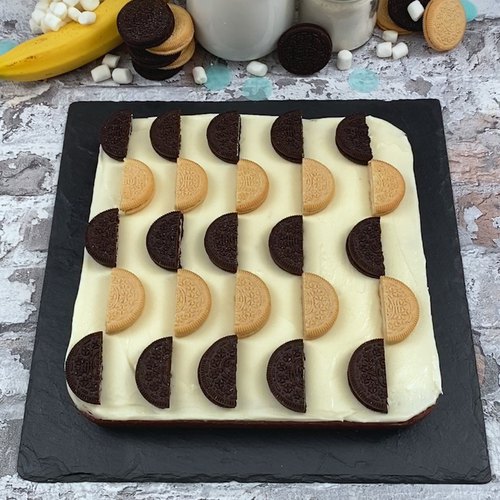 ---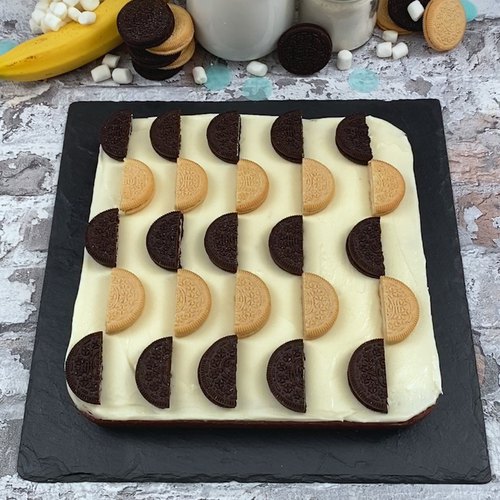 ---
Ingredients for 4 people
1 cup of melted milk chocolate
1 1/4 cups of butter
1/2 tsp of instant coffee
1 1/2 cups of sugar
4 eggs
3 tsp of vanilla extract
1 cup of flour
1/4 cup of cocoa powder
1/2 tsp of salt
3 bananas, peeled
paper clips
mini marshmallows
chocolate chips
8 oz of cream cheese
4 cups of powdered sugar
oreos
---
Step 1/3
Mix together melted chocolate, 3/4 cup of melted butter, and instant coffee, then mix in sugar. Once combined, add 2 tsp of vanilla and eggs. Finally mix in flour, cocoa powder, and salt. Transfer to a lined baking pan.
Step 2/3
Unwind a paper clip so that only one loop remains. Using that loop, carve out the center from the banana. Fill with mini marshmallows and chocolate chips. Place the stuffed bananas in the brownie batter and bake for 30 minutes at 350 °F.
Step 3/3
Whip together remaining butter, cream cheese, 1 tsp of vanilla. When combined, add powdered sugar and beat until a frosting is formed. Frost the cooled brownie and decorate with Oreos the design of your choice.