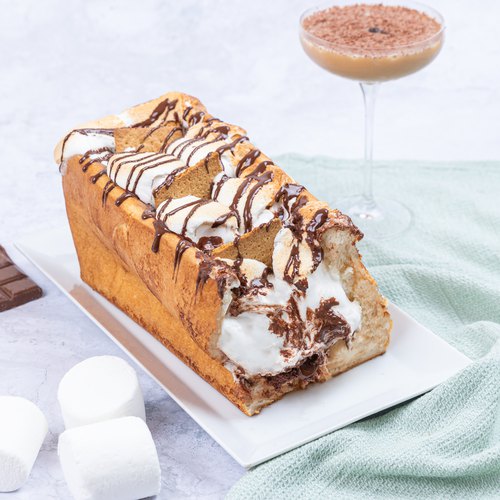 Espresso Martini & Super S'mores Loaf
Espresso Martini & Super S'mores Loaf! Life is s'more fun with this sweet 😊🍫🍸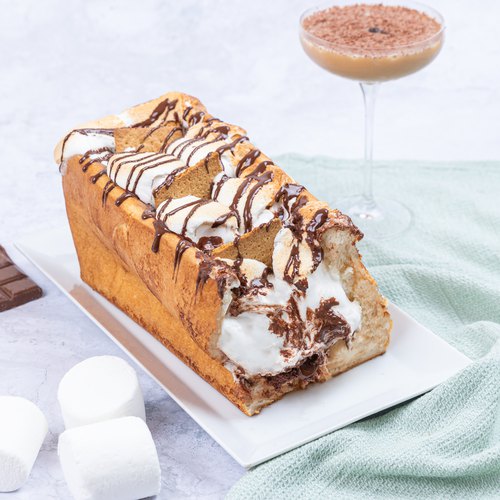 ---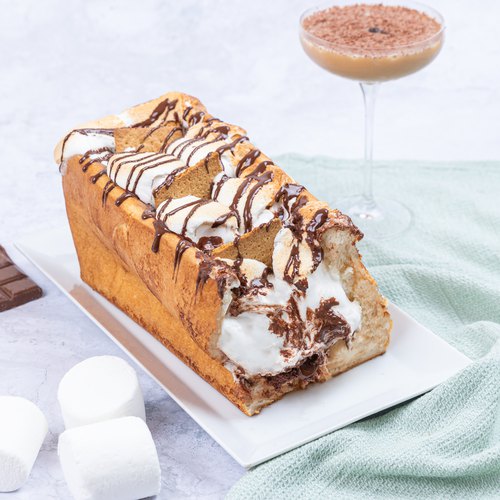 ---
Total time: 15 minutes
Prep time: 10 minutes, Cook time: 5 minutes
Ingredients for 6 people
1 loaf of bread
Marshmallows
4 milk chocolate bars
3 egg
3 cups of milk
3 tbsp of sugar
1 tsp of vanilla extract
4 cups of bread, toasted
1 egg white
1 oz of espresso
Ice cubes
1 cup of maple syrup
2 oz of barley vodka
Coffee beans
Coconut water
---
Step 1/4
Cut a rectangular cavity in the loaf of bread. Garnish with layers of crackers, marshmallows, and chocolate. Mix eggs, vanilla extract, milk and sugar to obtain a French toast mixture. Coat the bread in the liquid and toast each side on a plancha. Place on a dish and bake until golden brown. Remove from the oven and drizzle with chocolate sauce.
Step 2/4
Take pieces of toast that have been soaked in maple syrup and place them in a bowl. Pour coconut water over the toast and blend until smooth. Strain the mixture and add some milk.
Step 3/4
Place crushed ice in a cocktail shaker and pour in 2 oz of the toast mixture. Add 1 oz of barley vodka, 1 oz of espresso, 1 egg white, and shake.
Step 4/4
Pour the cocktail into a glass, add a coffee bean and sprinkle with chocolate shavings. Serve with the s'mores loaf and enjoy!