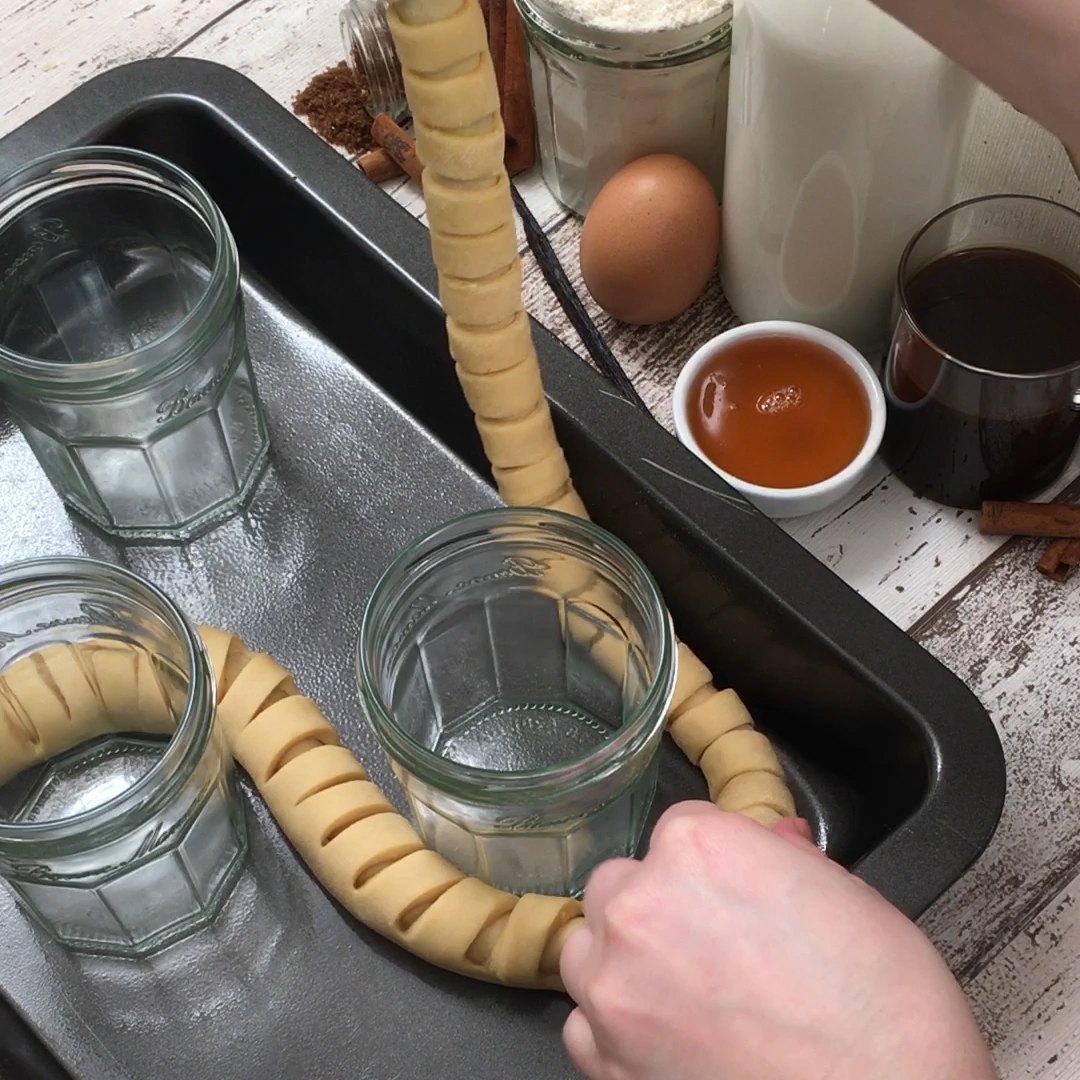 Cinnamon Roll Breakfast Bake
With a coffee hack to start your morning right!
Total time: 45 minutes
Ingredients for 8 people
4 cups flour
2 teaspoons salt
1 packet of yeast
4 eggs
4 tablespoons honey
3/4 cups milk
2/3 cups butter
1/8 cups butter, for filling
1/2 cup brown sugar
1 tablespoon cinnamon
1/2 cup cream cheese
1/2 cup sugar, for icing
1/2 cup butter, for icing
Pinch of salt
Instant coffee
1 egg yolk, beaten
---
Tools
3 glass jars
Rolling pin
Pastry brush
---
Step 1/5
Make the brioche dough by combining flour, salt and yeast in a bowl. Mix well and make a well in the center of the flour mixture. Add Eggs, honey and milk to the well and mix well with your hands to form the dough. Add butter and continue kneading until all of the butter is incorporated. Place the dough in the refrigerator to rest for a minimum of 4 hours.
Step 2/5
While the dough is resting, prepare the filling by combining butter, brown sugar, cinnamon and salt. Mix well until a crumbly texture is achieved. Set aside.
Step 3/5
On a baking tray, place three glass jars to form a triangle. Set aside.
Step 4/5
Take a portion of the dough and place it on a lightly floured surface. Roll the dough into a rectangle and trim the edges to make a straight edge. Make slits 1/2 inch apart along one length of rectangle, being careful not to cut the bottom edge. Gently stretch the dough to widen the spaces. Cover the dough on top of the cuts with the cinnamon filling and smooth for an even layer. Roll the top edge of the dough down tightly towards the bottom edge. Stretch the roll again gently to create gaps where the slits were made. Chill the finished roll and repeat these steps until you have enough rolls to fill the baking tray. Place the rolls around the glass jars on the baking tray randomly. Set aside to rest for 30 minutes.
Step 5/5
Prepare the glaze by adding the cream cheese, sugar, butter and a pinch of salt to a bowl and mixing until smooth. Set aside. Fill each glass jar with the desired amount of instant coffee and fill 3/4 full with water. Brush the cinnamon rolls lightly with egg wash and bake for 45 minutes at 350°F. Cover the warm cinnamon rolls with the glaze. Slice and dip into the coffee to enjoy. Using the ladle, scoop out coffee leaving the ground in the bottom of the jar.