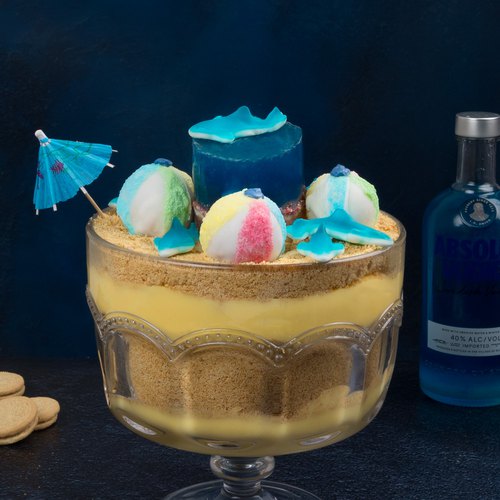 Sharktastic Trifle & Vodka
Sharktastic Trifle & Vodka! No-fin compares to this boozy combo 🤩🦈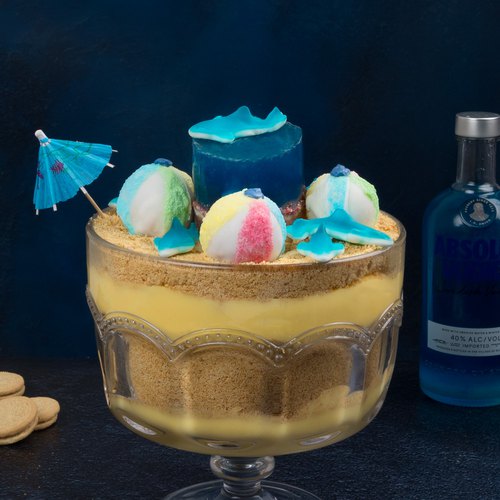 ---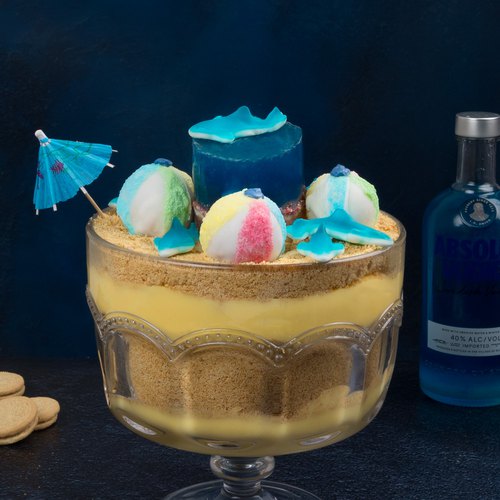 ---
Total time: 3 hours
Rest time: 3 hours
Ingredients for 6 people
3 loaf cakes
2 packages of berry blue jello
1 cup of vodka
4 packages of vanilla pudding
128 oz of milk
Shark gummies
Nerds candy
Vanilla frosting
Sprinkles
White candy melts or white chocolate
2 boxes of vanilla wafers
1 box of graham crackers
1 box of golden oreos
Oreos
Blue jolly ranchers
---
Tools
Plastic bottles
Cling wrap
Pastry brush
Food processor
---
Step 1/3
Cut off the bottoms and tops off small plastic bottles. Using the middle part of the bottle, cut a piece of loaf cake so that sits at the bottom of the bottle. Wrap the bottom part of the cake with cling wrap. Add a small amount of vanilla pudding inside the bottle and spread it. Pour a layer of Nerd candies on top and add a shark gummy. Mix 1 package of jello with 1 cup of boiling water. Add 1 cup of cold vodka and mix. Pour inside bottle and refrigerate until set. These will become push-pops.
Step 2/3
Crumble the leftover cake. Add vanilla frosting until it holds its shape. Make cake pops and dip in candy melts. Refrigerate for 15 minutes. Prepare 4 small bowls of red, blue, green and yellow sprinkles. Brush cake pops with candy melts and create beach balls with the different colors. Refrigerate to set.
Step 3/3
Using a food processor, grind the wafers, graham crackers, golden Oreos and a couple regular Oreos. Prepare vanilla pudding by following directions on the jello box. To assemble the trifle, add a layer of vanilla pudding, then crumb mixture, repeat the process so you will have 2 layers of pudding and 2 layers of crumbs. The top layer of the trifle should be the crumb mixture. Place beach balls on top of trifle and decorate to look like a beach. Place the push-pops on top and enjoy!