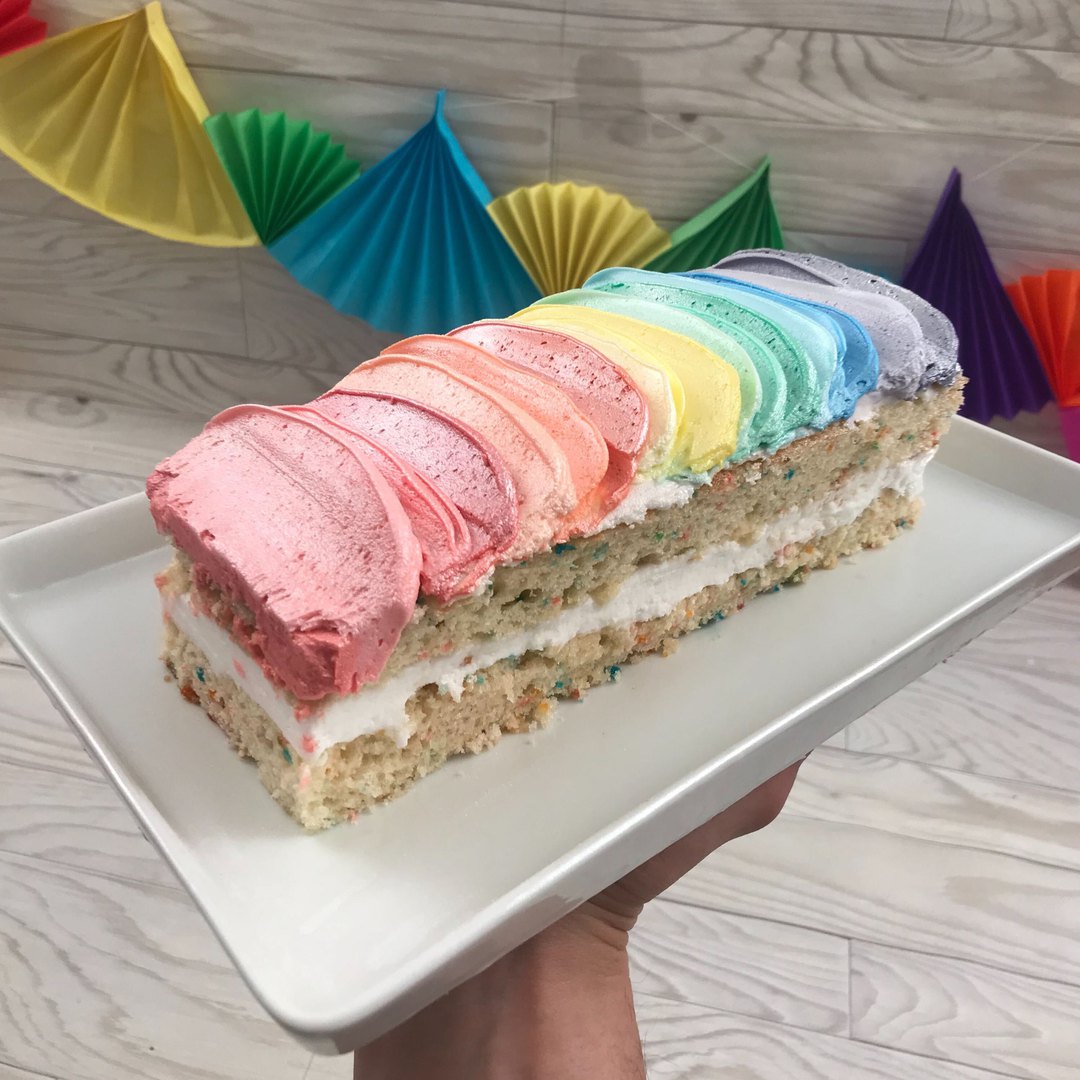 All Rainbows, All The Time
8 recipes to turn every day into a celebration ❤️🧡💛💚💙💜🖤
Total time: 15 minutes
Ingredients for 6 people
Marshmallows
Vodka
Skittles
Pineapple, rind removed
6 packs Kool-Aid, rainbow colors
6 quart water bottles
6 cups sugar, divided
Vodka
3 egg whites
Pinch of salt
1/2 cup sugar
Food coloring
Pocky sticks
Frosting, your favorite kind
Rectangle cake, with crumb coat
Sour Patch Kids, divided
Fluff
Grapes
Sanding sugar, multiple colors
Vodka bottle, half full
1/4 cup lime juice
1/2 cup triple sec
3/4 cup cranberry juice
Froot Loops cereal
---
Tools
Toothpicks
Piping bag with star tip
Skewer
Offset spatula
Kitchen twine
---
Step 1/7
Vodka Marshmallow Pineapple: Fill a bowl with marshmallows and wet with vodka. Let rest. Meanwhile, grind separate Skittles into each color, then turn into a powder. Using toothpicks, skewer marshmallows then roll in the Skittle powder. Place the toothpicks into the pineapple to create a rainbow. Enjoy!
Step 2/7
Vodka Slushie: Remove a little water from each of the 6 water bottles, place one pack of Kool-Aid and 1 cup of sugar in each bottle, put the lid on and shake to mix. Place the water bottles into jars and cover the bottle with ice and rock salt. Shake until the Kool-Aid has just frozen. Pour all the colors into a large glass then top with vodka. If you don't want to share the cocktail, you can layer the Kool-Aid in a smaller glass then top with vodka.
Step 3/7
Unicorn Meringues: In a bowl mix 3 egg whites, a pinch of salt, and 1/2 cup sugar until stiff peaks form. Using red, orange, yellow, green, blue, and purple food coloring, dip a clean skewer in each color then paint it on the inside of the piping bag. Fill the piping bag with the meringue mix, stick a Pocky stick into the center of the piping tip and then pull the Pocky out while swirling the bag and applying pressure. Once all the meringues have been made, place on a baking sheet and bake for 1 hour at 215 °F.
Step 4/7
Rainbow Cake: Divide your frosting in half then divide one half into 6 bowls and color one bowl red, one orange, one yellow, one green, one blue, and one purple. Using your offset spatula place the darkest color on the cake then add a little of the white frosting place this lighter color on and do a third time. Repeat with each color.
Step 5/7
Sour Patch Cheesecake: Divide Sour Patch Kids by color into different bowls, cover each with vodka and let sit until the gummies have become shiny. On your favorite cheesecake place the gummy in rows to create a rainbow.
Step 6/7
Fluffy Grape Cake: Dip grapes into Fluff then dip into sanding sugar and place on top of a frosted cake. Serve immediately.
Step 7/7
Rainbow Cosmo: Add 1/4 cup lime juice, 1/2 cup triple sec, and 3/4 cup cranberry juice. Shake and chill. Make Froot Loops necklaces by stringing Froot Loops onto kitchen twine. Then place the necklaces around the bottle. Leave as is for decoration or give your guests their very own edible necklace when you pour them a drink!