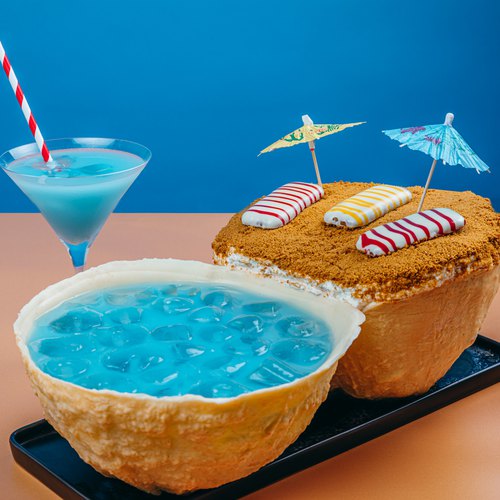 Watermelon At The Beach
Watermelon At The Beach! A refreshing summer cocktail 😋🍉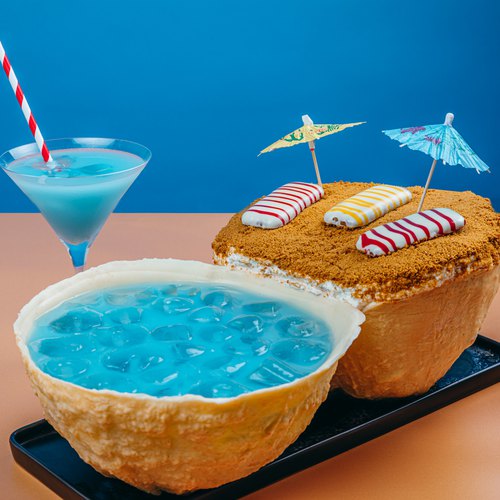 ---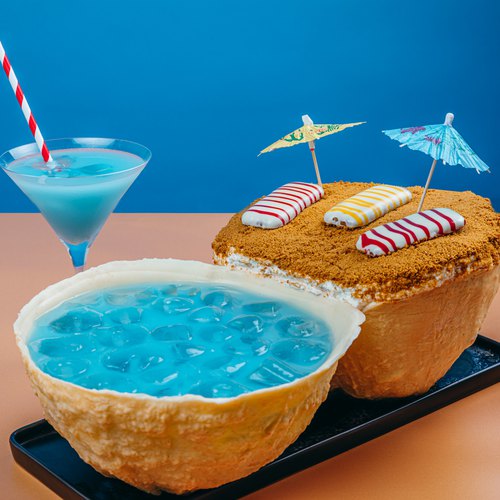 ---
Total time: 2 hours
Prep time: 1 hour , Rest time: 1 hour
Ingredients for 5 people
9 oz of white chocolate
1 watermelon
1 cup of heavy cream
9 oz of mascarpone
1 package of strawberries
4 tbsp of berry coulis
15 speculoos cookies
0.4 cup of curaçao
0.4 cup of milk
Red food coloring
Yellow food coloring
---
Step 1/3
Cut a watermelon in half, hollow out half of the watermelon, set aside the watermelon pieces and the watermelon juice. Melt 3.5 oz of white chocolate, pour it inside the watermelon and spread it all over the inside of the watermelo. Freeze for 30 minutes. Repeat the process with the other half of watermelon. Cut the end of a white chocolate shell to be able to glue it to the other white chocolate shell.
Step 2/3
Whisk the heavy cream, powdered sugar and mascarpone into a whipped cream. Place in a piping bag. Crush the speculoos, place them in the bottom of a chocolate shell, add the pieces of watermelon, the strawberries and the red fruit coulis. Sprinkle the speculoos, pipe the whipped cream and cover it with the rest of the powdered speculoos.
Step 3/3
Melt the rest of the white chocolate, divide it into 3, add the red food coloring, the yellow food coloring into each part of the melted white chocolate. Coat 4 speculoos with chocolate, draw lines of yellow chocolate on 2 speculoos, repeat the process with the red chocolate and the last 2 speculoos. Place the coated speculoos on the tiramisu. Place ice cubes in a bowl, add the watermelon juice, curaçao, vodka, milk and mix until smooth. Pour into the second shell of white chocolate and enjoy!