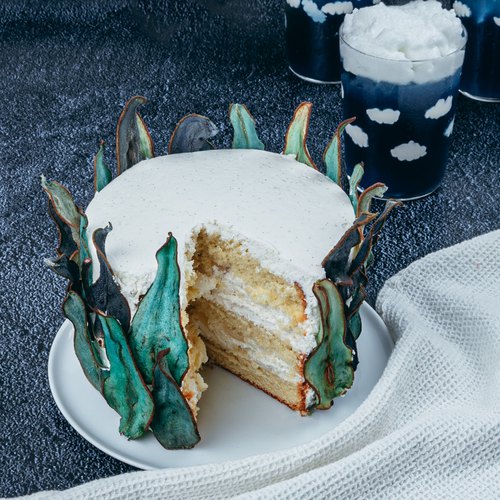 Floating In The Blue Cake
Floating In The Blue Cake! Served with a curacao cocktail 🤩🍸☁️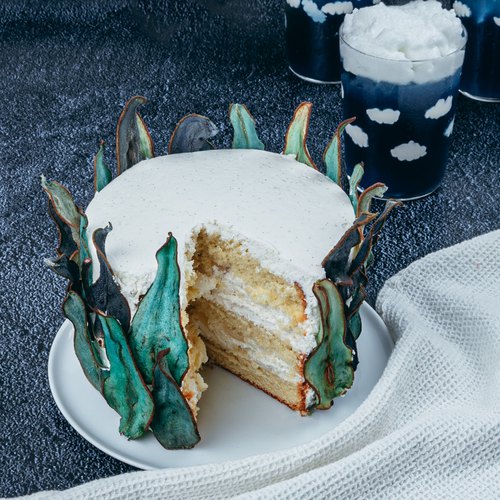 ---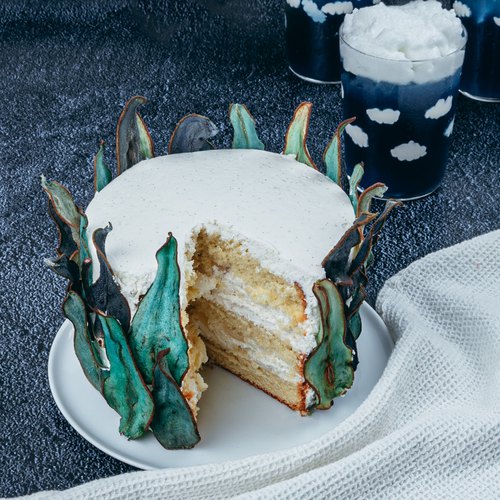 ---
Total time: 1 hour 35 minutes
Cook time: 1 hour 35 minutes
Ingredients for 3 people
Ice cubes
5.3 cups of blue tea
7 tbsp of curaçao
3 tbsp of lime juice
1 egg white
2 oz of cream cheese
1 vanilla bean
3 pears
2 tbsp of powdered sugar
1 cake
---
Tools
Cocktail shaker
Electric mixer
---
Step 1/3
In a cocktail shaker, place ice cubes, 3.2 cups of blue tea, 2 tablespoons of blue curaçao, 1 tablespoon of lime juice and mix well. Draw the clouds with cream cheese inside the cocktail glasses. Whisk an egg white, pour the cocktail into the glass and carefully arrange the beaten egg white on top.
Step 2/3
Cut the cake and stack into 3 equal parts. Mix the heavy cream with a scarped vanilla bean and use to cover the entire surface of the cake. Cut the pears and place in the fridge.
Step 3/3
Mix the remaining blue tea with 5 tbsp of curaçao, add the powdered sugar and bring to a boil. Place the pear slices in the syrup and cook for about 5 minutes. Remove from heat and allow to cool. Drain and place on parchment paper, bake for 1h30 at 190°F. Decorate the cake with the pears and enjoy!