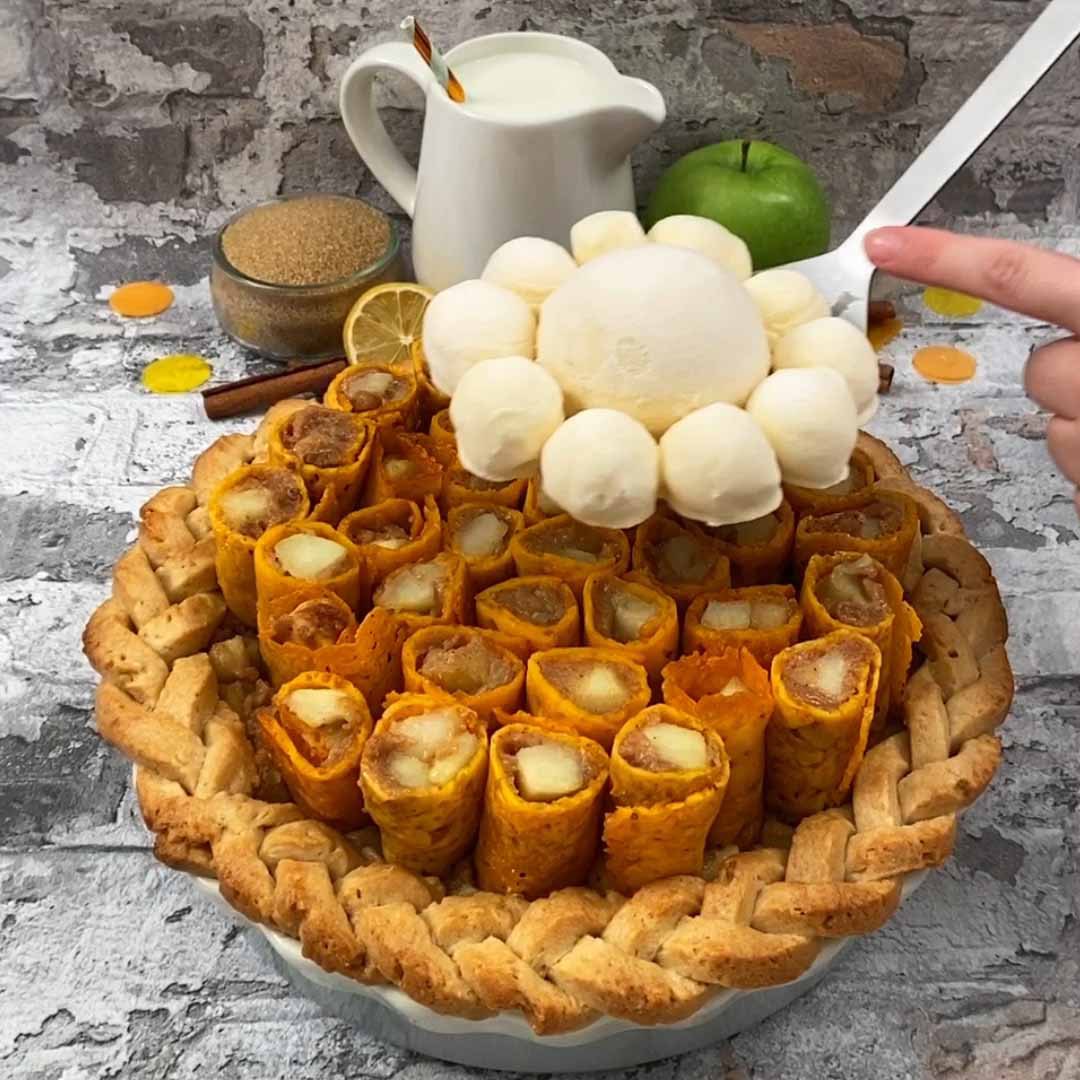 Warm Cheddar & Apple Roll-ups
The perfect balance of sweet & savory in a pie! 🍎🧀😋
Total time: 30 minutes
Ingredients for 8 people
1 cup flour
2 tbsp cinnamon
Lemon juice
1/2 cup sugar
3 pie crusts
Vanilla ice cream
Cheddar cheese slices
Caramel sauce
Parchment paper
10 Granny Smith apples
Butter
---
Tools
Ice cream scoop
Melon baller
Baking sheet
Pie plate
---
Step 1/4
Peel, core, and cube the Granny Smith apples. Mix in flour, cinnamon, lemon juice, and sugar. Cook the apples in butter in a skillet over medium heat until the apples are cooked through.
Step 2/4
Line a pie dish with pie crust. Cut the other two pie crusts into strips and braid them together. Wrap the crust around the edge of the pin dish. Bake for 15 min at 350 °F.
Step 3/4
Scoop a large ball of vanilla ice cream in the center of a lined plate. Use a melon baller to scoop small balls to surround the large scoop of ice cream to form a flower. Freeze to set.
Step 4/4
Place cheese slices on a line cooked sheet. Bake for 5 minutes at 350 °F. When cool enough to touch, fill the melted cheese slices with apple pie filling, then roll them up. Fill the pie with the rest of the apple pie filling. Cut them in half, then place the cheese slices in the pie. Top with the ice cream flower. Cover with caramel sauce. Enjoy!