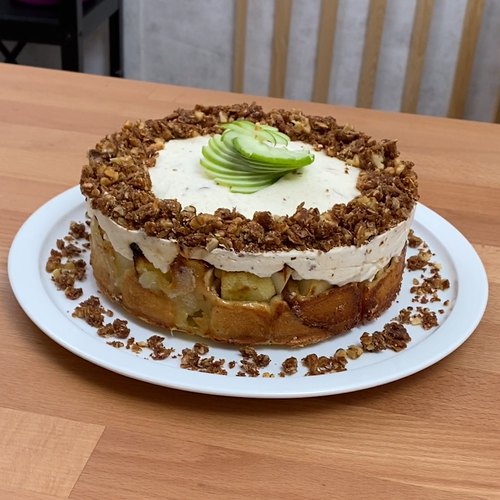 Apple Cinnamon Dessert
An easy twist on the classic apple pie!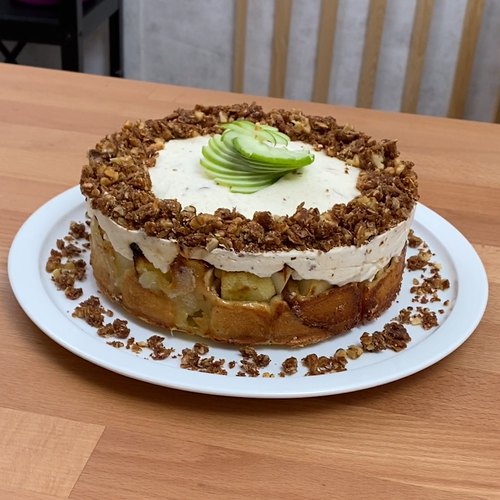 ---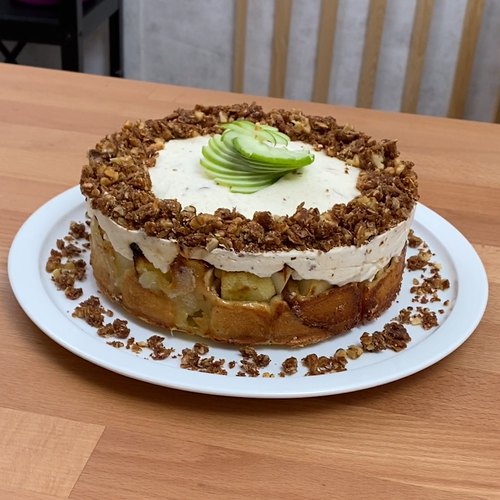 ---
Ingredients for 8 people
8 unbaked cinnamon rolls
6 granny smith apples
1/4 cup of oatmeal
1/4 cup of chopped walnuts
1/4 cup of brown sugar
3 tbsp of butter
salt
2 tbsp of honey
2 cups of mascarpone cheese
2 cups of heavy whipping cream
1/4 cup of apple compote
---
Tools
Springform pan
Parchment paper
---
Step 1/5
Peel, core and slice apples all but one apple. Unroll cinnamon rolls and wrap in an alternating pattern in a springform pan. Bake at 350° F for 20 minutes. Let cool.
Step 2/5
Whip together the mascarpone and heavy cream until thick. Fold in the apple compote. Chill.
Step 3/5
Make the crumble by mixing together the flour, brown sugar, honey, a pinch of salt, softened butter, oatmeal, and chopped nuts in a bowl. Pour onto a lined baking tray and bake for 10 minutes at 375 °F. Cool completely before crumbling.
Step 4/5
Add a layer of cream in the center of the dish, followed by a layer of crumble. Cover the whole dish with cream. Chill until firm.
Step 5/5
Cut an apple in half and remove the core, but leave on the peel. Slice the half apple thinly. Stick a toothpick in center connecting all the slices. Spin the slices around the toothpick creating a spiral. Place the apple spiral in the center of the cake. Sprinkle crumble around the edge of the cake and enjoy!