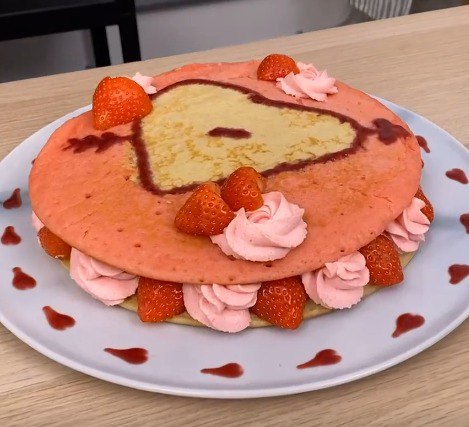 Love Stack Pancakes
Love Stack Pancakes! Time to fall in love with this wonderful treat😍🥞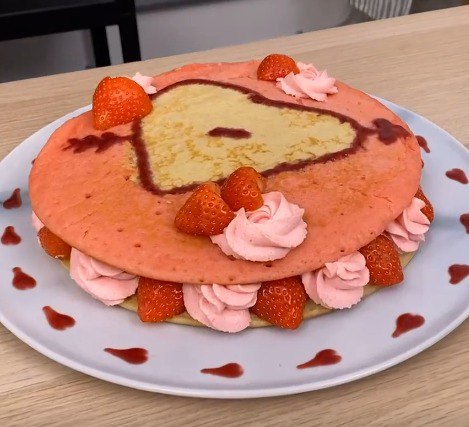 ---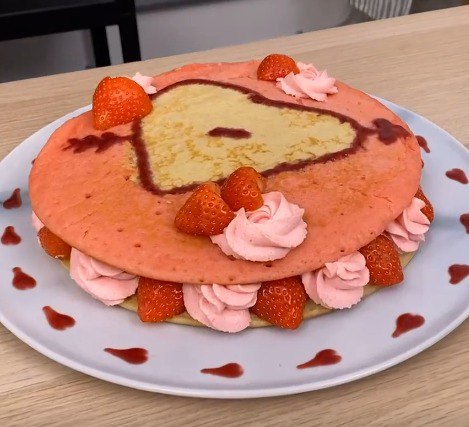 ---
Total time: 30 minutes
Cook time: 30 minutes
Ingredients for 2 people
2 cups of flour
1/4 cup of sugar
1 1/2 tsp of baking powder
1/2 tsp of salt
1 1/2 tsp of baking soda
2 1/2 cups of buttermilk
2 eggs
1 tsp of vanilla extract
1/4 cup of vegetable oil
1 cup of strawberry nesquick
1 cup of heavy cream
4 white chocolate
Goober grape
2 cups of strawberries
---
Tools
Nesquick container with lid
Skewer
---
Step 1/5
In a bowl whisk together the flour; sugar, baking powder, baking soda, and salt. In another bowl whisk together the buttermilk, eggs, vanilla, and vegetable oil. Pour the wet ingredients into the dry ingredients and stir until combined. Divide the batter into 2 bowls. Set one bowl of pancake batter aside. In the other bowl add 1/2 cup of strawberry Nesquick.
Step 2/5
Heat the pan over medium heat. Pour in one cup of strawberry pancake batter. Allow the pancake to set. When small bubbles appear on the surface, use the lid from the nesquik package to made a heart shape imprint in the center of the pancake. Using a wooden skewer outline the heart shape pancake and slowly fold it toward the cente. Take out the middle of the pancake leaving the heart outline. Fill in the heart with the plain pancake batter. When the pancake is cooked outline the heart in fruit puree.
Step 3/5
Pour the plain buttermilk pancake batter into the hot pan. Take two pieces of white chocolate bar and dip them into peanut butter and grape jelly Goober. Place the chocolate onto the pancake and cover with some more batter so the chocolate will not burn when you flip the pancake. Allow to cook fully.
Step 4/5
Beat the heavy cream with the remaining strawberry nesquik until whipped. Cut a V shape into the top of the strawberries, then cut them in half creating a heart shape.
Step 5/5
On a large plate, place the plain pancake. Place strawberry halves along the edge of the pancake leaving a space between each strawberry. Fill in the spaces with whipped cream. Top the pancake with a swirl of whipped cream. Add more strawberries. Put the heart pancake on top. Pipe some whipped cream roses and decorate with strawberry hearts. Enjoy!