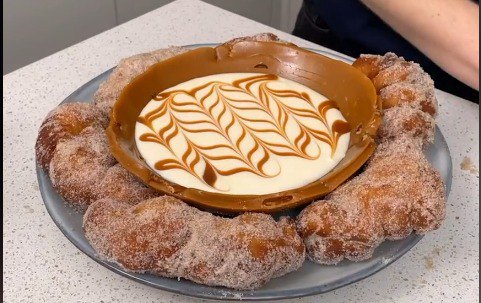 Caramel Bowl & Cinnamon Roll Churros
Caramel Bowl & Cinnamon Roll Churros! Churray for this sweet treat 🤩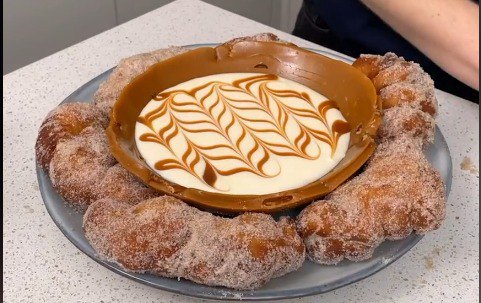 ---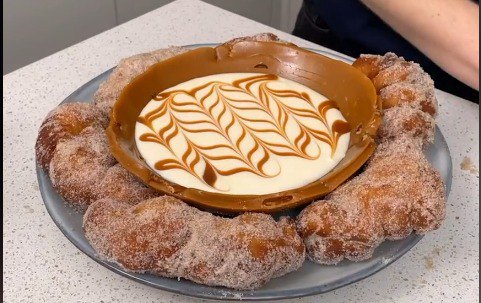 ---
Total time: 2 hours
Cook time: 1 hour 30 minutes, Rest time: 30 minutes
Ingredients for 3 people
4 bags of werther's original hard caramels
2 cups of pecans
10 cups of flour
3 cups of sugar
4 tsp of yeast
2 tsp of salt
4 egg
2 cups of warm milk
1.55 cups of butter
4 tsp of cinnamon
4 oz of cream cheese
1 tsp of vanilla extract
1 cup of powdered sugar
1 l of vegetable oil
3 apples
---
Tools
Apple slicer
Piping bag
Cling wrap
---
Step 1/5
In a large bowl, mix together the flour, 1/2 cup of sugar, yeast and salt. Pour in the warm milk and the eggs. Mix until you have a smooth dough. Place the dough onto a lightly floured surface. Knead for one minute then add 1/3 cup of butter. Knead until the butter is incorporated and the dough is smooth and elastic. Place the dough in a lightly greased bowl and cover with plastic wrap. Let the dough rest for 30 minutes then refrigerate until ready to use.
Step 2/5
Mix 1/4 cup of softened butter, sugar and 2 teaspoons of cinnamon together until smooth and creamy. Scoop into a piping bag or a small plastic sandwich bag.
Step 3/5
Take the chilled dough and place onto a lightly floured surface. Roll out into a rectangle. Using the piping bag, pipe lines of cinnamon butter onto the dough leaving a space between each row. Cut the dough into strips. Fold the dough over, pressing to seal the cinnamon butter in each strip. Roll the dough out into a long thin log. Rolling up on one side and down on the other side, creating a twisted dough. Pick up the two ends of the dough and allow the two sides to twist together. Roll into a long thin rope. Repeat with the rest of the dough. Cut the apples into portions using the apple cutter. Wrap the apple pieces with the dough ropes. Heat the oil to 350°F and drop the cinnamon roll apple pieces into the oil. Cook a few minutes until golden. Remove from the oil. Roll into the cinnamon sugar (1 cup of sugar and 2 teaspoons of cinnamon) while the cinnamon roll apples are still warm.
Step 4/5
In a small saucepan over low heat, melt the werther's hard caramels. Pour the caramel into a bowl. Sprinkle with toasted chopped pecans. Place a smaller bowl that fits into the bowl. Press down, spreading the caramel and pecans up the sides of the bowl. Allow to cool before removing the bowls.
Step 5/5
Mix together the remaining softened butter, cream cheese, vanilla and powdered sugar. Fill the cooled caramel bowl with the icing and serve with the cinnamon apple churros. Enjoy!