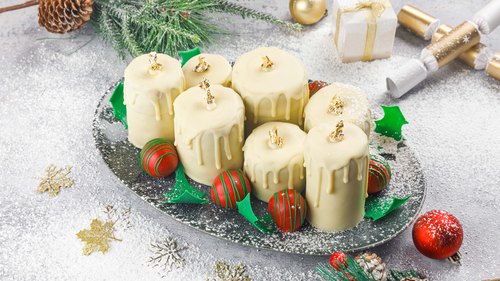 Light My Fire Red Velvet Cake
Light My Fire Red Velvet Cake! This recipe is sure to light up your life 😘🕯️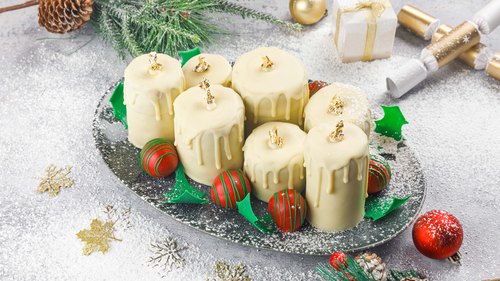 ---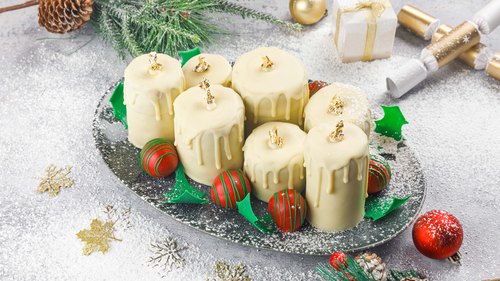 ---
Total time: 3 hours
Prep time: 40 minutes, Cook time: 1 hour , Rest time: 1 hour 20 minutes
Ingredients for 7 people
3 cups of flour
2 tsp of baking powder
1/2 tsp of salt
1/4 cube of cocoa powder
1 1/2 cups of butter
1/2 cup of vegetable oil
3 cups of sugar
6 eggs
2 tsp of vanilla
1/2 cup of sour cream
1/4 cup of hot coffee
1 red food coloring
1 tsp of white vinegar
1/2 cup of buttermilk
1 1/2 cups of white chocolate
1/2 cup of cream cheese
1/2 cup of powdered sugar
1/2 cup of red chocolate
1/2 cup of green chocolate
---
Tools
Empty soda bottles
Birthday candles
Apple corer
Toothpicks
Holly
Paint brush
---
Step 1/4
Preheat the oven to 350˚F. In a medium bowl, stir together the flour, baking powder, salt, and cocoa powder. In a stand mixer cream together 1 cup of butter, vegetable oil and sugar until well blended. Add the eggs one at a time followed by the sour cream, vanilla and coffee. In a small bowl stir together the buttermilk, vinegar and red food colouring. Add the flour and buttermilk mixture to the sugar and egg mixture alternating flour then buttermilk, mixing well after each addition. Pour the cake batter into a large loaf pan. Bake for about 1 hour. Allow the cake to cool completely.
Step 2/4
Prepare the cream cheese frosting. Beat the remaining butter and sugar, followed by the cream cheese and melted white chocolate. Set aside. Take 3 plastic soda bottles and cut the bottles to create 3 tubes of different dimensions. Tape each tube to reinforce it. Use the tubes as cutters to cut out cylinders in the red velvet cake. Save the rest of the cake for later. With the apple corer, take the center out of each of the cylinders. Place the cakes in the refrigerator. Prepare the glaze by melting the 1 cup of white chocolate and 4 tbsp of vegetable oil until well blended.
Step 3/4
Stick a toothpick into the cakes and dip them one by one in the glaze. Fill the cake center with the cream cheese frosting and push a candle into each one. Use the rest of the glaze to create drips on the sides of the cakes to look like candle wax melting. Place the cakes back into the refrigerator. Take the extra bits of cake and crumble them up. Stir in a spoonful of cream cheese frosting to create a thick dough. Scoop out tablespoons of the dough and roll into balls. Dip the cake balls into the melted red chocolate and then drizzle with the melted green chocolate.
Step 4/4
Wash and dry the holly leaves and brush them with green chocolate. Allow the chocolate to set. On a plate, place the cake candles in the center then decorate with the cake truffles and holly leaves. Enjoy!