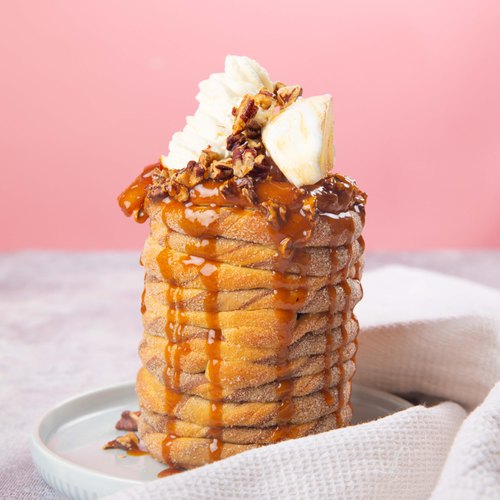 Soots Me Cinnamon Roll Chimney
Soots Me Cinnamon Roll Chimney! Open the hatch to another great recipe 🙂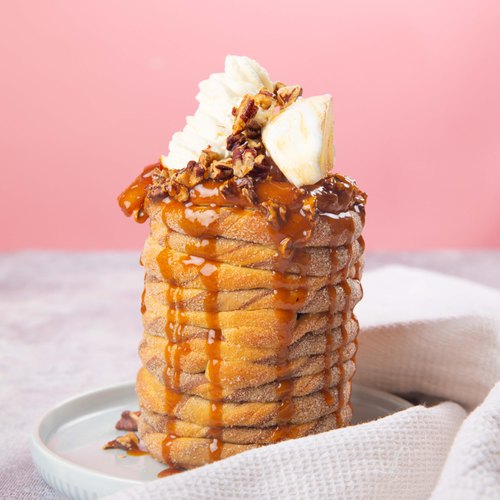 ---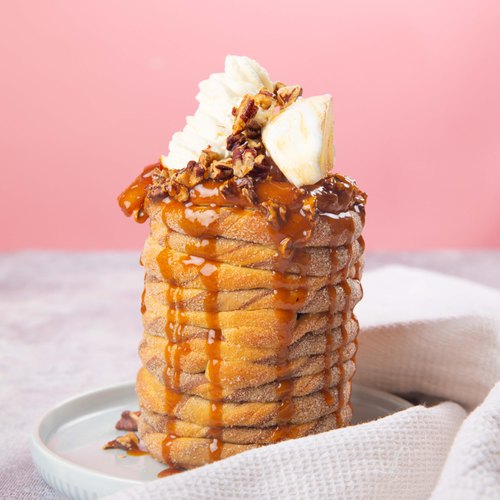 ---
Total time: 3 hours
Prep time: 15 minutes, Cook time: 25 minutes, Rest time: 2 hours 20 minutes
Ingredients for 4 people
2 1/2 cups of flour
1 1/2 cups of sugar
1 tbsp of yeast
1/2 cup of milk
2 eggs
3 tbsp of butter
1 tsp of salt
3 tbsp of cinnamon
5 apples
1/2 cup of caramel sauce
1 jar of marshmallow fluff
1/2 cup of caramelized pecans
1 1/2 cups of heavy cream
1/4 cup of powdered sugar
---
Step 1/4
Take 4 empty soda cans and roll each one in aluminum foil to cover the can. Spray lightly with non-stick spray. In a large bowl mix together the flour, 1/2 cup of sugar, yeast, milk, eggs, butter and salt. Once the dough is smooth, divide into 2/3 and 1/3. Knead the 1/3 of dough with the cinnamon. Place the dough portions into 2 separate bowls and cover with a kitchen towel. Allow dough to double in size. This can also be done the day before by placing the dough in the refrigerator overnight. Divide the plain dough and the cinnamon dough each into 4 equal balls. You will have 4 large balls of plain dough and 4 smaller balls of cinnamon dough.
Step 2/4
Preheat the oven to 350˚F. Press a ball of cinnamon dough into a ball of the plain dough. Pulling up on the plain dough, gently stretch the dough to cover the cinnamon dough. Pinch to seal the dough. Place seam side down on a lightly floured surface. Roll the ball into a small oval. Start cutting the dough into strips, being careful to not cut all the way through to edge of the dough. Twist each individual strip of dough. Place the aluminum covered coke can on the uncut edge of the dough and roll the twisted strands of dough around the can. Once the dough is wrapped around the can, roll the can like a rolling pin, pressing the dough into place on the can. Roll in cinnamon sugar and place standing up on a baking sheet. Let rise 15-20 minutes. Then place in the oven to bake for about 10-15 minutes or until lightly golden. Gently remove the cans while they are still warm.
Step 3/4
In a pan melt sugar until it caramelizes then add 4 chopped apples. Cook the apples until golden, add in a 1 tbsp of butter to the apples. Remove from heat and allow to cool. Cover the single apple with marshmallow fluff and then drizzle with caramel sauce. Use an apple slicer to cut the apple into portions.
Step 4/4
Dip the top rim of each chimney roll in caramel sauce then dip it into some chopped toasted pecans. Begin filling each chimney roll on individual plates. Start by layering cream cheese whipped cream then caramel apples, then repeat whipped cream and the apples. Top with whipped cream, a slice of fluff covered apple, some toasted pecans and a drizzle of caramel sauce.