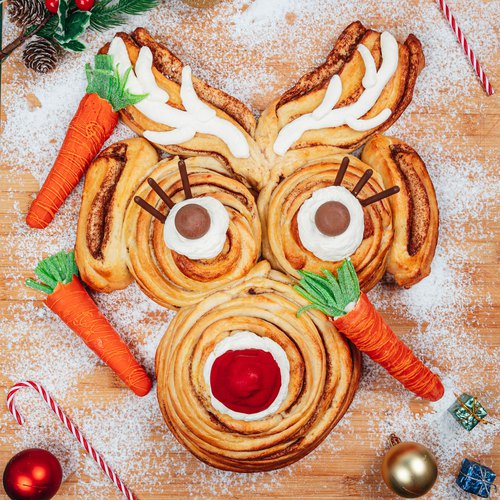 Rudolf Cinnamon Rolls
Rudolf Cinnamon Rolls! Light up the kitchen with this recipe 🦌🎅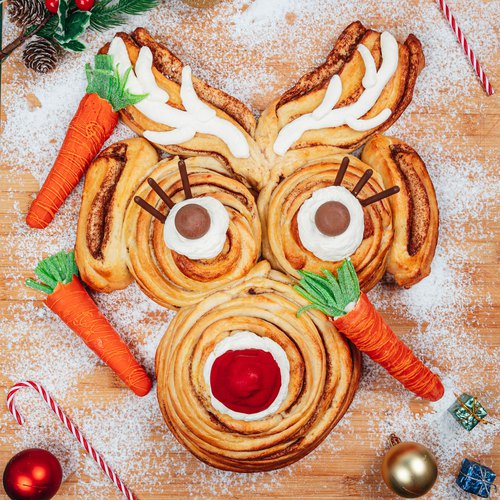 ---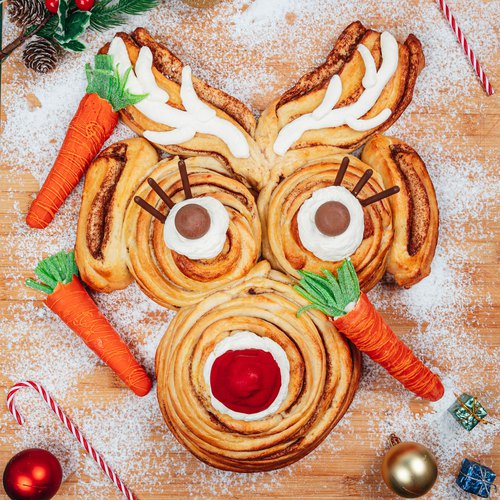 ---
Total time: 2 hours
Cook time: 30 minutes, Rest time: 1 hour 30 minutes
Ingredients for 4 people
1 egg
6 pocky sticks
3 carrots
1 cup of cream cheese
2 chocolate lindt balls
3 lbs of cinnamon roll dough
1 cup of orange colored white chocolate
4 cups of ice water
2 green sour candy belts
1 tbsp of oil
1/2 cup of butter
0.4 cup of cinnamon sugar
Whipped cream
---
Tools
Piping bag
---
Step 1/3
Wrap carrots in cling wrap and dip in orange colored white chocolate. Place in ice water to set. Fill the carrots with whipped cream. Then cut the green sour candy belts to create leaves. Place on carrots and freeze for 30 minutes.
Step 2/3
On a baking sheet, place a medium sized bowl and two smaller ones. Brush with oil. Roll out your cinnamon roll dough to a rectangle. Brush softened butter over all of it and sprinkle with cinnamon sugar. Fold over itself and cut into strips. Add dough spirals over bowls to create eyes and face. Use remaining dough to shape the antlers, ears and nose. Cover with towel and allow to rise 1 hour. Bake 25-30 minutes at 350°F.
Step 3/3
Place reindeer on final plat. Use a piping bag filled with cream cheese frosting to pipe eyes, a mouth and antlers on your reindeer. Place your lindt truffles, and red nose on your deer. Cut pocky sticks to create the eye lashes. Place the carrots, serve and enjoy!