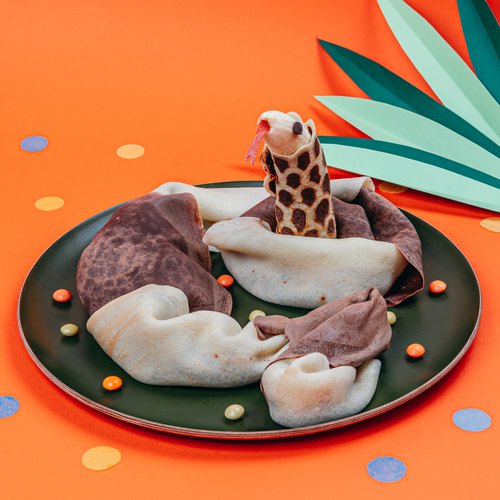 Silly Snake Crepe
Silly Snake Crepe! A fun recipe to make with kids 🐍🥞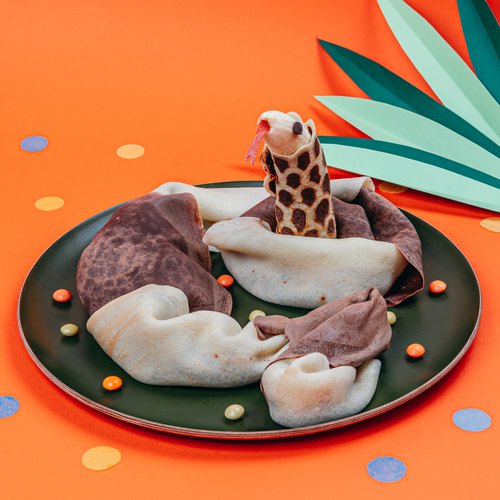 ---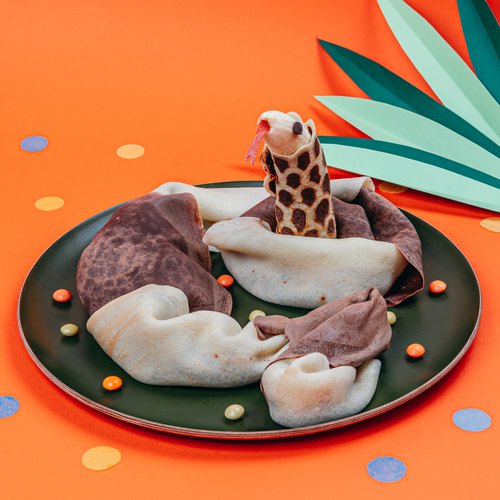 ---
Total time: 55 minutes
Prep time: 20 minutes, Cook time: 5 minutes, Rest time: 30 minutes
Ingredients for 4 people
2 cups of flour
1/4 cup of sugar
4 egg
1 cup of milk
1 1/4 cups of oil
4 tbsp of cacao powder
5 tbsp of chocolate hazelnut spread
2 bananas
1 ribbon candy
2 chocolate chips
3 chocolate eggs
---
Tools
Cling wrap
Pipette
---
Step 1/3
Mix 1 chef and 2 cats of flour, 3 hens of sugar and form a well. Add the 4 eggs, pour 1 chef of milk gradually, 1 chef and 1 mouse of vegetable oil and mix again. Divide the dough in two, add 3 hens of cacao powder in one of the batters. Set the batter aside for 30 minutes.
Step 2/3
Cook 3 plain crepes and 4 cacao crepes then set aside. Layer 6 crepes, alternating a plain crepe and a cacao crepe on cling wrap. Spread 1 mouse of chocolate spread over the entire length of the crepes and top with banana slices. Place the chocolate eggs in the middle of the pancakes and cover them with a cacao crepe. Roll the whole thing, folding down the cling wrap to create the body of the snake. Remove the cling wrap, place and roll up the crepe snake on a plate.
Step 3/3
Fill a pipette with plain batter and a pipette with cacao batter. Draw the scales with the plain crepe batter then with the cacao batter. Flip over and cook on the other side. Spread 1 hen of chocolate spread all over the crepe, wrap a banana in the crepe and place it in a glass. Add a ribbon candy to create the tongue and two chocolate chips to create the eyes of the snake. Place the head in the center of the plate and enjoy!