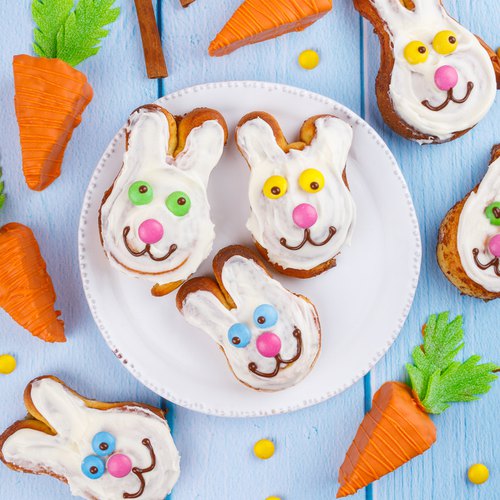 Cinnamon Roll Bunnies
Cinnamon Roll Bunnies! For a hoppy easter!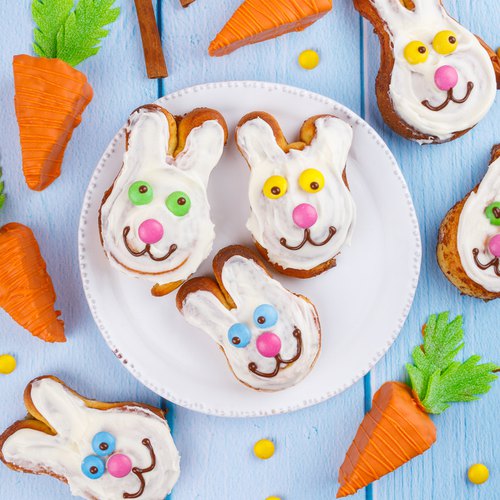 ---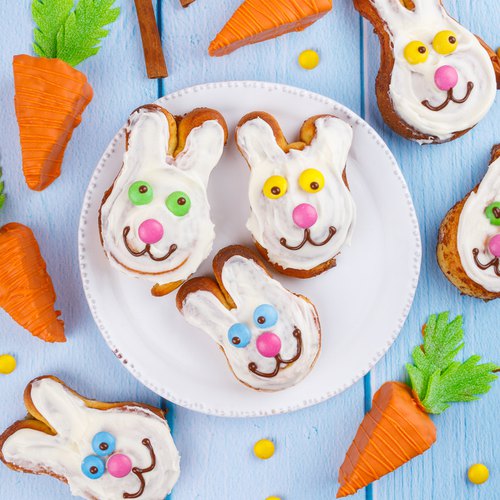 ---
Total time: 2 hours
Prep time: 40 minutes, Cook time: 15 minutes, Rest time: 1 hour 5 minutes
Ingredients for 6 people
1/2 cup of warm milk
0.4 cup of sugar
1 tsp of yeast
1 egg
2 cups of flour
1 tsp of salt
2 cups of marshmallows
3 cups of cinnamon toast crunch
3/4 cup of butter
1 cup of white chocolate
Orange food coloring
0.3 cup of cream cheese
1 cup of powdered sugar
18 m&m's ®
6 green ribbon candies
1/2 cup of brown sugar
1 tbsp of cinnamon
---
Tools
Non-stick baking mat
---
Step 1/5
In a mixing bowl, stir together the milk, yeast and sugar. Add in the eggs, flour and salt. Stir all together until dough forms. Begin mixing in 2 tablespoons of butter in small pieces. Turn the dough out onto a lightly floured surface. Continue to knead until the dough is smooth and elastic. Place the dough in the mixing bowl and cover with a kitchen towel and leave to rise for 30 minutes.
Step 2/5
In a bowl mix together in a small bowl 1/2 cup of softened butter, light brown sugar and cinnamon. Roll out the dough into a rectangle. Spread the cinnamon roll filling onto the dough. Begin rolling the dough from the shorter side. Slice the dough into regular cinnamon rolls. To create the bunny shape, begin by unrolling half of the cinnamon roll. With the unrolled section of the dough form 2 bunny ears and reattach the end of the dough to the cinnamon roll. Preheat the oven to 350°F while the dough is rising for 15 minutes. Bake the bunny cinnamon rolls for 10-15 minutes.
Step 3/5
In a bowl mix together 1/2 cup of softened butter, softened cream cheese and powdered sugar to obtain a smooth mixture. Spread the glaze onto the cinnamon rolls while they are still warm. Add decorations such as the m&ms for the eyes and nose.
Step 4/5
In a large microwave safe bowl, add in the marshmallows and 1 tablespoon of butter. Microwave 1 minute or until the marshmallows are soft and starting to melt. Pour in the cereal. Stir together to coat all the cereal with the marshmallows. Press the cereal mixture into a lightly greased 6 inch cake pan. Refrigerate for 20 minutes. Cut the cereal bars into small triangles. Dip the carrots in the orange chocolate. Cut the ribbon candies into leaves. Use a little of the orange chocolate to glue the leaves onto the cereal carrots.
Step 5/5
Decorate a plate with the bunnies and cereal carrots. Serve and enjoy!