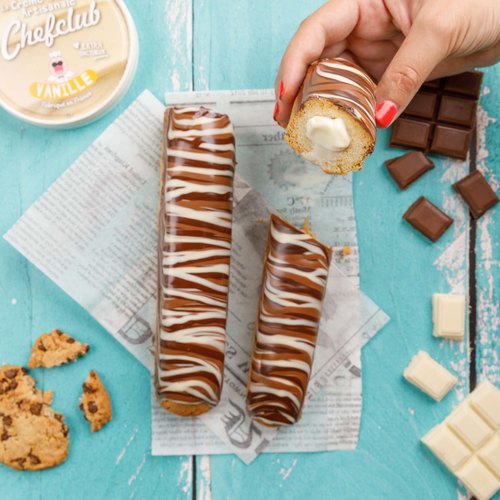 Striped zebra cake
Striped zebra cake! show off your stripes with this zweet recipe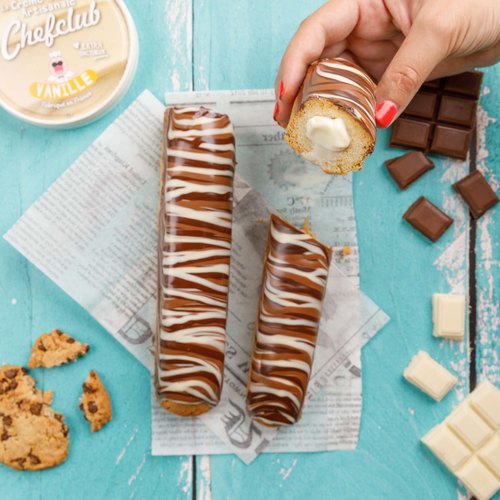 ---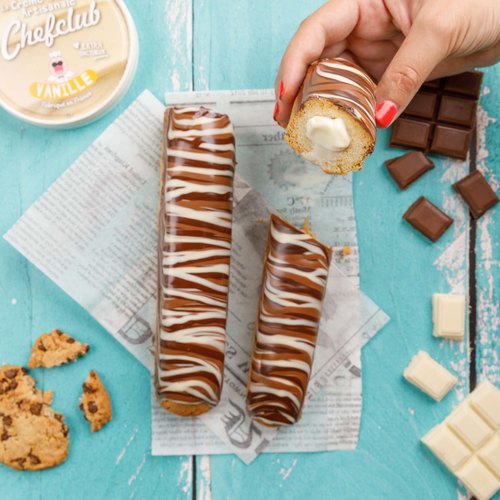 ---
Total time: 55 minutes
Prep time: 35 minutes, Cook time: 20 minutes
Ingredients for 3 people
1 egg
1 1/4 cups of flour
6 tbsp of butter
1 tsp of baking powder
3/4 cup of sugar
1 cup of chocolate chips
1 container of chefclub vanilla ice cream
3/4 cup of dark chocolate
3/4 cup of milk chocolate
3/4 cup of white chocolate
---
Tools
Aluminum foil
Ziploc bag
---
Step 1/3
Make the cookie dough by combining in a bowl the egg, flour, butter, baking powder and sugar. Mix until combined. Add in some of the chocolate chips and mix again.
Step 2/3
Divide dough into 3 and roll out into large logs. Hollow out the inside with a spoon. Sprinkle the cavity with chocolate chips. Pinch the dough to seal up the chocolate chips. Sprinkle with remaining chocolate chips and roll log to fully cover. Place a sheet of aluminum foil in a baking tray. Bake 20 minutes at 350°F.
Step 3/3
Hollow out the inside of the cookies with a straw. Push the straw into the Chefclub vanilla ice cream to collect the ice cream. Squeeze the vanilla ice cream into the cookie hole. Place 2 rectangles of paper on each side of the cookie. Melt the dark chocolate, white chocolate and milk chocolate. Place each chocolate in a separate plastic bag. Cut a corner off. Pour each consecutive chocolate in a zig-zag pattern across the cookie. The pattern should resemble zebra stripes. Repeat the pattern for the other 2 cookies. Remove the paper rectangles. Serve and enjoy!