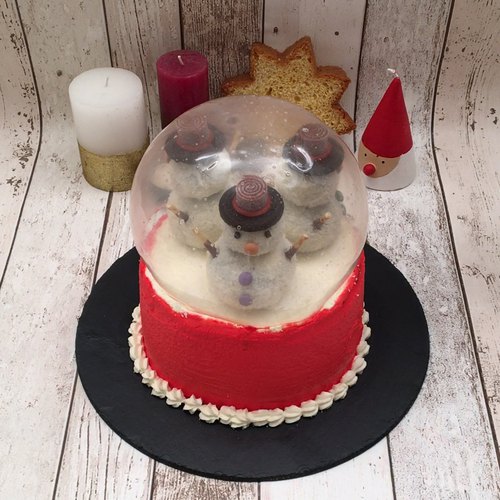 Snowglobe Cake
Let it snow! ❄️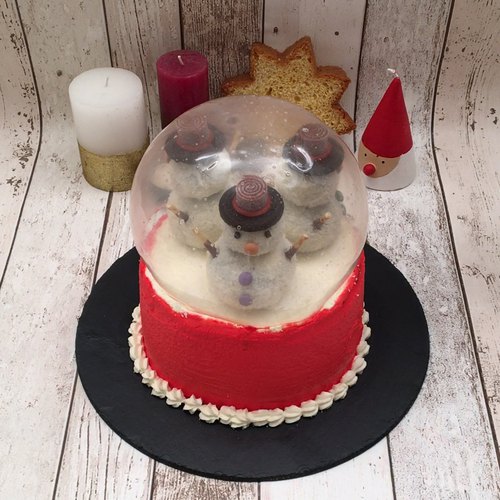 ---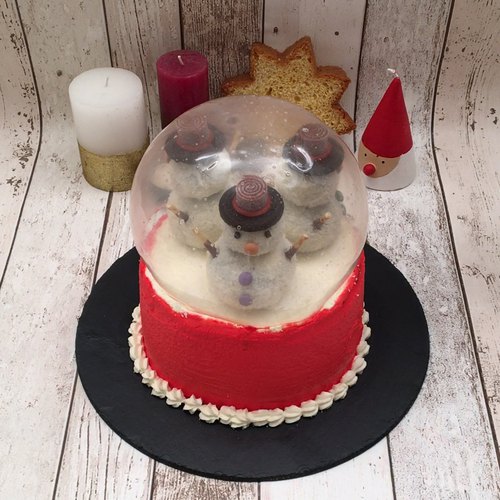 ---
Ingredients for 8 people
15 sheets of gelatin
1 panettone
4 tbsp of icing sugar
1/2 cup of mascarpone
2 cups of whipping cream
1/4 cup of chocolate hazelnut spread
1 1/4 cups of white chocolate
2 oreo ® cookies
3 strawberry candy belts
3 red licorice laces
9 m&m's ® minis
6 pocky ®
dark chocolate
coconut flakes
red food coloring
---
Tools
Balloon
Electric hand mixer
Piping bag
---
Step 1/4
Soak the gelatin sheets in a bowl of water and drain. Microwave for 2 minutes in an empty bowl. When it comes out of the microwave, dip the inflated balloon in the liquid gelatin covering it halfway. Stick the end of a skewer into the knot of the balloon and the other end into an egg carton to keep the balloon suspended. Let stand for 24 hours.
Step 2/4
Cut the top off of the panettone. Whip the icing sugar, mascarpone, and whipping cream. Separate the whipped cream in two and add red food coloring to one half. Ice the top of the panettone with white whipped cream and the sides with red. Using the piping bag, decorate the edge of the panettone with white whipped cream. Sprinkle the top with coconut flakes.
Step 3/4
Crumble the cut off top of the panettone and combine it with the chocolate hazelnut spread. Mix well to form a dough and divide it into 6 balls, 3 of which are smaller than the other 3. Dip the balls in the melted white chocolate and roll them in coconut flakes. Place the small balls on top of the large ones. Separate the Oreos ® into 2 pieces, remove the cream and place 1 cookie on each snowman's head. Roll up the strawberry belt candies and stick them to the Oreos ® with melted dark chocolate. Wrap these candies with red licorice laces to decorate the hat. Stick on the mini M&M's ® to make the snowmen's noses and buttons, attach Pocky ® for the arms and draw on eyes with melted dark chocolate.
Step 4/4
Place the snowmen on the panettone. Puncture the balloon to get the gelatine sphere and place it on the cake over the snowmen. Slice and enjoy!