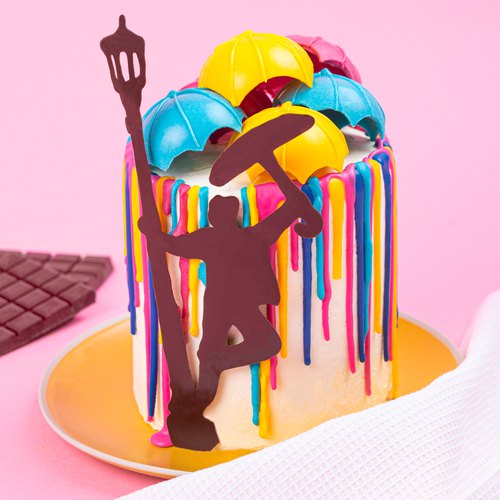 Singin' In The Rain Cake
Singin' In The Rain Cake! A feel good dessert ☂️🎵🎂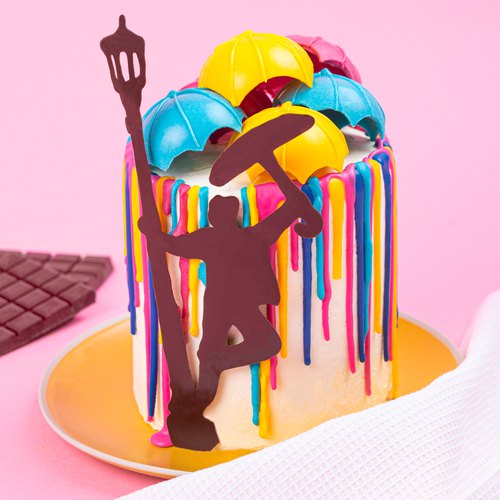 ---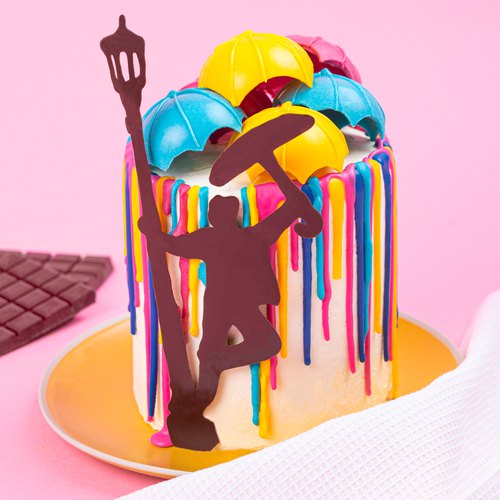 ---
Total time: 1 hour
Prep time: 30 minutes, Cook time: 30 minutes
Ingredients for 8 people
1 cake
0.4 cup of egg whites
1 cup of sugar
1 1/4 cups of butter
Vanilla extract
10 oz of white chocolate
4 oz of dark chocolate
Yellow food coloring
Red food coloring
Blue food coloring
---
Tools
Balloons
Skewers
---
Step 1/3
Pipe the Gene Kelly silhouette with dark chocolate on a plastic sheet protector. Allow to set. Whip the egg whites and sugar together. Add the softened butter and vanilla. Mix until smooth. Coat the cake in buttercream and place the silhouette on the side of the cake.
Step 2/3
Divide the white chocolate. Dye it yellow, blue and red. Cover the chocolate silhouette with a glass. Pipe the different colored chocolates to drip down the side of the cake.
Step 3/3
Skewer small balloons together and dip halfway in the 3 different colored chocolates. Allow to set and unmold. Heat the cookie cutter, then create waves around the edges of the chocolate shells. Pipe additional chocolate to resemble an umbrella. Place the chocolate umbrellas on top of the cake. Serve and enjoy!