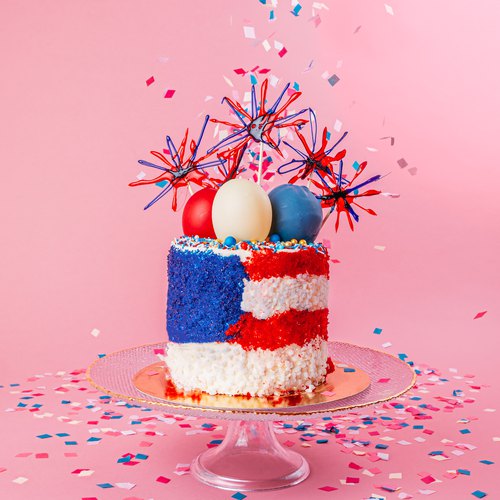 4th of July Funfetti Cake
4th of July Funfetti Cake! Time to celebrate with this festive dessert 🎆🥳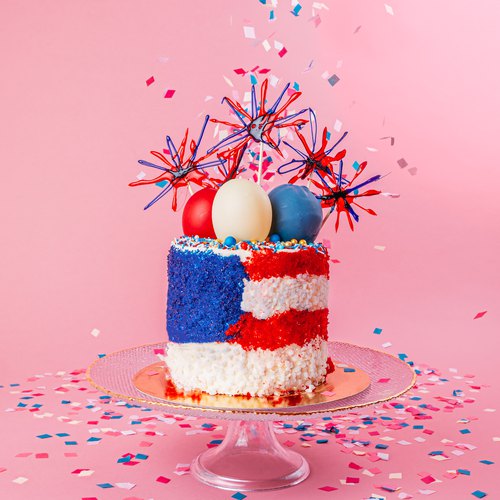 ---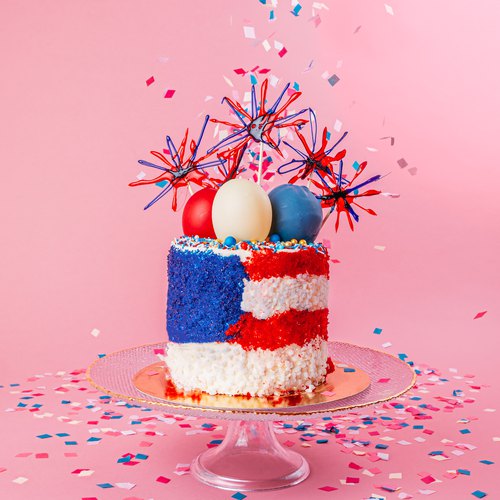 ---
Total time: 1 hour 20 minutes
Prep time: 10 minutes, Cook time: 40 minutes, Rest time: 30 minutes
Ingredients for 6 people
3 boxes of funfetti cake mix
5 cups of buttercream frosting
1 bag of red jolly ranchers
1 bag of blue jolly ranchers
1/4 cup of white chocolate
1/4 cup of red chocolate
1/4 cup of blue white chocolate
1/4 cup of red, white & blue sprinkles
---
Tools
Skewers
Balloons
Offset spatula
parchment paper
---
Step 1/5
Bake the cake according to the instructions on the box. Allow to cool completely. Frost each layer and stack with the next layer. Coat the outside of the cake with the buttercream then smooth with the offset spatula to get a smooth exterior. Chill for at least 30 minutes.
Step 2/5
Crush the hard candies, keeping the blue and the red separate. On a large baking sheet. Create an American flag design with the crushed red candies as the stripes. In the top left corner make a rectangle with the blue hard candies. Remove the cake from the refrigerator. Place the cake on its side on the crushed hard candies then roll the cake. Place onto a cake stand and top with red, white and blue sprinkles.
Step 3/5
Prepare a piece of parchment paper with 6 bamboo skewers. In two small bowls, melt the rest of the crushed hard candies in the microwave. Using a fork, drizzle the melted sugar onto one end of the bamboo skewers to create a firework effect. Allow to cool.
Step 4/5
Dip the water balloons into the melted chocolate. Place onto a parchment lined baking sheet and place in the refrigerator to set. To remove the balloon once the chocolate has hardened, carefully cut near the knot in the balloon and allow it to deflate then pull the balloon out of the chocolate shell.
Step 5/5
Place the firework skewers on the top of the cake then add 3 of the chocolate balloons. Happy 4th of July!