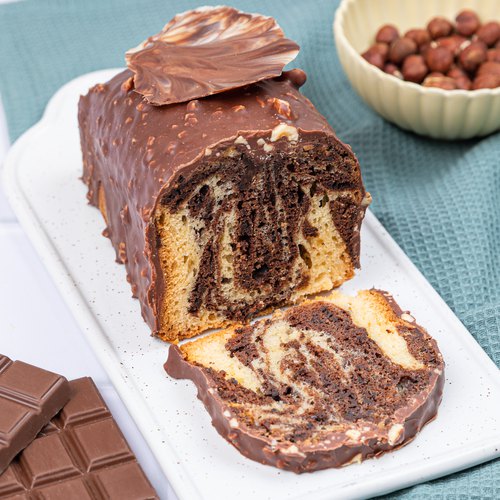 Deluxe Marble Cake
Deluxe Marble Cake! Indulge in a slice of heaven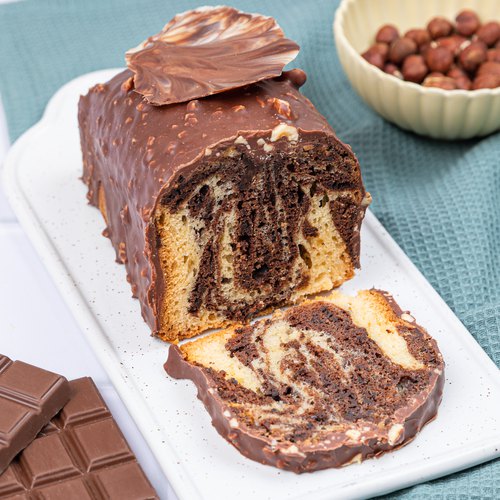 ---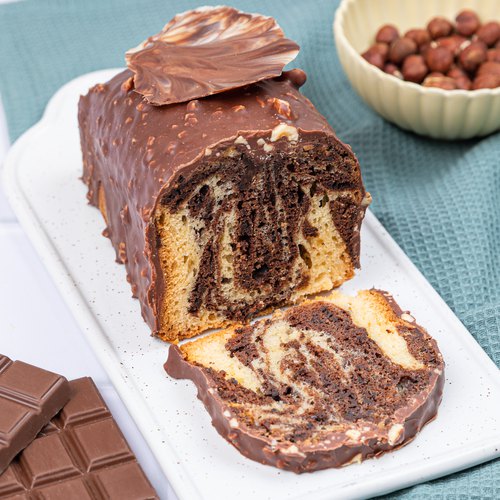 ---
Total time: 1 hour 20 minutes
Prep time: 25 minutes, Cook time: 45 minutes, Rest time: 10 minutes
Ingredients for 6 people
1 1/2 cups of flour
1 chocolate bar
3 1/2 oz of white chocolate
1/4 cup of butter
3 1/2 oz of hazelnuts
5 1/2 oz of dark chocolate
3 egg
1 tsp of oil
2 1/2 tsp of baking powder
---
Tools
Piping bag
Ziplock bag
---
Step 1/4
1 1/2 cups of flour - 1/4 cup of butter - 3 egg - 2 1/2 tsp of baking powder - 2 oz of dark chocolate
Mix the flour, butter, sugar, eggs and baking powder until you obtain a smooth batter. Divide the batter in two, then pour 2 oz of melted dark chocolate into one of the two batters.
Step 2/4
1 chocolate bar - 3 1/2 oz of hazelnuts - 1 tsp of oil
Place the preparations in 2 piping bags, then pipe the plain cake batter into the bottom of a cake tin. Place the milk chocolate bar on top and sprinkle with 3.5 oz of crushed hazelnuts. Pipe the rest of the plain cake batter, then pipe the chocolate cake batter on top. Mix the two batters with a knife to create a marble effect. Place a few drops of oil in the center, then bake for 45 minutes at 340°F.
Step 3/4
3 1/2 oz of white chocolate - 3 1/2 oz of dark chocolate
Melt the white chocolate and 3.5 oz of dark chocolate and pour them into the same bowl. Tie a knot in the end of a Ziplock bag, then pour water inside. Dip the bag in the melted chocolate, then place it on a sheet of parchment paper several times to create chocolate discs. Allow to set.
Step 4/4
Mix the rest of the melted dark and white chocolate, add 3.5 oz of crushed hazelnuts and 2 tsp of sunflower oil. Put the cake in the freezer for 10 minutes, then pour the chocolate preparation over the entire cake. Allow to set, place the chocolate discs on top and enjoy!