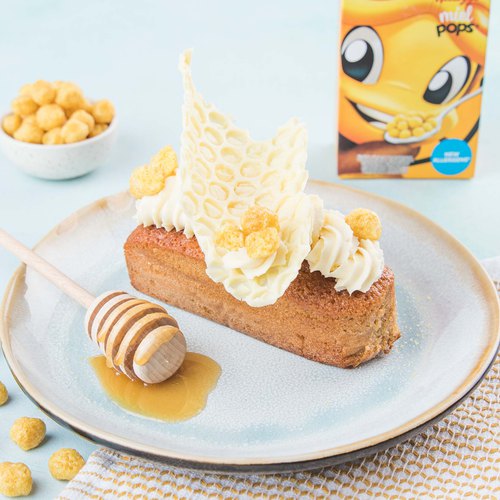 Honey Bee Cake
Honey Bee Cake! This dessert is the bee's knees 😁🐝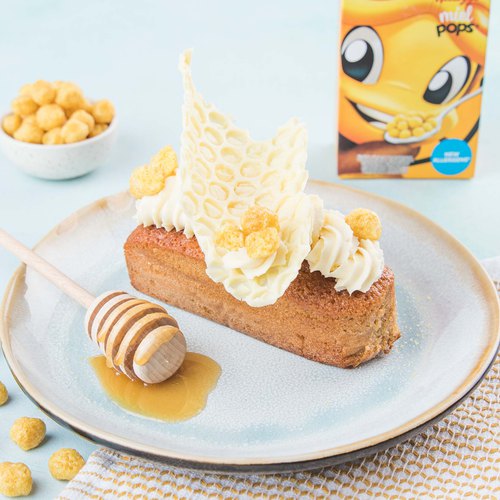 ---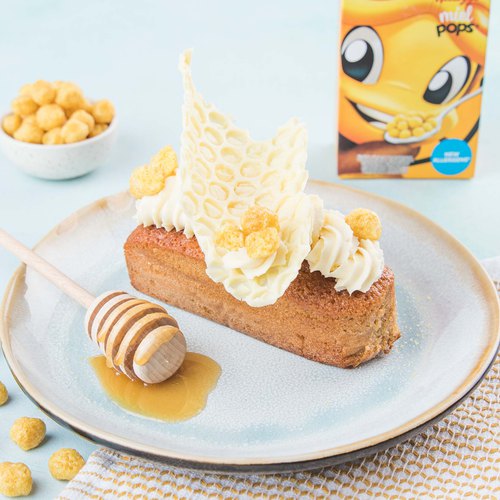 ---
Total time: 7 hours
Prep time: 40 minutes, Cook time: 20 minutes, Rest time: 6 hours
Ingredients for 3 people
1/2 cup of flour
1/4 cup of almond flour
3 tbsp of sugar
2 tsp of yeast
1 egg
1/2 cup of honey
1 cup of honey pop cereal
1 cup of heavy cream
9 3/4 oz of white chocolate
---
Tools
Empty cereal box
parchment paper
Piping bag
Electric hand mixer
Skimmer
---
Step 1/5
Mix the flour, the almond powder, the sugar, the yeast, the egg and the oil until smooth. Dilute the honey with 6 tablespoons of hot water, add it to the preparation and mix again.
Step 2/5
Fill a rectangular dish with water and refrigerate it for 2 hours to obtain an ice cube. Cut the small cereal boxes in 2 lengthwise. Line the inside with 3 half-boxes of parchment paper. Place them on a baking tray lined with parchment paper and pour the cake batter inside each half-box. Bake for 20 minutes at 350°F.
Step 3/5
Heat a skimmer for a few minutes and take out the ice cube. Place the hot skimmer on the ice cube to mark it. Melt 3.5 oz of white chocolate and pour it over the ice cube to create cells. Allow the chocolate to set and unmold it. Set aside and repeat the process to make 3.
Step 4/5
Crush the honey pops. Heat the heavy cream and add the crushed honey pops. Mix well. Place the rest of the white chocolate in a bowl and pour the heavy cream over the white chocolate (straining through a sieve). Mix to create a ganache and refrigerate for 4 hours.
Step 5/5
Whip the ganache using an electric mixer and place it in a piping bag. Unmold the cakes, pipe the ganache on top, place the chocolate cells and sprinkle with honey pops. Enjoy!