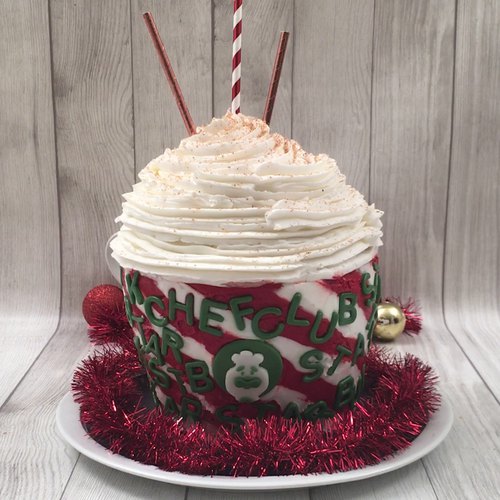 Red Cup Cake
Have your cake and drink it too!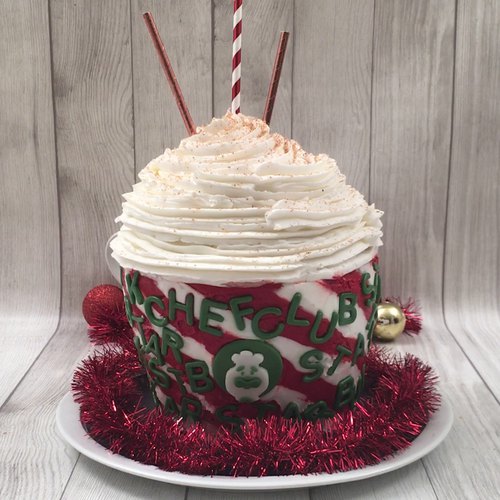 ---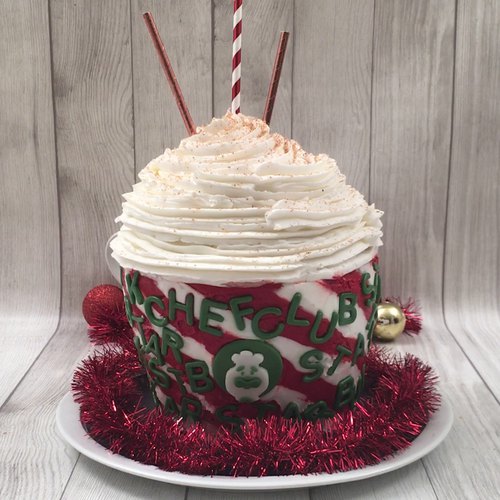 ---
Ingredients for 8 people
2 boxes of white cake mix
2 cups of egg nog latte
1 cup of vegetable oil
6 eggs
1 tbsp of cinnamon
eggnog
kahlua
red cream cheese frosting
green fondant
2 tsp of nutmeg
cream cheese frosting
---
Tools
Straws
Parchment paper
Glass
---
Step 1/4
Mix the cake mix with the eggnog latte, vegetable oil, eggs, cinnamon, and nutmeg. Pour the batter into a cake pan lined with parchment paper, repeat 5 times to create 5 cake layers, and bake for 25 minutes at 350 °F.
Step 2/4
Once out of the oven, cut the top of each cake off, and use a glass to cut a hole out of the center of 4 of the layers. Set the layer with no hole and the 4 round cake centers aside. Cover the first layer with white icing and place the second cake layer on top. Continue stacking and icing the layers until you've placed the 4th layer on top. Cut off the brown edges around the cake.
Step 3/4
Insert a Starbucks cup in the center hole and fill with eggnog and Kahlua. Ice the top of the 4th cake layer and place the final intact layer on top. Ice the top and sides of the cake and create diagonal stripes around the side with white and red frosting. Use a ruler to smooth the stripes.
Step 4/4
Stack the round cake centers on the center of the cake and use white frosting to create a dome of whipped cream on top of the cup cake. Use green fondant to cut out letters and shapes to decorate the cake. Sprinkle the white frosting with nutmeg and insert straws. Slice and enjoy!