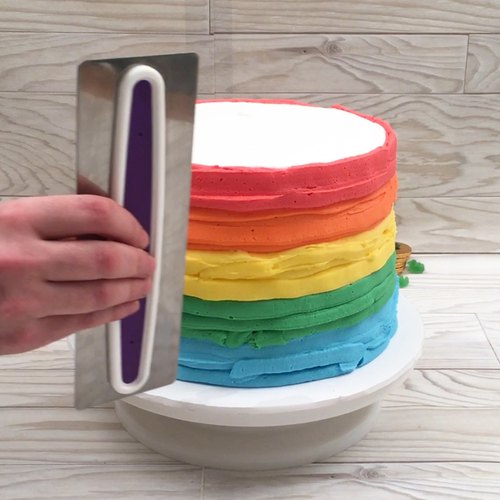 Leprechaun Cake
What'll you find at the end of this rainbow?! 🇮🇪🌈☘️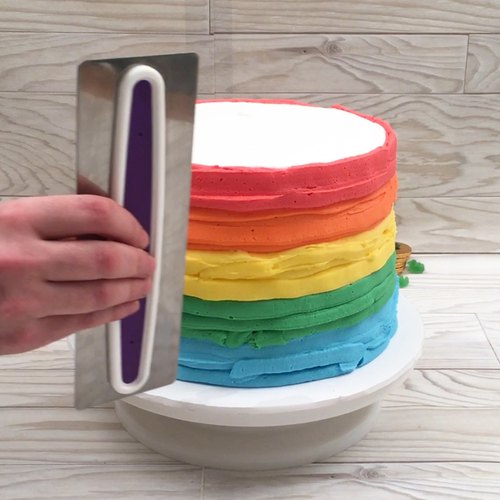 ---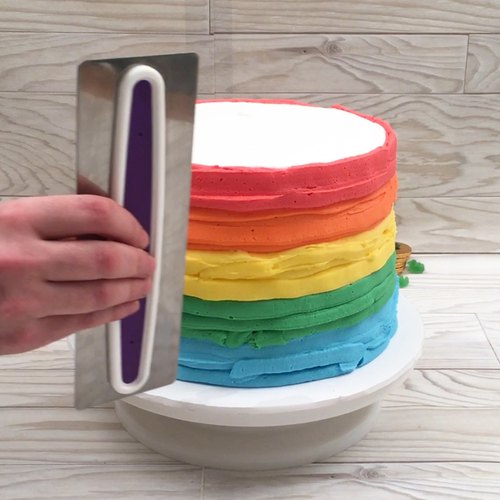 ---
Total time: 1 hour 15 minutes
Ingredients for 10 people
2 packages of green gummy bears
1 bottle of vodka
2 boxes of vanilla cake mix
6 eggs
2 cups of water
1 cup of vegetable oil
6 cups of cream cheese frosting
red food coloring
orange food coloring
yellow food coloring
green food coloring
blue food coloring
gold wrapped chocolate candy, for decoration
green sanding sugar, for decoration
fondant belt, optional
---
Tools
Piping bags
Cake pans
Bench scraper
Parchment paper
Drinking glass
8x6 glass cylinder
---
Step 1/4
Place a drinking glass in the center of the larger glass cylinder. Fill the space between the two with gummy bears. Cover the gummy bears with vodka and let sit overnight.
Step 2/4
In a bowl, combine the cake mix, eggs, water and oil. Whisk together and pour the batter into a parchment paper lined cake pan. Bake for 25 minutes at 350° F. Repeat the baking process until you have 6 cakes. Cut the uneven tops from each cake if necessary.
Step 3/4
Color 1 cup of frosting each color. Leave the remainder of the frosting white. Place each color of icing in a piping bag. Starting with the first cake, pipe a line of each color of frosting to cover the top of the cake as follows; green, blue, yellow, orange and red. Place a second layer of cake on top and repeat the steps until 5 cakes are stacked and iced. Place the 6th cake on top and cover the top and sides of the cake with white frosting. Using the remainder of the colored frosting, pipe lines from the bottom to the top edge of the cake in alternating colors. Smooth the frosting with a bench scraper. Pipe dots of extra frosting along the bottom of the cake in the colors of your choice.
Step 4/4
Place the vodka filled cylinder on a glass plate and fill the drinking glass with gold wrapped chocolates. Place sanding sugar along the base of the cylinder to cover the plate. Add the fondant belt to the bottom of the cylinder and place on top of the cake. Enjoy responsibly!