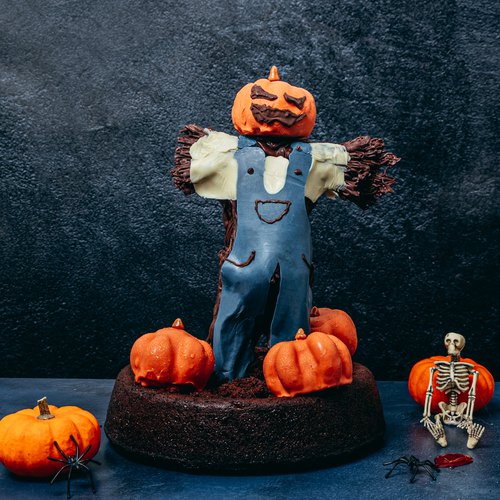 Evil Scarecrow Cake
Evil Scarecrow Cake! It's spooky how yummy it is 😆🎃🎂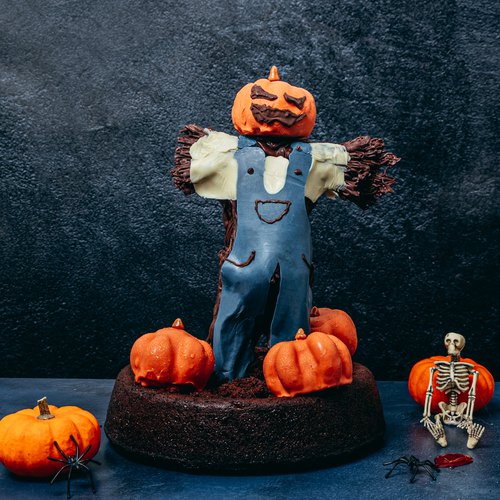 ---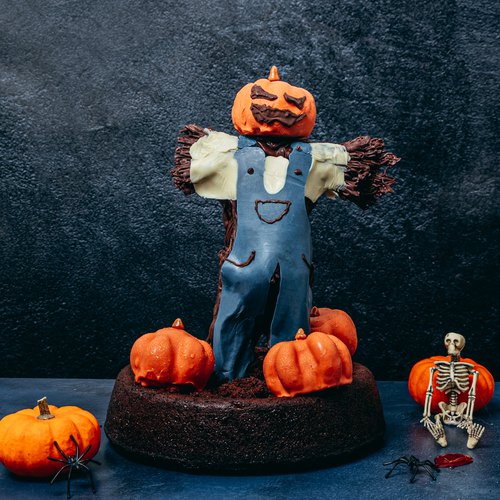 ---
Total time: 3 hours 5 minutes
Prep time: 1 hour 30 minutes, Cook time: 35 minutes, Rest time: 1 hour
Ingredients for 6 people
5.3 oz of dark chocolate
5.3 oz of white chocolate
6 clementines
Blue food coloring
Orange food coloring
6 egg
0.7 cup of butter
1/2 cup of flour
1/2 cup of sugar
0.3 cup of cacao powder
0.4 cup of heavy cream
2 oz of mascarpone
---
Tools
Cling wrap
Piping bag
Skewers
---
Step 1/3
Mix the flour, sugar, butter, eggs and chocolate. Place the batter into a mold and bake 35 minutes at 340°F. Melt the dark chocolate and place in a piping bag. Pour some melted chocolate into the ice water, forming a cup.
Step 2/3
Melt the white chocolate, divide it in 2, add the blue food coloring to one part and place in a piping bag. Pipe a jumpsuit with the blue chocolate. Make the sleeves and collar with the white chocolat and place it on the dark chocolate body.
Step 3/3
Mix the heavy cream, mascarpone and cacao powder to make a chocolate mousse. Place in a piping bag. Cut the clementines into four parts. Place a little mousse on the counter, place the clementines, place a skewer and put it in the fridge for 20 minutes. Add the orange food coloring to the white chocolate. Coat the mousse spheres and refrigerate for 20 minutes. Make the pumpkin faces with the dark chocolate and take it to the fridge for 20 minutes. Arrange 1 pumpkin on top of the chocolate body, the other pumpkins on the cake and have a great Halloween!